Basics of Grape Trellising
Growing grapes can appear complicated to the beginner, and with good reason. Although grapes will grow anywhere, there are many kinds of training and trellising systems, and choosing the right one requires some study before planting.
Training and trellising go hand-in-hand because the kind of structure you build to hold your grape vines will affect how you prune them. The structure, in turn, depends somewhat on the type of grapes you grow because some vines are more vigorous and need stronger supports.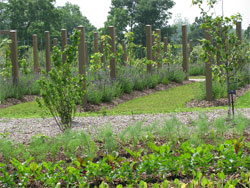 Most of these young vines have not yet reached the top of the previousy erected, three-wire trellis system (seen in place in the background).
In general, a grape trellis needs to be able to support the weight of the crop and withstand high winds. It also should be designed to last 20 years, as that's approximately how long you can expect your vines to produce.
Home gardeners planting just a few vines can use a fence that fits into the landscape or, better still, an arbor that provides shade in summer as well as support for the grape vines. To get good fruit production from an arbor planting, pruning becomes the key. Texas Extension has a nicely illustrated manual on arbor training.
Commercial growers with larger aspirations need to set up a trellis in the field. The main components of a vineyard trellis are strong end-posts with braces, earth anchors, or deadmen; posts along the length of the trellis to support the wires; and high-tensile galvanized steel wire to support the vines.
The most common type of trellis is the single curtain trellis, with either one or two wires and posts every 16 to 24 feet apart, depending on the training system. With this type of trellis, various training styles are possible. Another popular type of trellis, especially in northern areas, is the double curtain, which allows the vines to spread horizontally across two wires.
The recommended trellis and training system also varies by climate. Northern growers with shorter growing seasons usually choose training systems that expose more leaf surface to the sun; note that these can be inappropriate for use in warm climates, however. To learn more about the best training and trellising system for your location, check the list below of state viticulture guides and choose the state nearest your own. Or, contact your local Cooperative Extension Service for recommendations.
Here are a few regional resources:
About the Author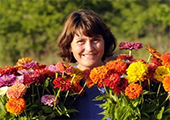 Lynn Byczinski, Author & Founder of Growing for Market
Lynn Byczynski was growing organic vegetables and cut flowers for market when she decided to create a magazine that would help market gardeners nationwide share experiences and information. Her first issue of
Growing for Market
appeared in January 1992, and
GFM
has been published continuously ever since, becoming renowned in the market-gardening world for realistic articles that provide practical, how-to information about growing and selling produce and flowers.
Lynn and her family have been growing vegetables and cut flowers since 1988, selling through CSAs, at farmers' markets, to chefs, grocery stores, and florists. They currently grow cut flowers and hoophouse tomatoes on about 2 acres of their 20-acre farm near Lawrence, Kansas. She is also the author/editor of
The Flower Farmer
.