Pyrethrum - Key Growing Information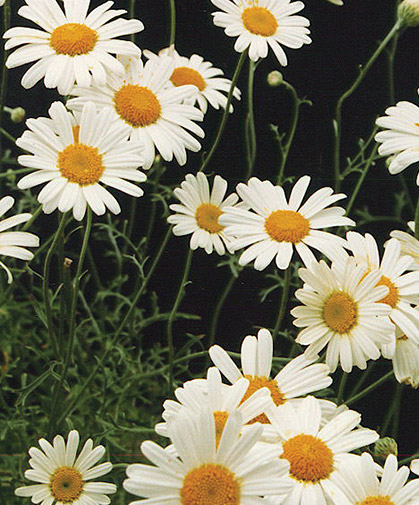 DAYS TO GERMINATION:
14-28 days at 68-77°F (20-25°C).


SOWING:
Transplant (recommended): Sow seed 6-8 weeks before the last frost. Cover seeds very lightly, as seeds require light for germination. Transplant to cell flats or larger containers when the first true leaves appear. Harden off and plant outdoors after the danger of frost has passed, spacing 12-18" apart.
Direct seed: Sow in the fall or early spring. Do not cover seed, as seed requires light to germinate.


LIGHT PREFERENCE:
Sun.


SOIL REQUIREMENTS:
Well-drained, sandy loam soil.


PLANT HEIGHT:
24-30".


PLANT SPACING:
12-18".


HARDINESS ZONES:
Zones 4-9.


HARVEST:
Harvest during dry, warm weather when the flowers are full developed; between 5-9 days after the first bloom. Use fresh or hang to dry.


USES:
Spray: Mix 1 tablespoon of freshly dried, finely ground flowers with 2 quarts of warm water. Let stand for 3 hours and spray on plants. A little soap can also be added to this mixture. Freshly harvested flowers may also be used, but 3-4 times the amount of flowers is needed.
Mosquito repellant: Burn finely crushed dried flowers.