Each year Johnny's contributes to a range of educational, agricultural, and horticultural programs and events, as well as local community projects.
Making a Difference Together
Our mission is helping families, friends, and communities to feed one another by providing superior seeds, tools, information, and service.
Each year, Johnny's Selected Seeds additionally provides financial support to national and local agricultural, educational, and horticultural programs, events, and efforts in service to our mission.
Qualification Criteria
To qualify for consideration, the requesting organization or program must be an agricultural needs-based, 501(c)(3) organization that actively engages in one or more of the following activities:
Educating people, teaching growing or farming practices and techniques for long-term impact (e.g., schools, agricultural workshops, community programs).
Providing locally-grown produce and/or working with communities to grow produce to feed themselves.
Supporting and promoting healthy eating habits.
Supporting organic and sustainable growing practices and techniques.
Other appropriate agricultural or horticultural programs or efforts.
Options
Please Note:
Johnny's Charitable Giving program is unable to fulfill requests to apply credit to any previously or separately submitted product orders.
School Tote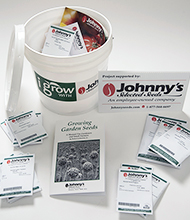 20 Easy-to-Grow Varieties
Growing Garden Seeds, written by our Founder, Robert Johnston.
Specifically for schools: gardens, greenhouses, educational purposes, etc.
Organic Tote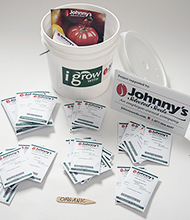 20 Easy-to-Grow Varieties, all Certified-Organic.
Specifically for organizations that are certified-organic or looking for strictly organic items.
Gorilla Tub® Auction Kit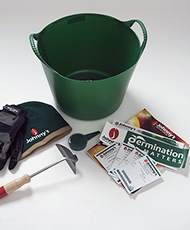 Hand Hoe, Garden Gloves, Johnny's Winter Beanie, Small Gorilla Tub, Seed Sower Planter, and 4 packets of Johnny's-Exclusive Vegetable Seeds.
Specifically for organizations that are holding silent auctions, to use as a door prize, to help raise funds for organizations that align with our mission.

How to Apply
All requests for support must follow our submissions process:
Please complete and submit our Donation Request Form. Be sure to detail your cause as clearly and thoroughly as possible.
Within the form, describe your organization, project, or program and its purpose or goal. Include your website and/or any social media sites you maintain.
Please ensure that your application is complete upon submission. An incomplete application or the failure to provide sufficiently supportive documentation may result in disqualification of consideration. Note: We require the physical address of your nonprofit organization for shipping.
If you have questions, or a highly time-sensitive request that you would like us to consider, please contact us at charitablegiving@johnnyseeds.com.
Donation requests are reviewed once per quarter through the calendar year. We recommend you provide ample lead time in advance of your project or event.
Organizations We Have Supported
Johnny's contributes to local, national, and international efforts that advance agricultural education, provide produce to local communities, and support healthy eating habits, as well as sustainable horticultural programs.
Agricultural
Education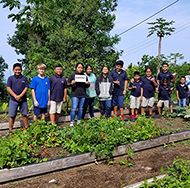 Supporting Healthy
Eating Habits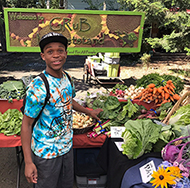 Maine
Community Support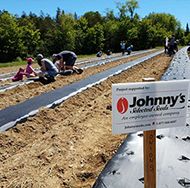 OUR MISSION
Our mission is helping families, friends, and communities to feed one another by providing superior seeds, tools, information, and service.