FAQs • Customer Support
General Inquiries
How can I place an order with Johnny's?
Orders from Johnny's can be placed in the following four ways:
Web: Quick Order

Phone: 877-564-6697
Fax: US 800-738-6314 | International 207-238-5375
Mail: Johnny's Selected Seeds, PO Box 299, Waterville, Maine 04903 USA
What forms of payment do you accept?
Credit Cards and Debit Cards (Visa, MasterCard, Discover, American Express)
Personal Checks
Money Orders and Cashier's Checks
Wire Transfers (requires additional bank fee of $15 USD)
Johnny's Gift Certificates
Johnny's also offers credit accounts to commercial customers. For more information, see Commercial Sales.
Gift Certificates: How do I use one? Do they expire? Are there any restrictions? What if I lose it?
Gift certificates can be used as partial or full payment for all order methods. When placing your order, simply indicate the gift certificate number and its dollar value. If the amount of your gift certificate is larger than your order amount, another gift certificate will be issued. If the remaining gift certificate credit balance is less than $10, a check will be issued rather than another gift certificate.
Our gift certificates do not expire.
Coupons and other discounts cannot be applied to gift certificate purchases. Gift certificates ship free, but gift certificate purchases do not apply toward Johnny's free standard shipping offer.
If you have lost a gift certificate, we can help. Please Contact Us for assistance.
Do you charge sales tax?
Yes, a recent Supreme Court ruling (South Dakota v. Wayfair, Inc., Overstock.com, Inc., and Newegg, Inc.) changed the state sales tax obligations for all companies that sell remotely through websites and catalogs. Johnny's Selected Seeds now charges sales tax on orders shipping to a number of states where we are required by law to collect and remit state tax, unless the customer is a tax-exempt organization or a reseller with a current exemption certificate on file with Johnny's. Please refer to the Sales Tax FAQs for more information regarding sales tax charges and exemption certificates, and Contact Us if you require further assistance.
Do you accept international credit cards?
Yes, we accept international credit cards. However, these cards usually have daily spending limits. Depending on the size of your order, we may need to divide it into multiple orders that ship on different days, to stay within your card's daily limit.
Do you accept credit card gift cards?
No. Currently, we are not able to accept gift cards as a form of payment.
How can I get assistance if I need it?
We're here to help you! Please call 877-564-6697 to speak with one of our knowledgeable Contact Center Specialists. We're open year-round, with extended hours during the busiest planning, planting, and growing months. If you prefer to email your message, please use our convenient Contact Form. Our current email response time is 2 business days.
What is your return policy?
Johnny's is committed to your success. If you are not 100% satisfied with your purchase, we will replace the item or refund the purchase price. For more details and instructions, refer to Returns & Exchanges.
Billing Information
Do you keep my credit card information on file?
No. For your security, we do not retain credit card details on file. For more information, see Privacy & Security.
When will you charge my credit card?
We will charge your card when we receive your order.
Security
Is it safe to use my credit card or debit card on your site?
Yes. We are committed to protecting your personal information. Johnny's uses HTTPS technology to provide you with the safest, most secure shopping experience possible. If you prefer not to transmit your card information over the internet, simply Contact Us to place your order by phone, fax, or regular mail.
Does your site have a secure connection?
Our site uses SSL (Secure Sockets Layer) encryption to secure the communication of all sensitive information passing between your web browser and our servers.
Order Fulfilment
Can I change an order after I've submitted it?
Once an order enters the fulfillment process, we may be unable to modify it. If so, we apologize for any inconvenience.
If you do need to change, add to, or cancel an order, please Contact Us as soon as possible. We will do our best to accommodate your request. Orders placed via our website undergo immediate preauthorization for the total order amount, and cannot be added to. If you have forgotten an item, you will need to place another web order or Call Us. We will be happy to help you!
What is meant by a product "substitute"? Why would you need to substitute a similar seed?
If an item is sold out or a crop failure, we may recommend a variety similar to the original item that could meet your needs. We would send an email notification or a letter with a recommended substitute and ask you to contact us if you would like to place an order for the substitute.
What is your cancellation policy?
It is our goal to deliver the high-quality goods and services you have come to expect from Johnny's. If you change your mind on an order, we will make every effort to honor your cancellation request.
If one of the items you have ordered is on backorder and subsequently becomes unavailable due to a crop failure, we will cancel your order and send you a cancellation notification. The most expedient way for us to contact you is via email. If we do not have an email address on file for you, we will send you a letter through the postal service.
How do I know if an item is available for purchase? What does "backordered" mean?
In Stock
An item that is In Stock is one which is available to order and will ship in 1 day, provided your order is placed by 2:00pm Eastern Time (by 1:30pm ET on the web).
Backordered
An item that is Backordered is one which is available to order but will ship to you at a later date — on or before the date specified on the product's web page. Backorder dates are subject to change, however. Please Contact Us with any additional questions you may have regarding backorders.
Out of Stock
An item that is Out of Stock is one which is not available to order. We are unable to accept any orders for Out of Stock items.
Estimated Availability
Estimated Availability indicates the date on which we anticipate being able to take orders for the item. Until that date, we are unable to accept any orders for the item.
My item is listed with a "Later Ship Date." Why has the ship date changed since I placed my order?
There are times when our suppliers are unable to meet our expected receiving dates. When this happens, we in turn will need to ship your order to you at a later date than we had anticipated.
If I cancel my backordered item, will I receive a refund?
If you paid by check or money order, you will receive a refund check in the mail for the cancelled item.
If you used a credit card for payment and the backordered item has not yet shipped, we will refund the amount to your card.
Shipping
How do you calculate shipping charges?
On domestic orders, Johnny's applies standard shipping charges based on the order subtotal.
All nondomestic charges are based on the weight of the order.
For more information regarding our shipping charges and methods, please refer to our US Shipping, Canada Shipping, or International Shipping pages.
What shipping methods do you offer?
Johnny's standard shipping methods include, but are not limited to:
US Postal Service (USPS)
Federal Express (FedEx)
United Parcel Service (UPS)
Other: Large bulk freight (truck) courier. Bulk orders weighing 300 lb or greater can be shipped by a freight courier. We will provide you with the best method for your order. We can also accommodate your courier of choice.
How do you decide which method to use for shipping my order?
Shipping methods are selected on the basis of destination zone, origin address, and the weight of the package.
How much do you charge for shipping?
For specific information on our shipping rates, please refer to our US Shipping, Canada Shipping, or International Shipping pages.
Where do you ship?
Johnny's ships worldwide, wherever we are able to comply with all agricultural import regulations. For more details, see our US Shipping, Canada Shipping, or International Shipping information, as well as a list of Countries We Ship To. (For current and detailed information pertaining to restrictions on shipping agricultural products to international destinations, we also recommend contacting your Ministry of Agriculture.)
When will my order be shipped?
All Standard, Next-Day Air, and 2nd-Day Air orders of in-stock items placed by 2:00pm Eastern Time (1:30pm ET on the web), Monday through Friday, ship the same day.
Orders placed after this time or over the weekend will be processed for shipment the next business day. We do not ship orders on Saturdays, Sundays, and some holidays.
Can my order be expedited if needed?
Yes. Johnny's offers faster delivery options. Please let us know your preference at time of ordering.
What is meant by "Shipping Surcharges" and "Zone Shipping Charges"?
Shipping Surcharges and Zone Shipping Charges are Additional Shipping Charges applied to certain products due to their size, weight, or dimensional shape.
In our catalog, items and sizes requiring such Additional Shipping Charges are denoted by a red asterisk (*).
On our website, items or sizes requiring Additional Shipping Charges are noted under Additional Information on the individual product page. In the Shopping Cart, the fee is line-listed as Surcharge.
The charges are broken out by geographic zone: Zones A, B, C, and D. The shipping address determines the zone and its associated charge.
For Shipping Zone definitions, see Shipping Information.
My product says it can't be shipped to a certain state or country. Why?
Johnny's shipping restrictions reflect state and federal regulations that limit by law the transportation of certain items across borders or along public transportation routes. Such restrictions may relate to introduced, invasive, or noxious species or to other materials in the restricted products. We encourage you to Contact Us to request a recommended alternative.
Seed Packet Recyclability
Are your plastic seed packets recyclable? Where can I learn more?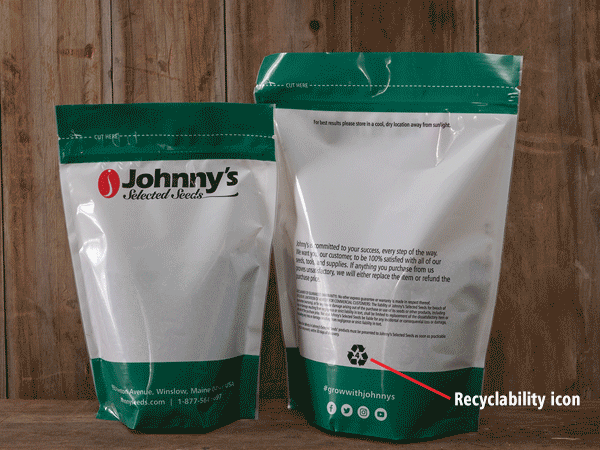 As growers ourselves, we know you care about recycling programs for the types of plastic you encounter in your operation. When it comes to seed packaging, our goal is to continue to advance options that balance sustainability with practicality. In response to this goal and many customer requests, we introduced new lightweight, water-resistant standup zippered pouches for seed sizes ranging from ¼ lb. to 5 lb. This packaging is made from #4 LDPE (low-density polyethylene). We also continue to offer multiple sizes of paper seed packets.
The pouches are made in USA and marked on the back exterior with the #4 recyclable icon. Examples of downstream products made from LDPE include shipping packages, paneling, tiles, plastic lumber, trash can liners, and trash cans.
Recyclability programs continue to vary widely by state, county, and municipality. To learn whether and where a particular polymer is recyclable in your region at this time, visit your state or municipality website, or contact your local representatives. Learn more at How2Recycle and Earth911.com.
Password Problems?
If you are a returning customer who is trying to access your Johnny's account, please note that our website requires you to enter your password to access your account.
If you cannot recall your password, click on the "Forgot Password?" link below the Password box on the Login page. See also the instructions below for details on how to reset your password.
HOW TO RESET YOUR PASSWORD
Note: The screenshots below depict the desktop experience. On a mobile device the same instructions apply but the visual experience differs somewhat. To login on mobile, click the menu in the upper right-hand corner (three black horizontal lines) and scroll down to access the login link.
Click the "Login" link in the upper right-hand corner of the website.


This will take you to the "My Account" page.




Under the heading "Login," enter your Email Address in the box, then click the "Forgot Password" link below the Password box.


A pop-up box will appear, prompting you to enter the email address you used to create your account. Fill in your Email Address, then click the red "Send" button.




A second pop-up box will appear, containing a message directing you to check your email.




Check your in-box for an email message from Johnny's containing a reset-password link. The email will come from "[email protected]." If you do not see it, check your junk box, as it may have gotten caught in your filter.




Click on the link in the email. It will bring you to a web page where you can set a NEW password. Enter your new Password, confirm your new Password, and click on the red "SAVE" button:




That should bring you back to the login page depicted in Step 1, where you can enter your Email Address and login with your new Password.


You will additionally receive an email from

[email protected]

that confirms the change.


If you continue to experience problems accessing your account, please call us toll-free at 877-564-6697 during business hours and request assistance from a customer support representative.


CONTACT US
Call Us Toll-Free at
877-564-6697
January–April
Mon–Fri: 8am–8pm ET
Sat–Sun: 8am–5pm ET
May
Mon–Fri: 8am–7pm ET
June–December
Mon–Fri: 8am–5pm ET
NOTE: Seasonal hours subject to change.
---