Johnny's Selected Seeds


Commemorates 40th Anniversary
Johnny's Selected Seeds Celebrates 40 Years of Providing Outstanding Products, Solutions, & Information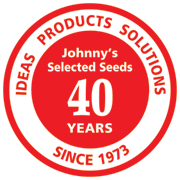 Fairfield, Maine (February 27, 2013) — For 40 years Johnny's Selected Seeds has been dedicated to helping families, friends, and communities to feed one another by providing quality seeds, tools, information, and service. Founder and Chairman, Rob Johnston Jr., proudly states, "We will continue to work, today and into the future, as a community with you, your family, and your customers and friends. When the boundaries between all of us get blurred, that's when it's best." After all this time, Johnny's continues to be challenged and honored by the support of its customers.
Today, Johnny's has grown from a fledgling business in a farmhouse attic to a national and international multichannel retailer that employs over 130 full-time and more than 50 seasonal employees. The company now regularly ships seed to commercial growers and home gardeners across the United States, and regularly supplies seed to over 50 countries around the world. The Albion farm remains the center for research and continues as a working farm, with more than 40 acres under cultivation.
Johnny's 40th anniversary offers employees and customers an opportunity to reflect on Johnny's cultural impact and influence on the agriculture industry. Lynn Byczynski, a professional market gardener and author notes, "Johnny's has been there since the beginning, offering vegetable varieties that no one else was selling and creating opportunities for local growers to produce something different and thereby carving a niche in the food business. By keeping in touch with its customers, Johnny's has picked up on food trends, developed them into products, and offered them to growers." Johnny's has proudly worked alongside customers to expand boundaries, and continues to be at the forefront of innovation.
In 2006 Johnny's launched an employee ownership program, with Rob Johnston and his wife, Janika Eckert, selling shares to an Employee Stock Ownership Trust. Today the employees own 100% of the company stock. Looking forward, the future for Johnny's is bright; and the company will continue, as it always has, to focus on providing customers with the best products, information, research, and service, for their success.
—END—
About Johnny's Selected Seeds
Established in 1973, Johnny's Selected Seeds is a 100% employee-owned company and purveyor of high quality seeds and tools. Johnny's is committed to a grower's success and provides superior products, information, and service. Johnny's products are 100% guaranteed.
CONTACT MEDIA RELATIONS
Johnny's Selected Seeds
T: 207-238-5336
F: 207-238-5388
OUR MISSION
Our mission is helping families, friends, and communities to feed one another by providing superior seeds, tools, information, and service.