Honoring 40 Years of Plant Breeding Accomplishments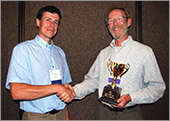 Burlington, Ontario, CANADA (August 2013) — All-America Selections (AAS) hosted their annual Summer Summit August 12–14 this year in Ontario, Canada. Rob L Johnston, Jr, Founder and Chairman of Johnny's Selected Seeds, was selected by the AAS Board of Directors to receive the 2013 Breeders Cup. The AAS Breeders Cup Award recognizes someone who has had a significant impact in horticulture by breeding stand-out varieties.
Rob's contribution to the world of horticulture includes helping produce varieties that in diverse climates have outstanding flavor, disease resistance, and garden performance. Under Rob's leadership, the Johnny's breeding team has introduced more than 50 varieties. Seven of these Johnny's-bred varieties have been honored with the prestigious All-America Selections award.
Johnny's first All-America Selections winner, 'Baby Bear,' a pie pumpkin, was awarded in 1993. Other AAS winners followed, including 'Bright Lights' multicolored Swiss chard, 'Diva' cucumber, 'Sunshine' winter squash, 'Bonbon' winter squash, and 'Carmen' sweet pepper. This year, Johnny's won its latest AAS award for 'Jasper,' a sweet cherry tomato with late blight resistance.
Angus Mellish, Vice President of AAS and Seed Manager of Veseys Seeds, praised Rob, noting, "I personally have always appreciated my conversations with Rob — as a breeder with unique insights into the characteristics of the varieties that he has developed, especially varieties for the short seasons here in the Northeast, and also as a seedsman and fellow vegetable enthusiast." Mellish added, "His commitment to varieties with excellent consumer qualities, taste in particular, and long involvement with AAS, both as a breeder entering his work to be judged anonymously by a critical group of skilled judges and as a member of our board, demonstrate why he was chosen." Rob's history includes serving on the AAS Board of Directors from 2001 to 2010, the last four years as President and Past President.
All-America Selections is an independent, nonprofit organization that trials new varieties alongside two or three similar varieties currently on the market, then introduces only outstanding garden performers as AAS Winners. Johnny's Selected Seeds' Research Farm is an official trial ground for AAS.
– END –
About Johnny's Selected Seeds
Established in 1973, Johnny's Selected Seeds is a 100% employee-owned company and purveyor of high quality seeds and tools. Johnny's is committed to a grower's success and provides superior products, information, and service. Johnny's products are 100% guaranteed.
OUR MISSION
Our mission is helping families, friends, and communities to feed one another by providing superior seeds, tools, information, and service.