2018 AAS Award Winner with Stunning Colors
Albion, Maine — January 3, 2018: Of the 30+ new flower varieties that Johnny's Selected Seeds is offering this year, 'Queen Lime Orange' zinnia is one of the most exciting. It is a 2018 All-America Selections Committee (AAS) award winner, and it is easy to see why — 'Queen Lime Orange' has striking coloration, with glowing apricot blooms that feature a blush of lime and bright rose centers.
Zinnias are one of the most popular and easiest-to-grow annual cut flowers. They make a striking statement in bouquets and are ideal for market growers and sophisticated design work. However, they are equally appropriate as an easy-to-grow and beautiful addition to the home garden.
Johnny's was one of the growers who trialed 'Queen Lime Orange' during the AAS selection process. "Although one of the most important flower crops for farmers and gardeners, innovations in zinnia are rare," says Hillary Alger, Flowers and Herbs Product Manager at Johnny's. "So, when we received the trial seeds from AAS, we were quite excited to get them in the ground," she explains.
Alger says that "from the first bloom, we were convinced it would be an AAS winner." She notes that the apricot color palette is highly sought after by cut-flower growers, floral designers, and gardeners and that the plants are very productive. "I believe growers will be thrilled to have this innovative variety in their 2018 planting plans," she says.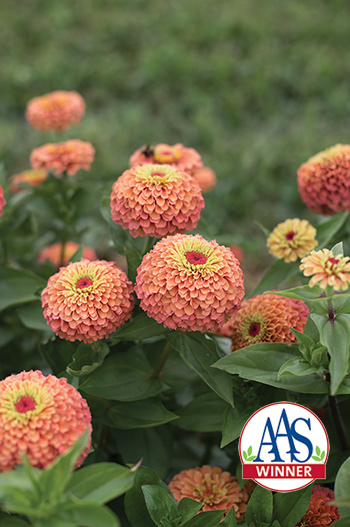 A native of the Americas, zinnias are relatively heat and drought tolerant. Johnny's trials all the zinnia varieties it offers for sale, selecting for vibrant color, sturdy stems, vigor, yield, quality, disease resistance, and vase life.
Bred by Hugo Dittmar of Samen und Pflanzen in Switzerland, this new cultivar is known as 'Queeny Lime Orange' in Europe. It is one of a trio of zinnias, including 'Queen Lime with Blush' and 'Queen Red Lime,' celebrated for their distinctive appearance as well as their practical nature: the trio offers prolific blooms on a sturdy, compact plant, and a long vase life.
All-America Selections is an independent, nonprofit organization that tests the newest crop varieties, then introduces only the best garden performers as AAS Winners. Judges look for significantly improved qualities such as earliness to bloom or harvest, disease or pest tolerance, novel colors or flavors, novel forms, total yield, length of harvest, and overall performance.
The AAS judges reported that Queen Lime Orange was a "showstopper in the trials" and a "WOW color in an easy-to-grow zinnia," providing a "wonderful hue for today's floral trends."
—END—
About Johnny's Selected Seeds
Established in 1973, Johnny's Selected Seeds is a 100% employee-owned company and purveyor of high quality seeds and tools. Johnny's is committed to a grower's success and provides superior products, information, and service. Johnny's products are 100% guaranteed.
OUR MISSION
Our mission is helping families, friends, and communities to feed one another by providing superior seeds, tools, information, and service.