Johnny's-Bred 'Red Ember' Cayenne Pepper & 'Valentine' Grape Tomato Selected as Winners
Albion, Maine: November 2017 — Johnny's Selected Seeds has won two more All-America Selections Committee (AAS) awards for its Red Ember cayenne pepper and Valentine grape tomato. Including these newest awards, Johnny's classical plant breeding team now has 12 AAS awards under its belt!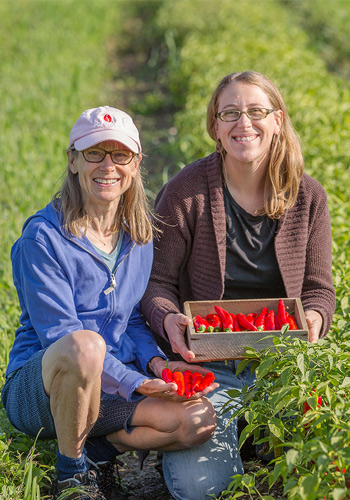 Early maturity for type
Mild, building heat that does not burn, combined with tremendous flavor
Dual-use pepper, exceptional fresh or dried
"The first finishing-quality cayenne pepper powder…" — Chef Tim Wastell, Culinary Breeding Network
Red Ember is a new specialty cayenne bred by Janika Eckert for exceptional flavor and dual-purpose fresh or dry use. The result of crossing a cayenne pepper with a sweet pepper, this new variety has been in the making since 2010. Now, nearly eight years later, the pepper has proved worth the work and the wait: compared to other cayenne varieties, Red Ember has a sweeter flavor and milder heat, medium thin walls, a unique round-bottom shape, and demonstrates outstanding culinary appeal and versatility.
Eckert (now retired) transitioned her pepper breeding program to Emily Rose Haga, who cooperated with several grower, university, and culinary partners throughout the US to get feedback on the variety's flavor and performance under organic conditions. "Red Ember is truly a unique pepper unlike other cayennes," says Haga. "Organic growers I've worked with really appreciate the high, early yields of beautiful red peppers — even under cool-weather and short-season growing conditions. But it really stands out in the kitchen. The flavor is sweet and fruity but not overly hot, and the wall thickness gives it a lot of versatility compared to traditional cayenne types: you can use it like a fresh sweet pepper in raw, sautéed or fermented applications, or dry pods for making ristras, pepper flakes or chili powder."
Red Ember is described by Chef Frank Giglio of Three Lily Farm & Provisions as having tremendous flavor on the first bite, with heat that lingers but doesn't overwhelmingly burn the throat. He called it on the "milder side of spicy but still plenty hot," giving it a 6–7 out of 10 heat level.
If you are a "pepper head," you may want to try Red Ember raw, and can add just a touch of heat by slicing it thinly on salads. Chef Tim Wastell of the Culinary Breeding Network also suggests pairing it with fresh berries and chèvre. When dried, it has a deep red color, sweet scent, and mild heat — so can be added in larger quantities than other cayennes. Wastell referred to this as "the first 'finishing' quality cayenne pepper powder" he has encountered and "worth the extra drying time" it requires compared to traditional thin-walled drying type cayennes.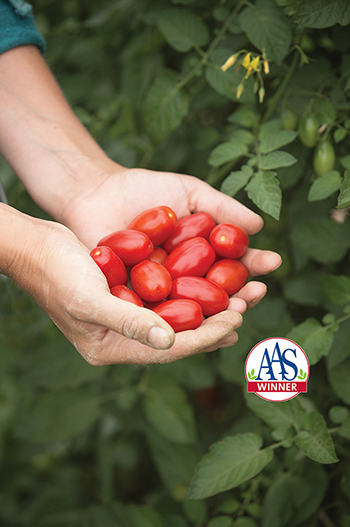 Twice the lycopene content of traditional grape tomatoes
Deeply pigmented, dark red color plus distinctive, San Marzano-type shape
Intermediate resistance to early blight
Good, meaty firmness throughout
Rich, complex flavor; moderate sweetness that balances well with drying or smoking
Culinary versatility: excellent for fresh-eating, prepared & preserved dishes
Work on the new grape tomato Valentine began in 2011, and is the result of a collaboration between Johnny's plant breeders, Rob Johnston and Emily Rose Haga, and Dr. Majid Foolad of Penn State University. Dr. Foolad is a public plant breeder, who has worked with wild tomato species over 20 years to isolate high-lycopene and disease resistance traits and incorporate them into cultivated tomatoes using traditional plant breeding techniques. Johnston (now retired) crossed the early blight-resistant and high-lycopene germplasm from PSU with Johnny's flavorful and organic adapted genetics to create Valentine. After transitioning his breeding program to Haga, she again cooperated with partners throughout the US to get feedback on the flavor and performance under organic conditions.
"Valentine is like the queen of hearts for grape tomatoes," says Haga. "The plants are early maturing but stay healthy and green long into the season — even under strong early blight pressure. The fruit has a rich, complex flavor, deeply pigmented color, and long shelf life when harvested full red-ripe. Growers find that the darker red color really stands out at market. We hope the increased lycopene content not only makes healthy snacking choices more appealing to consumers but also provides healthful benefits from the boost in antioxidants." Based on Dr. Foolad's tests, Valentine can have have twice the lycopene content of other grape tomatoes.
The flavor of Valentine is described by Chef Tim Wastell as having an outstanding combination of juiciness, light sweetness, and intense umami savoriness. He summed up Valentine's potential as "the perfect snacking or salad tomato," but also recommended cooking a large handful with olive oil and sliced garlic for a delicious quick pasta sauce, or using them whole in a savory tart. Chef Frank Giglio noted that Valentine's firmness and unique shape allow for easy handling and cutting versatility.
Both Red Ember and Valentine were featured at two culinary breeding events this fall. At the Northeast Seed-to-Table Initiative Variety Tasting Event in Unity, Maine, Johnny's plant breeders collaborated with local growers, food distributers, and culinary partners to highlight their new varieties and increase public awareness around the importance of breeding for flavor and organic adaptation. Chef Giglio used Red Ember to create sambal matah, a famous raw relish from the Gods island of Bali. He also used Valentine to create a Valentine Miso and a Valen-thyme Jam. At the same event, Jenn Legnini of Turtle Rock Farm made a fresh Valentine sauce to taste over pasta and compare to traditional paste tomatoes. In addition, Morgan Kerr of Resurgam Fermentation used Red Ember to create a remarkable hot sauce served over ricotta cheese with bok choy.
At the Culinary Breeding Network's Variety Showcase in Portland, Oregon, Johnny's breeders and their local Maine partners joined forces with West Coast growers and chefs to present these varieties on a more national stage. Chef Jason French of Ned Ludd restaurant incorporated Giglio's Red Ember relish and Valentine miso into a delicious rice congee (a comforting Asian-style porridge), topped with a spicy slaw made of Red Dragon cabbage. Meanwhile, Sarah Marshall of Marshall's Haute Sauce made Red Ember hot sauce served over polenta fried tofu.
Both Red Ember and Valentine are available for sale through Johnny's website. Five percent of the royalties on sales of Valentine will support the public breeding program run by Dr. Foolad at Penn State University.
All-America Selections is an independent, nonprofit organization that tests the newest crop varieties, then introduces only the best garden performers as AAS Winners. Judges look for significantly improved qualities such as earliness to bloom or harvest, disease or pest tolerance, novel colors or flavors, novel forms, total yield, length of harvest, and overall performance. To learn more, visit the All-America Selections website.
About the Culinary Breeding Network & Chef-in-Residence Timothy Wastell
The Culinary Breeding Network consists of plant breeders, seed growers, farmers, chefs, produce buyers and others in the food community engaged in developing and identifying varieties and traits of culinary excellence for vegetables and grains. Its mission is to break down the wall between breeders and eaters to improve agricultural and culinary quality in vegetables and grains. Chef-in-residence Wastell has experience with a range of acclaimed restaurants on the West Coast such as DOC, Firehouse, and Old Salt.
—END—
About Johnny's Selected Seeds
Established in 1973, Johnny's Selected Seeds is a 100% employee-owned company and purveyor of high quality seeds and tools. Johnny's is committed to a grower's success and provides superior products, information, and service. Johnny's products are 100% guaranteed.
CONTACT MEDIA RELATIONS
Johnny's Selected Seeds
T: 207-238-5336
F: 207-238-5388
OUR MISSION
Our mission is helping families, friends, and communities to feed one another by providing superior seeds, tools, information, and service.