Johnny's Plant Breeding Team Does It Again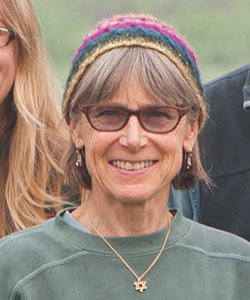 "In the French opera, gypsy Carmen falls in love with bull-fighter Escamillo. We introduced the bull's horn pepper Carmen in 2004 after years of hand-crosses in the pepper breeding nursery. Carmen quickly became a customer and staff favorite. Work soon began on finding a yellow companion."

— Janika Eckert, Plant Breeder

Albion, Maine: November 2015
— Johnny's has done it again — receiving two All-America Selections National Awards in recognition of its newest
corno di toro
pepper varieties. In addition to being chosen for their outstanding flavor and rich coloration, Johnny's AAS-winning peppers are easy to grow under a wide range of conditions, mature early, and express a compact, upright growth habit, or "plant architecture" that keeps the fruits healthy and up off the ground.
Corno di Toro, or "bulls-horn" peppers, have become an important class for market growers, in large part thanks to 'Carmen.' According to Emily Haga, plant breeder for Johnny's, " 'Carmen' is a sweet, red Italian frying pepper bred by Johnny's that has an almost cult-like following among pepper growers and lovers. Everywhere I go, people grow this 2006 AAS award-winner and love its dependability and flavor. This year, Johnny's Selected Seeds is expanding its selection in this important category, with AAS Winners 'Escamillo' and 'Cornito Giallo.' "
The result of classical breeding by Johnny's plant breeder Janika Eckert, these new varieties were years in the making. According to Eckert, this "involves a lot of good old-fashioned work," hand-selecting the best plants from each successive generation to refine important traits and achieve uniformity.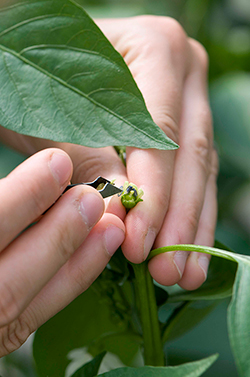 Johnny's newest corno di toro have flavor and performance that rival 'Carmen's,' but come in different sizes and colors — giving growers more choices and making it easier to pair complementary varieties that will create eye-catching displays at market and on the dinner plate. 'Escamillo' is the broad-shouldered yellow partner to deep carmine 'Carmen,' and together they make a gorgeous duo but are also refined enough to stand completely on their own. 'Cornito Giallo' (yellow) and 'Cornito Rosso' (red) are two smaller, half-size counterparts with the similar look, flavor, and maturity dates but in a dimension that is appealing for snacking or creating packaged mixes.
All these varieties were bred by Janika Eckert on Johnny's research farm in Albion, Maine to be early and productive in the field, and to have superior flavor that stands out in the kitchen. The exceptional sweetness of Johnny's corno di toro makes them tremendously versatile and great-tasting any way you eat them — raw, cooked, sliced, diced, sautéed, stuffed, and especially fire-roasted, which caramelizes the sugars and elevates them to whole new level of delicious!
"Developing and commercializing a new variety is no small feat," explains Lauren Giroux, Johnny's vegetable product manager, "and to be recognized nationally for those efforts is an honor. We're especially grateful to Janika for making these award-winning varieties a reality, and extend our thanks to all of the people involved in bringing these new corno di toro to our customers — I know we all look forward to our customers' success with these new peppers."
The availability of peppers in a rainbow of colors is also important from a nutritional standpoint, because plant pigments are important sources of vitamins and antioxidants – including carotenoids such as lycopene, lutein, and beta carotene. Since most of us eat with our eyes first, an assortment of beautiful and flavorful vegetables to choose from helps people eat healthy. Kids especially are drawn to a wide color spectrum, and offering diversity can help them establish a healthy palette early in life!
All-America Selections is an independent, nonprofit organization that tests the newest crop varieties, then introduces only the best garden performers as AAS Winners. Judges look for significantly improved qualities such as earliness to bloom or harvest, disease or pest tolerance, novel colors or flavors, novel forms, total yield, length of harvest, and overall performance. To learn more, visit the All-America Selections website.
—END—
About Johnny's Selected Seeds
Established in 1973, Johnny's Selected Seeds is a 100% employee-owned company and purveyor of high quality seeds and tools. Johnny's is committed to a grower's success and provides superior products, information, and service. Johnny's products are 100% guaranteed.
CONTACT MEDIA RELATIONS
Johnny's Selected Seeds
T: 207-238-5336
F: 207-238-5388
OUR MISSION
Our mission is helping families, friends, and communities to feed one another by providing superior seeds, tools, information, and service.