Johnny's-Bred 'Tempest' Is a Culinary Star
Albion, Maine: December 4, 2017 — The classical plant breeding team at Johnny's Selected Seeds announces the release of its third Johnny's-Bred summer squash!
The yellow crookneck squash, called 'Tempest,' was bred by Janika Eckert specifically for organic growers. It offers an excellent, buttery flavor; a firm texture that stands up well through a multitude of cooking methods, from grilling and roasting to pickling and braising; and a unique, vibrant yellow color with distinctive ridges and subtle striping.
Now retired, Eckert transitioned her summer squash breeding program to Johnny's Plant Breeder Dr. Lindsay Wyatt, who has cooperated with growers, university partners, and culinary experts throughout the U.S. to get feedback on the variety's flavor and performance under organic conditions. "Tempest is special because it's both beautiful and tastes great, making it an excellent example of the type of variety we strive to breed here at Johnny's," says Wyatt.
Among summer squash, Tempest is unique in its taste and culinary versatility. "Summer squash add volume and color to your farm stand and market, but they aren't really known for their flavor," explains Emily Starck, the squash and pumpkin breeding technician at Johnny's. "We're working to change that by breeding squash varieties for higher dry matter and higher starch content, which results in a sweeter, rich flavor and firm texture great for grilling," she adds.
Like the popular Johnny's-Bred Zephyr summer squash, Tempest has some winter squash parentage. Through painstaking classical breeding methods, Eckert was able to improve its flavor and texture over ordinary yellow summer squash. The resulting fruit is less watery than traditional summer squash, and it stays firm and flavorful when cooked.
Apart from its flavor, Tempest was also intentionally bred to have a distinctive appearance. It has a unique combination of slight ridges, subtle stripes, and a bright yellow color. The goal is to help customers quickly identify it at market. "We are making the marketing a little bit easier for the grower," explains Johnny's Director of Product Selections and Trialing, Lauren Giroux. "A shopper can easily point to Tempest and say, 'That's the one I liked; it tasted awesome.' "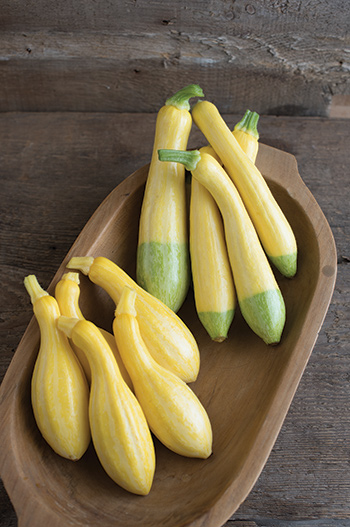 An independent culinary evaluation by Chef Tim Wastell of the Culinary Breeding Network confirms Tempest's superior flavor and culinary versatility. He says that Tempest is "unique in texture with a pleasant firmness," and that it "holds its shape and integrity in grilling, roasting, pickling, and braising applications, and was exceptional in terms of taste, texture, and appearance when sliced thinly on a mandoline and used as the base for a raw salad." Wastell notes that Tempest has a "vibrant color that remains bright after quick cooking methods like char-grilling and pan-roasting, and tones itself down to an equally attractive hue after hot pack pickling or braising." He adds that "overall, this is a flavorful, rich, delicious, versatile, and unique looking summer squash."
Chef Jenn Legnini of Turtle Rock Farm echoes Chef Wastell's praises for Tempest. Of pickled Tempest, she says, "It is like sunshine in a jar." In addition to two types of Tempest pickles, Legnini created Tempest chutney for the Northeast Seed-to-Table Initiative Variety Tasting Event, held earlier this fall in Unity, Maine.
At this year's Culinary Breeding Network's Variety Showcase in Portland, Oregon, Chef Drew Marquardt used Legnini's Tempest Chutney to prepare a delicious bite that included pureed Tempest chutney atop an Indian-spiced homemade cracker with smoked paneer cheese and vegetable ash.
Tempest is now available for purchase through Johnny's website.
—END—
About Johnny's Selected Seeds
Established in 1973, Johnny's Selected Seeds is a 100% employee-owned company and purveyor of high quality seeds and tools. Johnny's is committed to a grower's success and provides superior products, information, and service. Johnny's products are 100% guaranteed.
CONTACT MEDIA RELATIONS
Johnny's Selected Seeds
T: 207-238-5336
F: 207-238-5388
OUR MISSION
Our mission is helping families, friends, and communities to feed one another by providing superior seeds, tools, information, and service.