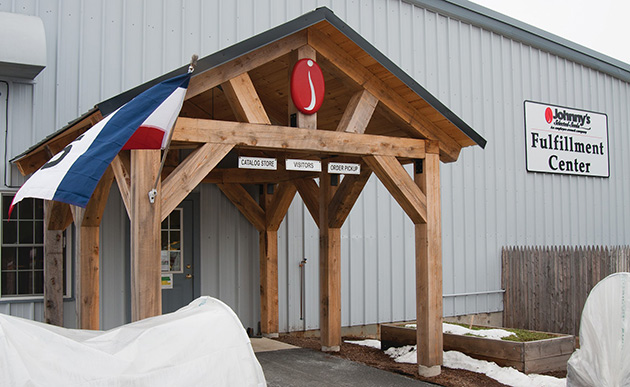 Johnny's Looks to the Future with Purchase of Warehouse
Employee-owned company builds equity in hard asset
Above: Exterior of Johnny's Selected Seeds Fulfillment Center in Winslow
Fairfield & Winslow, Maine: December 3, 2019 — Johnny's Selected Seeds has purchased its warehouse and office building after leasing the space from the Town of Winslow for many years.
The closing took place on November 26 after a yearlong process of dividing the commercial real estate into two lots and sorting out existing leases between the town and tenants.
"Johnny's is thankful for the flexibility, cooperation, and work that Winslow Town Manager, Michael Heavener, and the Town Council provided to allow Johnny's to purchase the warehouse and remain in Winslow," shared David Mehlhorn, co-CEO at Johnny's.
"We appreciate the cooperation provided by Orion Rope and Matt Gagnon, CEO, which helped to facilitate the transaction.  We have a great working relationship with Orion Rope."
Over the last few years, Johnny's has needed additional warehouse space to better support customers and business growth. According to Mehlhorn, it is critical to Johnny's customers that the company have its seeds, tools, and supplies in stock and ready to ship out quickly.
In the purchase, Johnny's acquired its existing office/warehouse space of 45,900 square feet along with 35,600 square feet in additional warehouse space. Johnny's and Orion Rope have already been co-tenants in the 35,600 sqft warehouse for over a year and will remain co-tenants for the foreseeable future.
"As an employee-owned company, we are pleased that the purchase will allow us to build some equity in a hard asset," said Mehlhorn.
"The building is a bit older and needs some improvements, but we now know that any additional improvements we make will benefit our employee-owners, and will be our own as we look to the future."
—END—
About Johnny's Selected Seeds
Established in 1973, Johnny's Selected Seeds is a 100% employee-owned company and purveyor of high quality seeds and tools. Johnny's is committed to a grower's success and provides superior products, information, and service. Johnny's products are 100% guaranteed.
OUR MISSION
Our mission is helping families, friends, and communities to feed one another by providing superior seeds, tools, information, and service.