Johnny's Welcomes New VP of R&D, Kevin L Cook, PhD
Scientific Leadership & Oversight to Drive Innovation & Growth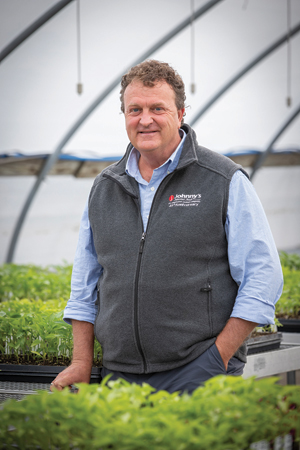 "My job will be to empower, challenge, and support our passionate and experienced research team to deliver products and information that fulfill our mission.

"Johnny's is well positioned to support the reliability and quality of food in an ever-changing environment for our growers, home gardeners, and community."
Albion, Maine: December 2, 2020 — Johnny's Selected Seeds is pleased to announce the promotion of Kevin Cook, PhD to the position of Vice President of Research & Development. In his new role, Dr. Cook will be leading Johnny's product innovation and will oversee product selection and trialing, breeding, seed production, and quality assurance.
Dr. Cook brings 25 years of experience in the agriculture industry to his new role. He joined Johnny's Selected Seeds as the Director of Plant Breeding in April 2020. Prior to joining Johnny's, Dr. Cook worked with Syngenta Seed/Rogers, completing his tenure there as the Global & Regional Breeding Leads for pepper. He has developed numerous squash and pepper varieties.
His formal education, practical seed and plant knowledge, professional experience, and lifelong enthusiasm for growing seeds and plants make him a unique fit for the role. Over his short time at Johnny's, he has proven himself to be a leader with a managerial style that reflects a supportive and professional work environment.
Dr. Cook joins a seasoned team, and since joining Johnny's this spring has already begun evaluating breeding material and working with the product selection team on the company's product strategy. As Co-CEO Dave Mehlhorn notes, "The goals associated with this role will be to create an overarching operational plan for the R&D functions, and build out our future strategy as well as the infrastructure plans for the product side of our business."
Johnny's Co-CEO Gretchen Kruysman adds, "From his first visit, we recognized Kevin as a good fit for Johnny's. He developed a passion for gardening as a young boy growing up in the Catskills and has continued growing ever since. Kevin is passionate about discovering and developing new varieties to fulfill the needs of our customers."
—END—
About Johnny's Selected Seeds
Established in 1973, Johnny's Selected Seeds is a 100% employee-owned company and purveyor of high quality seeds and tools. Johnny's is committed to a grower's success and provides superior products, information, and service. Johnny's products are 100% guaranteed.
CONTACT MEDIA RELATIONS
Johnny's Selected Seeds
T: 207-238-5336
F: 207-238-5388
OUR MISSION
Our mission is helping families, friends, and communities to feed one another by providing superior seeds, tools, information, and service.