Classical Plant Breeders Have Produced a More Bolt-Resistant, Refined Strain of Red Chard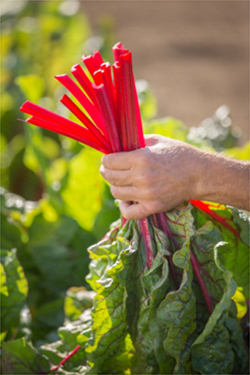 Albion, Maine — January 3, 2018: Swiss chard is both a commercial staple and a home garden favorite, but it can be susceptible to bolting, which means the plants put on flowers and set seed. Once greens like chard bolt, their flavor degrades, and they are no longer marketable.
Of chard types, 'Rhubarb' chard — with its beautiful red stems — is "notoriously early to bolt," says Dr. John Navazio, Johnny's Selected Seeds plant breeder. Navazio wanted to create a more bolt-resistant strain of 'Rhubarb' chard that would excel in organic growing systems and maintain vibrant and uniform red stems and green leaves.
So, Navazio partnered with the Organic Seed Alliance and Nash Huber of Nash's Organic Produce in Sequim, Washington on a breeding project that resulted in 'Rhubarb Supreme', a new, open-pollinated red chard with greatly improved bolt resistance.
Chard tends to bolt when it is exposed to cool temperatures in spring and early summer. This makes bolting a real issue for growers at higher latitudes where spring and summer can often be marked by stretches of cool weather in which nighttime temperatures dip to 50°F/10°C or below. At Nash's Organic Farm in Washington, the temperature consistently drops to 50°F/10°C on summer evenings, so it was the perfect location for the breeding project.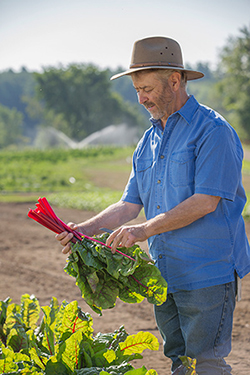 Navazio and Huber used classical breeding techniques of selection: they selectively propagated desirable plants and culled plants with less desirable traits. They made an initial planting in the spring, and from that initial planting, they identified the plants that showed the best bolt resistance (along with other desirable characteristics like color and flavor). They saved the seed from these plants to repeat the process, planting each subsequent generation of plants just a little bit earlier in the spring, exposing them to progressively cooler temperatures and gradually increasing the pressure to bolt.
After several meticulous selections across 5–6 generations of plants, Navazio and Huber had produced 'Rhubarb Supreme,' which is less likely to prematurely bolt under cool weather conditions than other varieties of red chard.
Of course, bolt-resistance means little to consumers without visual appeal and exceptional flavor, and the breeders paid close attention to these qualities when selecting plants. For example, chard tends to develop brown discoloration on its leaves when exposed to cool temperatures. The breeders ensured the leaves of 'Rhubarb Supreme' stay deep green, even in cool temperatures. The petioles, or stems, of 'Rhubarb Supreme' are also uniformly wide and sturdy to create nice bunches at the farm stand or market. And the red color in the petiole stands up well to various cooking methods, resulting in a beautiful (and delicious) final product.
The end result is a red chard that is as beautiful as it is delicious. As Navazio likes to say, "The produce has to smile back at you." 'Rhubarb Supreme' certainly does that.
'Rhubarb Supreme' is now available for purchase from Johnny's.
—END—
About Johnny's Selected Seeds
Established in 1973, Johnny's Selected Seeds is a 100% employee-owned company and purveyor of high quality seeds and tools. Johnny's is committed to a grower's success and provides superior products, information, and service. Johnny's products are 100% guaranteed.
About Nash's Organic Produce
Nash's Organic Produce is located in the Sequim–Dungeness Valley on the fertile delta of the Dungeness River on the North Olympic Peninsula in Washington State. The team at Nash's is farming about 600 acres: 75 acres of vegetables, berries, and orchard; 250 acres of grain; 20 acres of organic seed; 50 acres devoted to pigs, poultry, and compost; and the rest is fallow or in hay. The farm produces organic fruits, vegetables, grains, seed, eggs, and pork. It hosts a CSA and sells at 7 local farmers markets and wholesale.
About the Organic Seed Alliance
The mission of the Organic Seed Alliance is to advance ethical seed solutions to meet food and farming needs in a changing world. The alliance is a nonprofit that focuses on education, breeding and seed production research, and advocacy to strengthen organic seed systems. It is headquartered in Port Townsend, Washington and has regional offices in California and Montana.
CONTACT MEDIA RELATIONS
Johnny's Selected Seeds
T: 207-238-5336
F: 207-238-5388
OUR MISSION
Our mission is helping families, friends, and communities to feed one another by providing superior seeds, tools, information, and service.