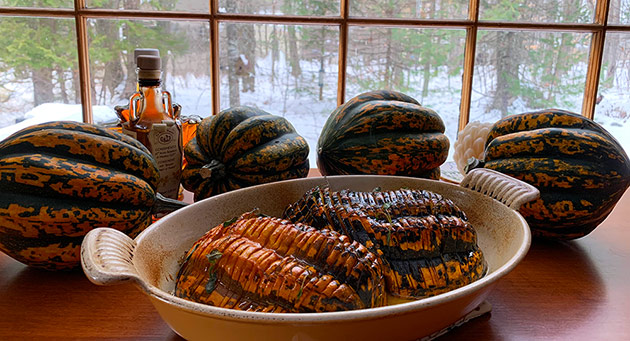 Plant Breeding Stories:

3 New Johnny's-Bred Varieties

"

The visually brilliant and instantly identifiable 'Starry Night' packs exceptional flavor and smooth texture into an attractive, 'pixelated' package.

"

— Chef Timothy Wastell, Culinary Breeding Network
A 2020 Debut for Starry Night, Citrine & Pipsqueak
by Rob Johnston, Jr., Founder, Johnny's Selected Seeds (Retired)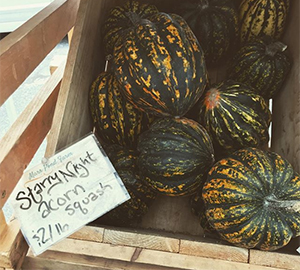 "
'Starry Night' makes its farmer's market debut, thanks to our awesome trial partners, Courtney and Ryan of Marr Pond Farm in Sangerville, Maine. This is the first variety from my program that I've had a major role in developing, and it's so exciting to see it out in the world.
"
— Lindsay Wyatt, PhD, Squash & Pumpkin Breeder, Johnny's Selected Seeds
A special new variety starts with an idea — a question, really. What will happen if we play matchmaker with these diverse acorn squash parents?
For 'Starry Night,' I began the work in 1991 when I started developing one of the parents, and Lindsay Wyatt, my successor in squash and pumpkin breeding, brought the project to fruition.
In 2014 we crossed different "A" parents that were white and green striped with different "B" parents that were dark green. We could predict that such an A x B mating would result in progeny that's colored in checks and/or stripes of two or three colors. But the details of color, shape, and size, and indeed flavor — those traits are what breeders call "complexly inherited" — they involve many genes. So we wouldn't know exactly what the AB fruits looked like until we grew plants from the 2014 A x B hand pollinations to find out.
We had over a dozen similar crosses in the 2015 trial. We retrialed the best couple of those in 2016 and decided on our favorite. Then came seed production work and further trialing in various locations. Finally, we had seeds of 'Starry Night' for Johnny's customers in 2020.
At first everyone is drawn by 'Starry Night's memorably flashy appearance. But it's the surprisingly sweet, starchy flavor that seals the deal. Unusual for acorn squash, the fruits look and taste good for three or even four months after harvest.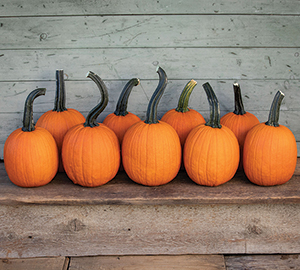 "
With its long, dark, emotive stem, 'Pipsqueak' packs a lot of character into a small package that is easy for kids to carry and carve, and easy for all ages to love. Ultimately, when it came to breeding 'Pipsqueak' we aimed to capture the imagination of the Definitive Pumpkin Patch Connoisseur — kids — while providing growers with a reliable pumpkin variety that will continue to be a crowd-pleaser year after year. 'Pipsqueak' manages to be cute but hardy, fun but practical, unique but reliable, whimsical but economical — a rare combination, but 'Pipsqueak' hits all the marks.
"
— Emily Starck, Squash & Pumpkin Breeding Technician, Johnny's Selected Seeds
"Way back" in the 1980s, Johnny's began cooperating on pumpkin breeding with plant scientists from the University of New Hampshire (Brent Loy) and Cornell University (Molly Jahn, George Moriarty, Dick Robinson, and Michael Mazourek), a practice we continue to this day.
Part of plant breeding is developing parent lines for making hybrids and finished nonhybrid varieties. Breeders also make cross-pollinations between parent lines, either for the purpose of developing new hybrids and new nonhybrids, or to develop new parent lines.
In 2015 Lindsay Wyatt, my successor in pumpkins, and her team ran a "first look" trial of numerous small-fruited experimental pumpkins from crosses we made in 2014. Several involved parents developed at UNH and Cornell. One of those stood out for its glowing orange skin and long, strong, dark-green, curling handle. Then Lindsay's team trialed it again in 2016 and 2017, and it continued to impress — small children could carry one around without the handle breaking.
It was trialed widely in 2019 and well liked. We introduced it as 'Pipsqueak PMR' in 2020.
Thanks to UNH and Cornell for their cooperation.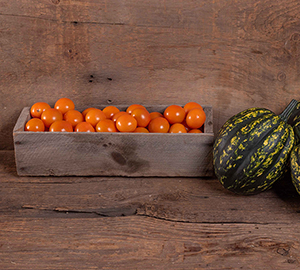 "
'Citrine': Favorable color and texture. Nice well-balanced acidity — light sweetness. Good preserving tomato.
"
— Katina & Kyle Connaughton, 3-Michelin-Star
Single Thread Farms
Restaurant & Inn, Healdsburg, California
In 2009 we made numerous crosses with a mysterious Johnny's orange cherry tomato. I say mysterious because earlier in the 2000s it appeared unannounced in my tomato nursery. I saved seeds and made annual selections. One of the 2009 crosses was with a small-fruited variety that I got from North Carolina State University tomato breeder Randy Gardner.
We liked the resulting hybrid in trials each year, beginning in 2010. Well then, why did we wait so long to introduce it?
Johnny's introduced 'Sun Gold' to the United States in 1991. As time passed, throngs of growers and their families and customers discovered its outstanding, sweet, winey, tropical taste.
From 1991 through 2019, 'Sun Gold' was the only orange cherry that Johnny's offered. But it has its faults — mainly cracking of the mature fruits, and the ripe fruits tend to drop to the ground within a week or two of ripening. Throughout those twenty-some years we were trialing many good, new orange cherries from our cooperators, but we did not want to introduce a tomato that improved on 'Sun Gold's faults while falling short of its flavor, and we weren't finding that.
Finally, Johnny's tomato breeder Emily Haga trialed that 2009 Johnny's cross in 2017 and 2018 with growers in different climates in the US. The growers liked the healthy plants: vigorous, but not too tall. And they liked the flavor, which they described as rich and balanced, with a meaty texture. They also liked its resistance to cracking, and they appreciated how the ripe fruits held well on the plant.
We named it 'Citrine.' Nice name. Time will tell how widely appreciated and grown it becomes, and what effect it has on 'Sun Gold's dominance.
Thanks to NCSU for their cooperation.