New Orchid
(F1) Watermelon Seed
Zoom Image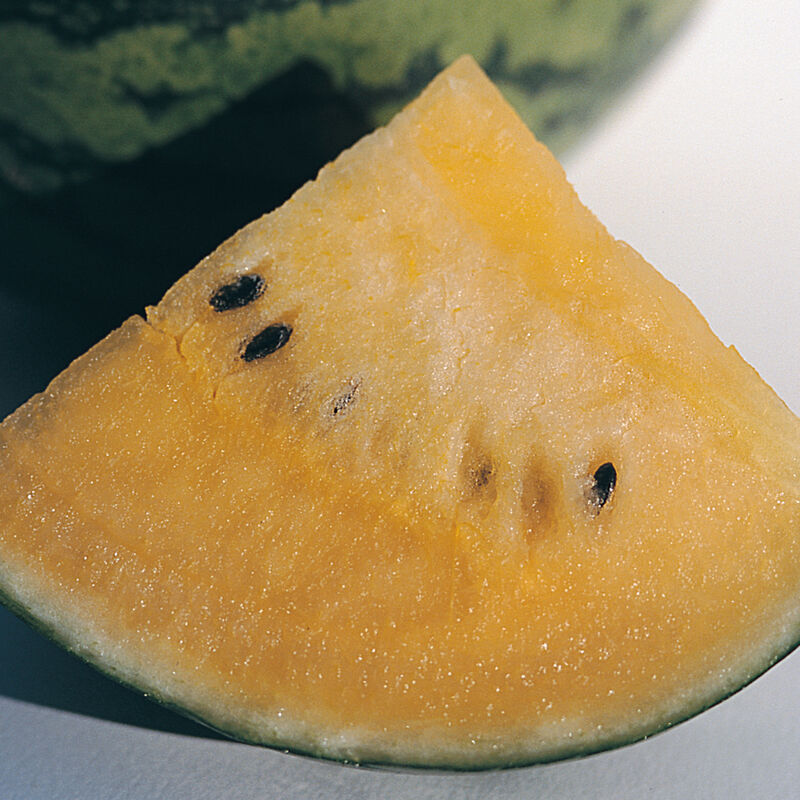 New Orchid
(F1) Watermelon Seed
Sweet, bright orange flesh.
Beautiful appearance inside and out. New Orchid's outstanding, sherbet-like taste makes it a real people pleaser. The fruits are a medium-large "icebox" size, avg. 7–9 lb., and oval-round. The skin has dark green, high-contrast stripes. Avg. 1–2 fruits/plant.
Specs:
Packet: 15 seeds
Avg. 9,500 seeds/lb
This product does not ship to Canada.
This product does not ship to the following countries: United Arab Emirates, Austria, Australia, Barbados, Belgium, Bulgaria, Bermuda, Bahamas, Switzerland, Cyprus, Czech Republic, Germany, Denmark, Estonia, Spain, Finland, France, United Kingdom, Greece, Hong Kong, Croatia, Hungary, Ireland, Iceland, Italy, Japan, Republic of Korea, Kuwait, Cayman Islands, Lithuania, Luxembourg, Latvia, Malta, Netherlands, Norway, New Zealand, Oman, Poland, Portugal, Qatar, Romania, Saudi Arabia, Sweden, Singapore, Slovenia, Slovakia, San Marino, Thailand, Trinidad and Tobago, Taiwan, Ukraine.
SCIENTIFIC NAME:
Citrullus lanatus var. lanatus

CULTURE:
A light, well-drained soil with a pH of 6.5–7.5 and a southern exposure is ideal. Good soil moisture is important in early stages of growth and during pollination when fruits are setting. After this point do not water the last week before fruits are ripe, as overwatering can cause bland fruit.

TRANSPLANTING:
Sow indoors in 50-cell plug trays or 2–3" peat pots in late April or one month (no sooner!) before transplanting outdoors. Plant 2 seeds per cell or pot, about ½–1" deep. Keep temperature 80–90°F (27–32°C) until germination. Handle young plants carefully and never let the soil dry out. Grow seedlings at 75°F (24°C). Reduce water and temperature for a week to harden seedlings. When the weather is frost-free, warm, and settled, transplant 2–3' apart in rows 6–8' apart, or thin to 1 plant/pot or cell with scissors and transplant 18" apart. Even hardened watermelon seedlings are tender! Do not disturb roots when transplanting, and water thoroughly.

DIRECT SEEDING:
Sow 1–2 weeks after last frost when soil is warm, above 70°F (21°C), 3 seeds every 18–36", ½–1" deep, thinning to 1 plant/spot.

TRIPLOID/SEEDLESS:
Start indoors under favorable conditions to ensure proper germination. A pollenizer watermelon, or normal seeded watermelon, is required for fruit set. Seeds of a pollenizer and complete growing instructions are included with each order. Although the fruits are practically seedless, a few seeds may form under stressful conditions. For more information, see our Seedless Watermelon production guide.

ROW COVERS:
Since watermelons like consistently warm conditions, plastic mulch and row covers will make for earlier crops and better yields, especially in the North. Remove covers when plants have female flowers (tiny fruit at base of blossom).

DISEASES:
Choose varieties resistant to diseases in your area. "Sudden wilt" is a complex disease and cold weather stress syndrome in late summer when plants have a heavy set of ripening watermelons, can cause plants to wilt almost overnight. Keep plants healthy with good fertility and irrigation to avoid sudden wilt.

INSECT PESTS:
Protect against cucumber beetles with floating row covers applied at transplanting, or control with insecticides such as pyrethrin or azadarachtin.

RIPENESS:
There are 3 ways to tell when a watermelon is ripe: 1) the tendril nearest the point on the vine where fruit stem attaches is browning/dead; 2) the spot where the fruit rests on the ground is yellow; and 3) the classic mystery — you hear "punk," as opposed to "pink" or "pank," when you flick the melon with your fingers.

STORAGE:
Hold at 45°F (7°C) and 85% relative humidity 2–3 weeks.

DAYS TO MATURITY:
From transplanting; add about 10 days if direct-seeded.

AVG. DIRECT SEEDING RATE:
1 oz./340', 1,000 seeds/500', 3 oz./1,000', 1⅓ lb./acre at 3 seeds every 18", in rows 6' apart.

TRANSPLANTS:
Avg. 550 plants/oz.

SEED SPECS:
SEEDS/LB.: Avg. 9,700.

PACKET:
See individual varieties.
Johnny's is committed to your success, every step of the way.
We want you, our customer, to be 100% satisfied with all of our seeds, tools, and supplies.
If anything you purchase from us proves unsatisfactory, we will either replace the item or refund the purchase price.