Chrysal Professional 1 Hydrating Solution – 1 Qt.
Zoom Image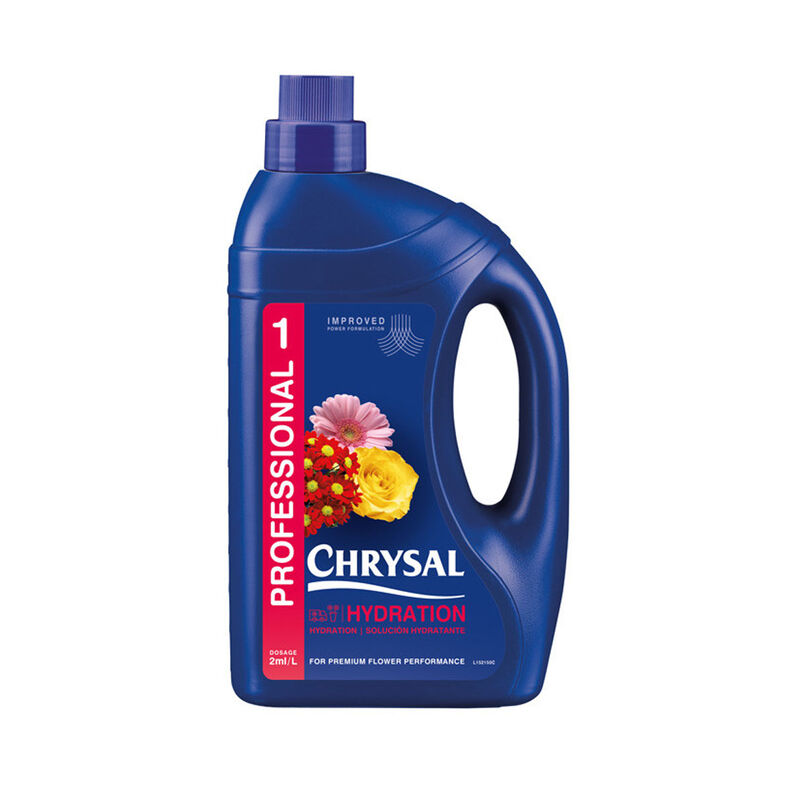 Chrysal Professional 1 Hydrating Solution – 1 Qt.
All-purpose hydrator for improved bloom quality.
Provide flowers with adequate hydration by harvesting right into this pre-conditioning solution. Mix with water to create a pre-conditioner for stimulating water uptake in a wide variety of specialty cut flowers, improving bloom quality in storage. Use Professional 1 in your harvest buckets to get the stems drinking just after cutting. Contains aluminum sulphate to lower water pH, suppress microbial growth, and neutralize secretions that can lead to blockages in stem vasculature. Also great for feeding woody foliage plants that do not require the carbohydrates in standard flower foods. 1 quart concentrated liquid solution makes approximately 130 gallons. Use the Hand Pump (#6877) for easy dosing. NOTE: Does not include carbohydrates (sugars) required for holding flowers for longer periods of time. Stems should be held in a hydration solution for no more than 48 hours post-harvest, at which time they should be moved to a holding solution containing carbohydrates. Best if used within 18 months of purchase.
This item's size, weight, or shape may require an additional shipping surcharge based on the shipping location selected. Specific charges will be displayed during checkout.
Johnny's is committed to your success, every step of the way.
We want you, our customer, to be 100% satisfied with all of our seeds, tools, and supplies.
If anything you purchase from us proves unsatisfactory, we will either replace the item or refund the purchase price.