EZ-Flo Fertilizer Injector – 3/4 Gal.
Zoom Image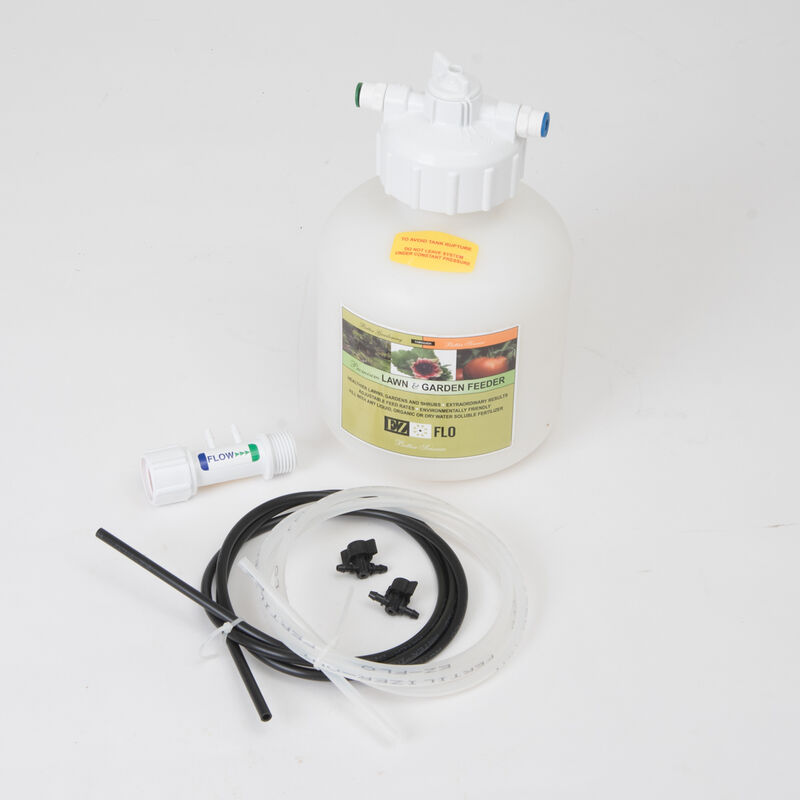 EZ-Flo Fertilizer Injector – 3/4 Gal.
Feed plants through a garden hose, drip system or irrigation system every time you water.
Ensures proportion of fertilizer or supplement to water remains constant from the beginning of the cycle until tank is depleted. An adjustable cap with four basic settings controls the amount of fertilizer/supplement mixed with water. Easy to install and use. Can be connected in a variety of ways. Can easily be relocated to feed multiple areas. Most often attached to exterior water faucet (hose bib) with anti-siphon protection. Can be connected to an existing sprinkler or drip irrigation system after any valve as long as the unit is only under pressure while operating. Great when you want to separately address certain types of plants that require special fertilizers or supplements. Made of polyethylene plastic. Total capacity: 3/4 gal.; Fertilizer capacity: 5 lb. Capacity is approximate. Max pressure: 50 PSI (3.45 bars); can only be installed in on/off pressure applications where the system is only under pressure when it is in use. Made in the USA.
This item's size, weight, or shape may require an additional shipping surcharge based on the shipping location selected. Specific charges will be displayed during checkout.
SPECIFICATIONS: Total Capacity: 0.75 gal (2.8 L). Fertilizer Capacity: 5 lb (2.3 kg). Pressure Rating: Low (up to 60 psi). See Caution, below.* Minimum Water Flow Required: 2.0 gal/min (7.6 L/min) via Standard Hose Bib; 2.5 gal/hr (9.5 L/hr) via Ball Valve Coupling. Adjustable Feed Ratio Range: Ratio of water to fertilizer adjustable from 1000:1 on SLOW setting, to 100:1 on FAST setting. Water Volume to Empty Tank: 750 gal (2.80 kL) SLOW; 75 gal (280 L) FAST. Physical: 6" x 6" x 8"; 2lb (15cm x 15cm x 20cm; .90 kg). Includes: Hose Bib Adapter with US standard threads, _" nylon barbed tubing, and tubing valves.
Johnny's is committed to your success, every step of the way.
We want you, our customer, to be 100% satisfied with all of our seeds, tools, and supplies.
If anything you purchase from us proves unsatisfactory, we will either replace the item or refund the purchase price.