Univent Automatic Vent and Window Opener
Zoom Image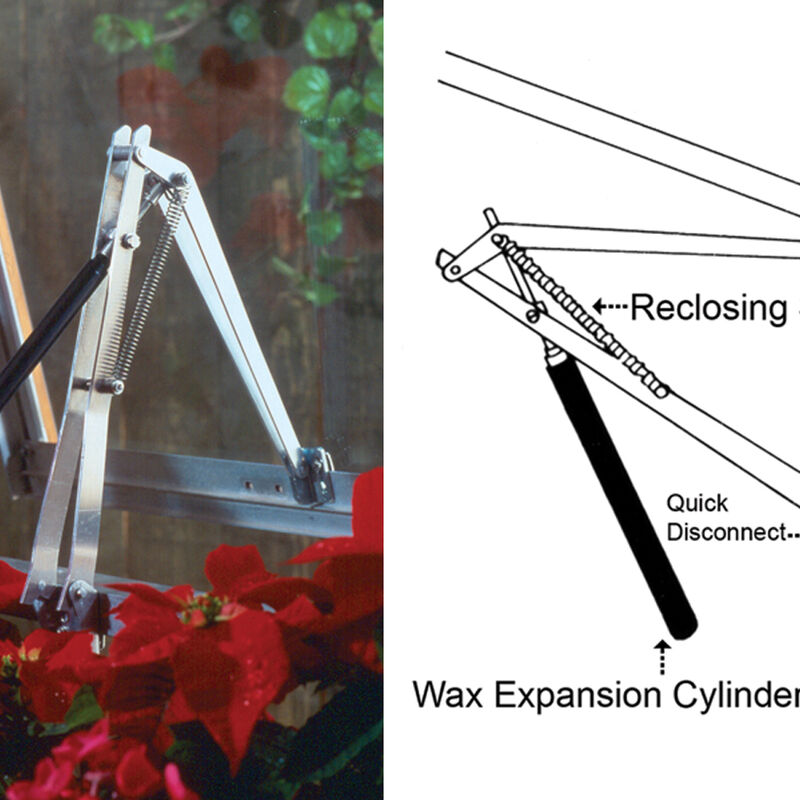 Univent Automatic Vent and Window Opener
Universal, for greenhouse and cold frame applications.
Temperature-responsive opener for greenhouse windows and traditional cold frames. Can be adjusted to open between 60°F/16°C and 77°F/25°C. Extends to 18", lifts up to 15 lb. Made from corrosion resistant materials including aluminum and stainless steel. Quick-disconnect mounting bracket is especially useful when mounted on cold frames. Also appropriate for roof and wall vents. Winter Storage: It is recommended that your Univent - or at least the cylinder - is removed from your greenhouse or cold frame for the winter. Store it in a dry place and do not forget to lubricate the piston rod before remounting in the spring. Also check that the piston rod moves smoothly.
This item's size, weight, or shape may require an additional shipping surcharge based on the shipping location selected. Specific charges will be displayed during checkout.
How It Works: Vent openers do not require electricity. The opener has a metal cylinder containing a mineral wax that expands when heated. This pushes a piston that opens the vent. As the temperature cools the wax contracts, and a spring closes the vent and resets the piston. The opening and closing of the vent is gradual, allowing just the right amount of air flow for cooling.
Johnny's is committed to your success, every step of the way.
We want you, our customer, to be 100% satisfied with all of our seeds, tools, and supplies.
If anything you purchase from us proves unsatisfactory, we will either replace the item or refund the purchase price.