Tavor
Organic Artichoke Seed
Zoom Image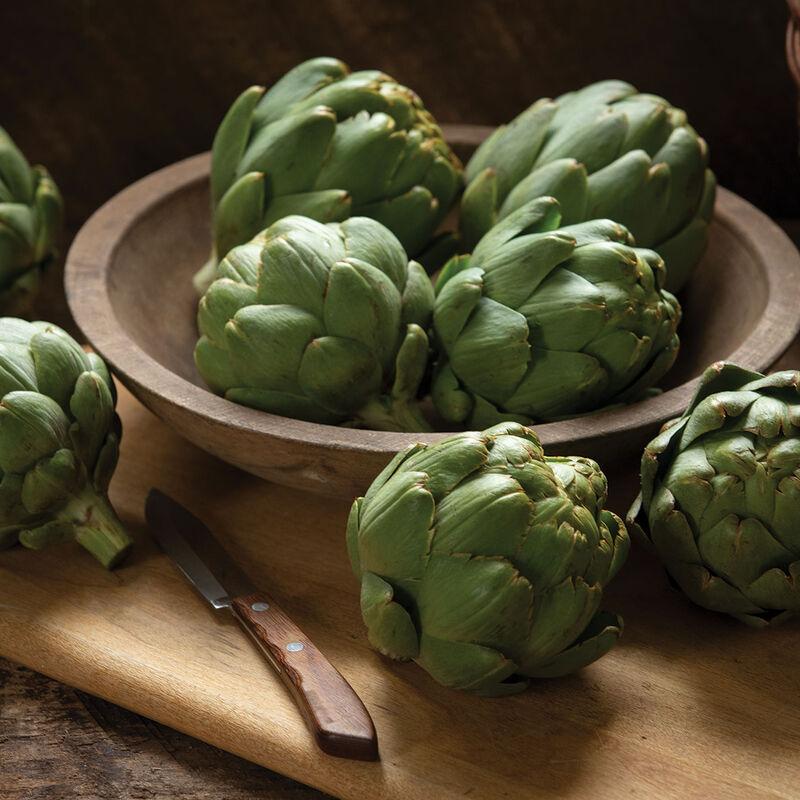 Tavor
Organic Artichoke Seed
An improved Imperial Star type for low-input systems that features minimal spines for easier harvesting. The 2–3' plants have an open habit and produce an average of 1–2 primary buds per plant, averaging about 3–4" in diameter. Secondary buds average 5–7 per plant at 1 1/2–2" in diameter. Perennialization possible in Zone 9 and warmer; otherwise treat as an annual. USDA Certified Organic.
Specs:
Packet: 25 seeds
Avg. 9,700 seeds/lb
SCIENTIFIC NAME:
Cynara cardunculus var. scolymus

CULTURE:
Artichokes require very fertile, well-drained soils with a pH of 6.5–7.0. Sow artichokes indoors 8–12 weeks before transplant date. Plant 2–3 seeds, ¼" deep, per cell in 50-cell trays or individual containers. Germinate at 70–80°F (21–26°C) and grow at 60–70°F (15–21°C) day and 50–60°F (10–15°C) night. Thin to 1 plant per cell or container. Transplant 6- to 12-week-old plants to the field 2–3' apart in rows 3–6' apart. Protect from frost.

MILD AREAS:
In Zone 9 and warmer, may be grown for annual or perennial production.

IMPORTANT COLD TREATMENT (VERNALIZATION):
Artichokes need 10 days of 45–50°F (7.2–10°C) temperatures to induce budding. In mild regions this can be accomplished naturally when overwintering a fall-planted crop. For spring-planted crops, cold exposure can occur in a refrigerator or cooler. Timing transplanting to expose seedlings to these temperatures is possible but may be unreliable.

HARVEST:
Clip buds at desired size before bracts fully open.

SEED SPECS:
SEEDS/LB.: Avg. 11,500.

DAYS TO MATURITY:
From transplant.

PACKET:
25 seeds.
Johnny's is committed to your success, every step of the way.
We want you, our customer, to be 100% satisfied with all of our seeds, tools, and supplies.
If anything you purchase from us proves unsatisfactory, we will either replace the item or refund the purchase price.