Double Standard
Organic Corn Seed
Zoom Image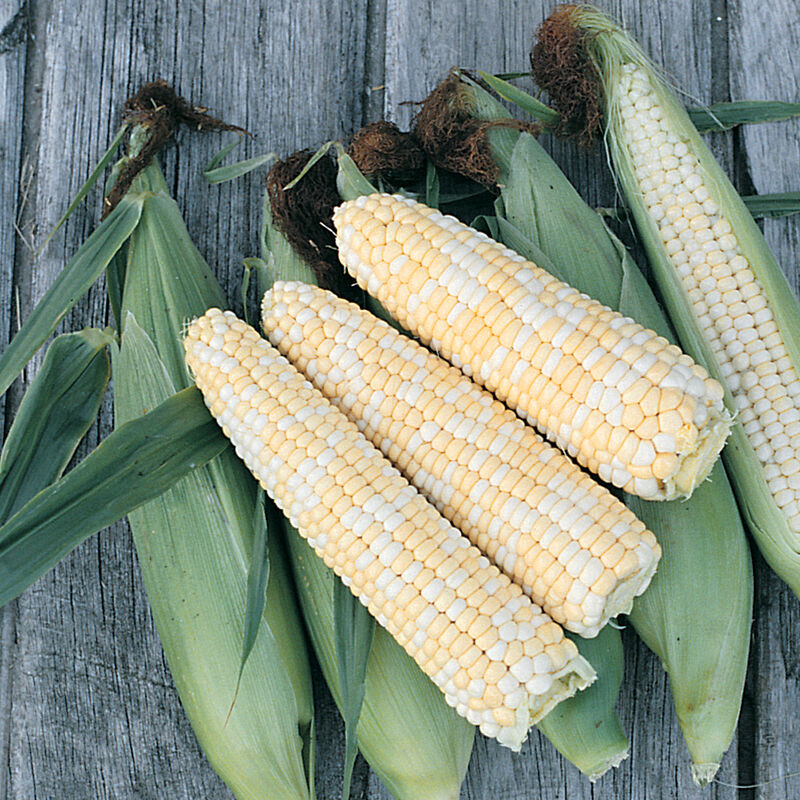 Double Standard
Organic Corn Seed
The first open-pollinated bicolor sweet corn (su).
Early maturing, with strong germination in cool soil. We developed this hardy corn for northern home gardeners, especially seed-saving enthusiasts. It is based on a nice yellow corn called Burnell that was grown in Maine in the early 1900's, and an early white heirloom from New York's St. Lawrence Valley. Nicely sized, avg. 7", ears with 12–14 rows of yellow and white kernels, some ears with yellow kernels only. Unlike the seeds of hybrid bicolor corn, which are all yellow, these are yellow and white. If desired, you can have early, all-white corn simply by planting only white kernels. Excellent traditional corn taste. Vigorous 5' plants. (Untreated seeds only.) USDA Certified Organic.
Specs:
Packet: 150 seeds
Avg. 2,100 seeds/lb
This product does not ship to Canada.
This product does not ship to the following countries: Australia, Japan, Republic of Korea, New Zealand, Thailand, Taiwan.
Canadian orders for this seed cannot be processed online. Please call 1-877-564-6697 to place orders for all Canadian provinces except British Columbia; shipments to British Columbia are prohibited.
SCIENTIFIC NAME:
Zea mays


CULTURE:
Corn varieties which reproduce true to type from seeds year after year are referred to as "open-pollinated (OP)" or "standard." These varieties do not have the uniformity or tenderness of today's hybrids. While many people enjoy their old-fashioned chewiness and taste, we suggest using OP's on a small scale if you're unfamiliar with them. Sow 3/4-1" deep, 6-7" apart (or 2 seeds every 9", thinning to 1 plant), rows 30-36" apart. Increase this rate for untreated seeds. Arrange in blocks of at least 4 rows for proper pollination, which is needed for well-filled ears. Successive plantings can be made through early summer; most growers prefer to extend the sweet corn season by planting a few varieties of different maturities.


INSECT PESTS:
Consult your local Extension office for Integrated Pest Management information. Reduce insect pests in the next corn crop by prompt plowing-in or removal and composting of cornstalks after harvest.


HARVEST:
When kernels are full and "milky," generally indicated by a drying and browning of the ear silks. Record the date on which about half the plants show silk. Corn is ready to eat 18-24 days after ear silks first show; the warmer the weather, the sooner you can pick it.


DAYS TO MATURITY:
Varies widely with weather conditions and planting dates. Use these figures to compare one variety to another, not to accurately predict maturity on a given day.


AVG. SEEDING RATE:
1M/500', 5M/2,500', 25M/12,500', 30M/acre at 2 seeds/ft. in rows 36" apart.


SEEDS/LB.:
Avg. 2,100.


PACKET:
150 seeds, sows 75' at 2 seeds/ft.
Johnny's is committed to your success, every step of the way.
We want you, our customer, to be 100% satisfied with all of our seeds, tools, and supplies.
If anything you purchase from us proves unsatisfactory, we will either replace the item or refund the purchase price.