Petch Siam
(F1) Eggplant Seed
Zoom Image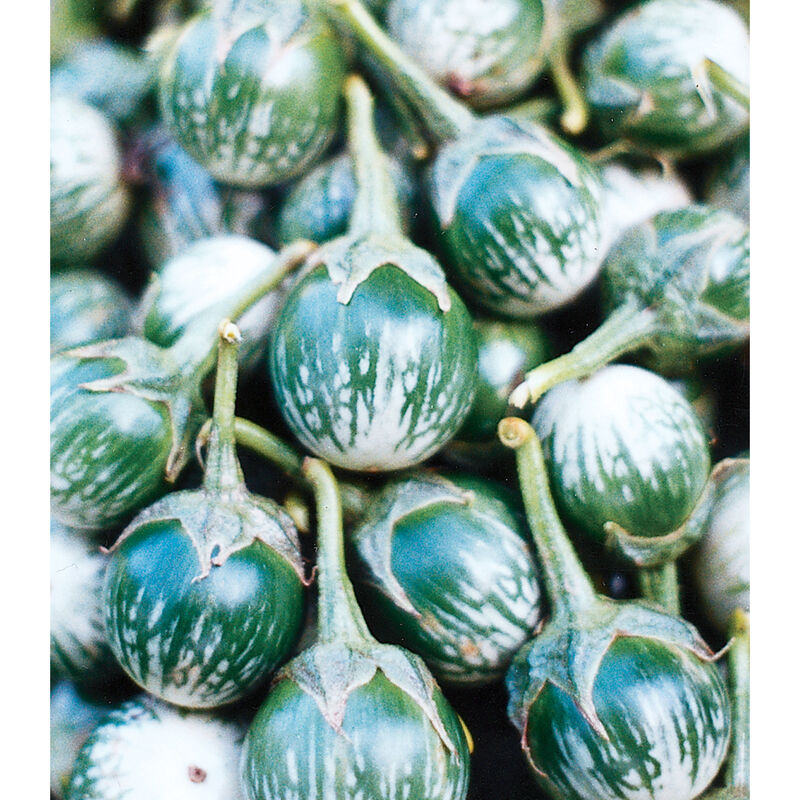 Petch Siam
(F1) Eggplant Seed
Our recommended substitute for Kermit.
A Kermit-type eggplant with uniform fruits that are darker and have a more distinct veining pattern. Fruits are 1 1/2–2" diameter and have good flavor and slight ribbing. Well-branched plants. Less vigorous than Kermit and a bit later to mature. Green calyx.
Specs:
Packet: 25 seeds
Avg. 8,300 seeds/lb
This product does not ship to the following countries: Japan, Republic of Korea, Taiwan.
SCIENTIFIC NAME:
Solanum melongena, except where otherwise noted (S. gilo).

CULTURE:
Eggplants require fertile, well-drained soil with a pH range of 6.2-6.8. Sow seed in flats indoors during early spring, or 6-8 weeks prior to planting outdoors. Sow 4 seeds/in., ¼" deep, and maintain soil temperature at 80-90°F (27-32°C) until emergence and 70°F (21°C) thereafter. Seed will not germinate in cool soil. After true leaves form, thin to 2-3" apart in flats or transplant into 2-3" pots or plug trays. To harden plants, reduce water and temperature to about 60°F (16°C) for about a week before planting out. Transplant outdoors late spring or early summer once the weather has thoroughly settled. Eggplants are tender, and cold weather may weaken them. Use row covers for a boost in performance and insect control. Remove when plants reach the covers or when blossoms first appear. Space transplants 18" apart in rows 30-36" apart, or 2 rows on plastic mulch, 18-24" between plants. It is important to be mindful of over-fertility. Too much nitrogen often results in large, bushy plants that produce only one small set of fruit.

STAKING:
Eggplants may be pruned and staked to keep the fruits straight.

DISEASE:
Practice lengthy crop rotation to avoid Verticillium wilt. A 4-5 year rotation for all Solanaceae crops is recommended.

INSECT PESTS:
Fabric row covers are the recommended method of control for flea beetles and Colorado potato beetles (CPB) for newly set transplants. Once covers are removed, regularly check undersides of leaves and crush any orange egg masses of the CPB.

HARVEST:
Clip fruit stem with shears. Pick fruits of desired size regularly to encourage further production.

DAYS TO MATURITY:
From transplanting.

TRANSPLANTS:
Avg. 800 plants/1,000 seeds.

SEED SPECS:
SEEDS/OZ.: 6,500–8,400 (avg. 7,300).

PACKET:
25 seeds.
Johnny's is committed to your success, every step of the way.
We want you, our customer, to be 100% satisfied with all of our seeds, tools, and supplies.
If anything you purchase from us proves unsatisfactory, we will either replace the item or refund the purchase price.