Clemson Spineless
Organic Okra Seed
Zoom Image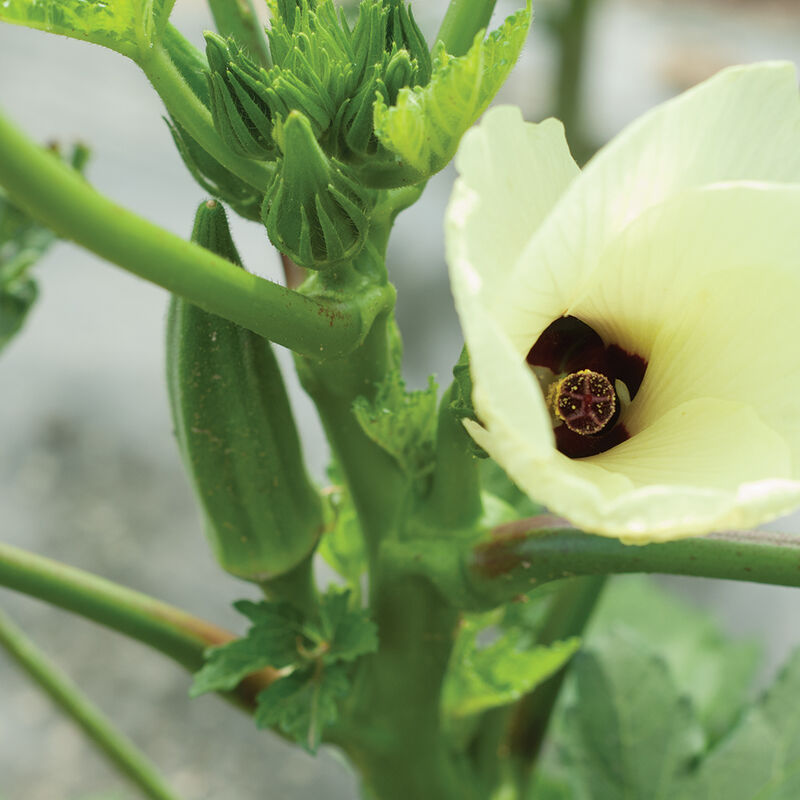 Clemson Spineless
Organic Okra Seed
Light green pods consist of 5–8 points. The standard variety in the South. Cream-colored flowers are also edible. An attractive ornamental; good in containers.Edible Flowers: Deep fry flowers or eat them stuffed, or use fresh as a striking, exotic-looking garnish. Sweet and mild flavor. USDA Certified Organic.
Specs:
Packet: 50 seeds
Avg. 8,700 seeds/lb
SCIENTIFIC NAME:
Abelmoschus esculentus

CULTURE:
Sow in 2" pots or plug trays, 3 seeds per pot/cell, 1/4" deep. Start 4-5 weeks ahead of transplanting out after frost danger when soil is warm. Keep soil mix temp. 80-90°F (27-32°C) for fast germination. Thin to one plant per pot/cell. Transplant 12-18" apart in rows 3' apart. Do not disturb roots. Use row cover for added warmth to plants and soil.

DIRECT SEEDING:
After frost danger, sow 2" apart, 1/2" deep when soil is warm - at least 70°F (21°C). Thin to 12-18" apart.

HARVEST:
Harvest promptly by clipping pods at 3-4" long to keep plants productive. Oversized pods become tough.

AVG. DIRECT SEEDING RATE:
1 oz./78', 13 oz./1,000', 12 lb./acre at 6 seeds/ft. in rows 36" apart.

TRANSPLANTS:
Avg. 155 pots/cells per oz., 2,500 pots/cells per
DAYS TO MATURITY:
From transplant.

SEED SPECS:
SEEDS/LB.: Avg. 9,000.

PACKET:
50 seeds.
Johnny's is committed to your success, every step of the way.
We want you, our customer, to be 100% satisfied with all of our seeds, tools, and supplies.
If anything you purchase from us proves unsatisfactory, we will either replace the item or refund the purchase price.