Polar Bear
Treated (F1) Pumpkin Seed
Zoom Image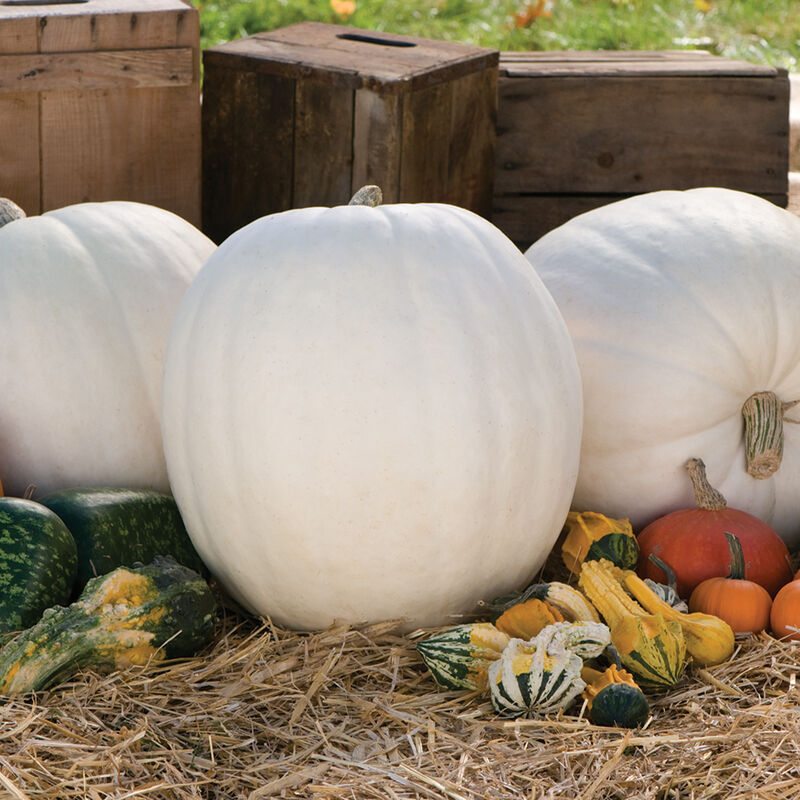 Polar Bear
Treated (F1) Pumpkin Seed
Extra-large white pumpkin. Conventional, treated seed. This seed is not NOP-compliant.
Polar Bear retains its color after maturity in the field, at market, and in decorative displays. Long, vigorous vines produce fruit typically weighing 30–65 lb, but may exceed 100 lb. Treated seed. Also available untreated.
Specs:
Packet: 10 seeds
Avg. 3,200 seeds/lb
This product does not ship to Canada.
This product does not ship to the following countries: Australia, Japan, Republic of Korea, New Zealand, Taiwan.
SCIENTIFIC NAME:
Cucurbita spp.

CULTURE:
Fertile, well-drained soil with a pH of 5.8–6.8 is best.
Plastic mulch and fabric row covers (AG-19 grade) can aide plant establishment and exclude insect pests during the seedling stage. Row covers should be removed when plants begin to flower. Poor fruit development may indicate insufficient pollination. Time plantings so that varieties will mature for the fall market. Overexposure to sun in the field after maturity and foliage dieback reduces fruit and handle color quality.

TRANSPLANTING:
Sow 2-3 seeds per 2" container or plug flat about 3 weeks prior to transplanting. Germinate at 75-95°F (24-35°C). Thin with scissors to 1 plant/container or cell with scissors. Harden plants 4–7 days prior to transplanting. After danger of frost has passed, transplant out according to the spacing recommendations for each variety. Handle seedlings carefully; minimal root disturbance is best.

DIRECT SEEDING:
Sow in late spring when soil is at least 70°F (21°C) and frost danger has passed. Sow 2 seeds at the appropriate spacing interval for the variety's vine length, 1/2-1" deep. Thin to 1 plant per spacing interval after seedlings are established.

PLANT SPACING:
For between-row spacing, bush plants require 4-5', short-vine habits require 6', and long-vine habits generally require 12'. In-row spacing varies depending on fruit size and is generally: small, 18-24"; medium, 24-36" and large to extra-large, 36-72". Spacing requirements may vary, so check for individual variety recommendations.

DISEASES:
Common cucurbit diseases include powdery mildew, downy mildew, bacterial wilt, and phytophthora. Avoid problems with adequate soil drainage, good air flow, insect pest control, and crop rotation. If necessary, check with your local Cooperative Extension Service agent for specific control options.

INSECT PESTS:
Cucumber beetles, squash bugs, and vine borers are all common pests for cucurbits. Protect young plants with floating row covers. Squash bug eggs found on the undersides of leaves may be crushed by hand. For vine borers, cut out of vines and hill soil over the wound. Keep field borders mowed and remove plant refuse in the fall; spring plow to bury pupae. C. moschata types are less susceptible to vine borers. Insecticides (specifically, pyrethrin sprays) may offer some control.

HARVEST:
Fruits can tolerate 1-2 light frosts, however, temperatures below 28°F (-2°C) can damage fruit. When fruit color is fully developed, clip handles close to the vine. Avoid picking up fruits by handles and take care not to damage the skin/rind. Sun cure in the field for 5-7 days or cure indoors by keeping fruits at 80-85°F (27-29°C) with good air ventilation. White varieties should be brought out of direct sunlight once foliage starts to die back; cure inside and keep out of sun to avoid yellowing.

STORAGE:
Store at 50-60°F (10-15°C) with 50-70% relative humidity and good ventilation.

DAYS TO MATURITY:
From direct seeding. Subtract 14 days if transplanting.

AVG. DIRECT SEEDING RATE:
250 seeds/125', 500 seeds/250', 1,000 seeds/500', 15M/acre @ 2 seeds/ft rows 6' apart.

SEED SPECS:
SEEDS/LB.: Avg. 3,200.

PACKET:
30 seeds (unless otherwise noted in product description), sows 15'.
Johnny's is committed to your success, every step of the way.
We want you, our customer, to be 100% satisfied with all of our seeds, tools, and supplies.
If anything you purchase from us proves unsatisfactory, we will either replace the item or refund the purchase price.