You are cordially invited to the Second Annual Seed-to-Table Variety Tasting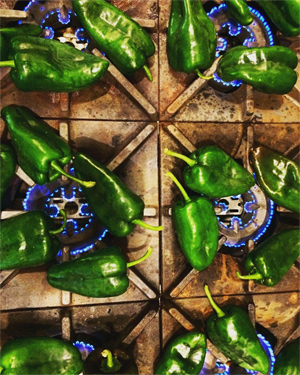 The event will also be a celebration of the formation of the
Northeast Seed-to-Table Initiative (NESTI)
, cofounded this year by Johnny's Selected Seeds and the Unity Food Hub.
"We are inspired by the work of our friends and cooperators in the Pacific Northwest and Midwest, who have established models for how this type of collaboration can impact the overall experience for all those involved in the development, production, and preparation and eating of food."

— Lauren Giroux
Vegetable Product Manager, Johnny's Selected Seeds
Albion & Unity, Maine: September 12, 2017 — The doors of the Unity Schoolhouse will open wide for the 2nd annual Seed-to-Table Variety Tasting on Sunday, September 24th from 2-6pm, the final afternoon of the nearby Common Ground Country Fair. Following the model forged by Lane Selman, founder of the Culinary Breeding Network, Johnny's Selected Seeds and the Unity Food Hub have recently cofounded the Northeast Seed-to-Table Initiative (NESTI). Free and open to the public, the tasting event will provide the community with an opportunity to sample new varieties being bred by Johnny's, grown locally, and prepared by some of Maine's premier chefs.
Why Community Tastings Matter
While Johnny's new varieties are put through their paces for years before they are ever offered to customers, everyone knows the proof of the pudding is in the eating. Johnny's firm pledge is never to sacrifice flavor for yield or disease resistance. Extensive on-farm and farmer-cooperator trials are conducted to evaluate all new varieties for both "field toughness" and "great taste." But whether a new variety can deliver that certain culinary « je ne sais quoi » — from visual appeal to aroma to texture to flavor and "mouth-feel" — only becomes fully apparent via direct interaction between breeders, growers, professional chefs, and the public at large.
The purpose of this community tasting event is severalfold. Not only will it help to inform Johnny's breeders whether or not their new varieties have gastronomic "legs." It will also join the community together to celebrate the founding of NESTI, whose mission will parallel, and serve in close cooperation with similar programs in other regions of the country, as well as the work of independent classical plant breeders globally. More importantly, however, the broader goal is to provide an engaging, interactive, and delicious learning experience that will leave everyone who attends with a greater understanding of why organic breeding is crucial for the future.
Why Else to Be There
As if all that weren't sufficient reason to attend, gather into one 1898 schoolhouse a group of classical plant breeders, all their new, freshly-harvested varieties, the farmers who grew them and the chefs who prepared them, then add in harvesttime ambience and a community who cares passionately about food, and you have a recipe with a swirling, one-off chemistry not to be missed.
Let it also be noted, the pairings this year look enticing. The final menu has yet to be revealed, but in a preview of possibilities, ingredients feature up to 2 dozen varieties with such names as 'Cool Customer' and 'Tempest,' in tasting flights prepared raw, pickled, preserved, and roasted, as well as in unique and delicious dishes — all cooked up by chefs that include some of Maine's finest: Frank Giglio of Three Lily Provisions, Jenn Legnini of Turtle Rock Farm, Morgan Kerr of Resurgam Fermentation, and Melissa Kelly of Primo, among others — along with a bounty of additional locally-sourced fare, brew, cider, and celebrants.
Notes Johnny's pumpkin and squash breeder Lindsay Wyatt, "It's always exciting to get feedback on a new variety I'm developing. I can't wait to learn what all of the attendees think of the flavor of my new acorn squash, and taste how one of our chef partners chooses to prepare it!"
Wyatt adds, "Gaining an understanding of where our food comes from can be both educational and delicious for all ages!"
Head for the schoolhouse on September 24th, step up to the table, and try something new.
Event Details
Hosts:
Unity Food Hub & Johnny's Selected Seeds
Location:
"The Schoolhouse" • Unity Food Hub, 69 School Street, Unity, Maine
Date:
Sunday, September 24th • Open House from 2–6pm
Cost:
Free and open to all
—END—
About Johnny's Selected Seeds
Established in 1973, Johnny's Selected Seeds is a 100% employee-owned company and purveyor of high quality seeds and tools. Johnny's is committed to a grower's success and provides superior products, information, and service. Johnny's products are 100% guaranteed.
OUR MISSION
Our mission is helping families, friends, and communities to feed one another by providing superior seeds, tools, information, and service.