All Invited to Partake & Broaden Network Reach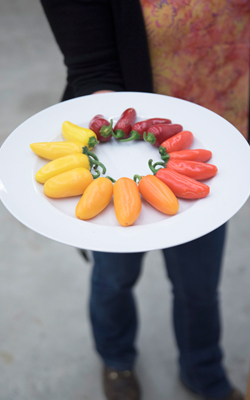 "We are inspired by the work of our friends and cooperators in the Pacific Northwest and Midwest, who have established models for how this type of collaboration can impact the overall experience for all those involved in the development, production, and preparation and eating of food."

— Lauren Giroux, Vegetable Product Manager, Johnny's Selected Seeds

Unity, Maine: September 19, 2016 — Unity Food Hub (UFH) is partnering with Johnny's Selected Seeds to unite classical plant breeders, farmers, chefs, and farming and culinary enthusiasts at the First Annual Seed-to-Table Variety Tasting on Sunday, September 25th. Participants will have the opportunity to learn more about the journey from seed to table and the work of local food network members. "We hope this event will engage the community in the variety selection process, and increase the understanding of how varieties are developed and where our food comes from," notes Joy Longfellow, product technician at Johnny's and one of the primary event coordinators.
The event is also a fundraiser — all proceeds will go to Maine Farmland Trust for the Maine Harvest Bucks Program, which makes local food from Unity Food Hub's Maine Farm Share program affordable to low-income Mainers.
Prospective participants include farmers and chefs who are interested the learning more about new vegetable varieties and opportunities to participate in the variety development process, and anyone interested in learning more about variety selection and development, with an interest in local food systems — or who simply enjoys eating vegetables. Attendees will have opportunities to talk with Johnny's classical plant breeders, local chefs, and farmers, and to taste different vegetables varieties, hear the stories behind the varieties, and see some different ways of preparing them.
Operations Manager for Unity Food Hub and event partner, Colleen Hanlon–Smith says:
We are excited to be furthering our partnership with Johnny's by working to create a network of breeders, farmers, eaters, and cooks, contributing to and benefiting from the plant breeding resources we have in-state, to expand farmers' crop diversity in the marketplace. Here at Unity Food Hub, many of the varieties Johnny's develops and selects are ones we crop-plan with farms, to incorporate into our product offerings to customers that we distribute throughout Northern New England. This event represents a burgeoning community of resources that can further Maine's position as a farming leader in the US. We are excited to invite the public to partake.
Event Details
Hosts:
Unity Food Hub & Johnny's Selected Seeds
Location:
"The Schoolhouse" • Unity Food Hub, 69 School Street, Unity, Maine
Date:
Sunday, September 25th • Open House from 4–8pm
Tickets:
$8
Samples of vegetable varieties will be available, alongside small plates prepared by Maine chefs. A cash bar will feature local brews. Canapés featuring the highlighted varieties will be prepared by chefs such as Briana Holt of of Tandem Bakery, Chris Gould of Central Provisions, Kim Rodgers of Hugo's, and Jenn Legnini of Turtle Rock Farm. A sampling of the offerings planned for the event includes Roasted Carmens in Lemon Juice with thyme, Blue Beech Sunday Sauce, Clementine Chutney, Maple Smoked Cherry Bomb Relish, Coriander & Cumin Pickled Escamillos, and Blue Beech & Bay Leaf Jam by Legnini; Delicata Ricotta Toast by Holt; and Vegetable Sodas from Hugo's.
—END—
About Johnny's Selected Seeds
Established in 1973, Johnny's Selected Seeds is a 100% employee-owned company and purveyor of high quality seeds and tools. Johnny's is committed to a grower's success and provides superior products, information, and service. Johnny's products are 100% guaranteed.
CONTACT MEDIA RELATIONS
Johnny's Selected Seeds
T: 207-238-5336
F: 207-238-5388
OUR MISSION
Our mission is helping families, friends, and communities to feed one another by providing superior seeds, tools, information, and service.