Albion, Maine: July 2015 — Johnny's Selected Seeds recently hosted the 2015 Tomato Growers' Roundtable, where a consortium of growers and scientists met to discuss the challenges and opportunities of growing tomato in the New England region. Organized by Maine's primary organic certifying agent, the Maine Organic Farmers & Gardeners Association (MOFGA), the roundtable serves as a conduit for small- to medium-scale commercial growers to listen and collaborate on topics ranging from thinning and pruning and planting density to disease and fertility.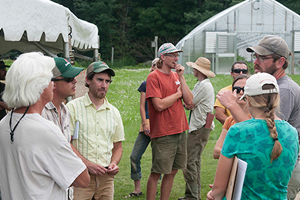 The meeting was moderated by MOFGA's organic crop specialist, Eric Sideman, PhD, and Becky Sideman, PhD, Extension Professor and Sustainable Horticultural Production Specialist at the University of New Hampshire. Trials performed at Johnny's research farm in Albion, Maine, as well as those conducted across New England and the rest of the country, provide variety and cultural information to growers of all sizes. Several members of Johnny's research staff were present to listen and contribute to the discussion.
The conversation touched on nearly all aspects of tomato production, but several were noted to resurface throughout the afternoon: earliness, disease resistance, fertility, and grafting. Growers strongly emphasized the importance of selecting the tomato varieties that most reliably produce the earliest fruits. Their customers have come to expect availability of fresh, premium-quality, locally grown tomatoes, and with the aid of heated tunnels, many growers reported being able to offer ripe tomatoes by mid June.
After earliness, the roundtable growers cited disease resistance as most critical to their success, and varieties that marry these two traits, 'Geronimo' and 'Rebelski,' were named as current favorites. Stories of the devastation wrought by late blight, in particular, led Johnny's tomato breeder, Emily Haga, to recount her progress in breeding quality tomatoes with light blight resistance — both red and pink forms. The feedback she received reaffirmed the value of developing resistant field varieties for organic growers, as many of them had moved to protected culture to offset the risks of crop loss in the field.
The large majority of tomatoes production today takes place within some form of protected-culture setting, where high demands are being placed on the plants to achieve maximal yield over a protracted season. Fertilizers and other inputs, along with proper management, are required for the plants to reach their full genetic potential. The subject of fertility in tunnels was discussed at length, as a dictating factor to overall yield potential and quality. To this end, many tomato growers turn to grafting onto rootstocks to surpass the limitations of yield and vigor commonly met later in the season, when fertility, day length, and day-night temperature variation become constraints. They also noted that grafted plants exhibit such vigor that it is often necessary to prune plants to two leaders rather than one, to achieve an appropriate balance between vegetative and reproductive growth.
The talk repeatedly returned to the pros and cons of grafting one's own tomatoes versus purchasing grafted plants. All concurred on the benefits of grafting — increased vigor, added disease resistance, an extended harvest season, and improved overall crop health. One particular grower quoted a fruit yield three times greater per grafted plant than that of ungrafted plants of the same variety. But some also expressed reservations, in regard to the time-consuming nature of grafting and the requirement for specific materials and methods. Additionally, there is the measure of trial and error involved, in determining which varieties take more readily to being grafted under any given set of conditions. In purchasing plants, on the other hand, growers want assurance that the plants have been grown and grafted in conditions similar to their own, but few nurseries sell their own grafted plants. In addition, the grafted varieties available for purchase are often limited, and not all are universally compatible with growers' production systems.
As the roundtable drew to its conclusion and participants ambled off to tour Johnny's research trials, Pete Zuck, Johnny's Product Manager for tomatoes, noted that he will be looking to fill some of the gaps in the grafted plant variety selection for upcoming growing seasons. "Hearing this type of feedback directly from growers is invaluable to seed companies such as Johnny's, providing key insight into market needs. Not only is Johnny's honored to play a part in bringing growers together, but the guidance the research team received today will inform the direction the grafted plant selection will take in future."
As a direct result of the Tomato Growers Roundtable, growers can look for upcoming changes to tomato offerings from Johnny's Selected Seeds.
—END—
About Johnny's Selected Seeds
Established in 1973, Johnny's Selected Seeds is a 100% employee-owned company and purveyor of high quality seeds and tools. Johnny's is committed to a grower's success and provides superior products, information, and service. Johnny's products are 100% guaranteed.
OUR MISSION
Our mission is helping families, friends, and communities to feed one another by providing superior seeds, tools, information, and service.