Orange Button
Calendula Seed
Zoom Image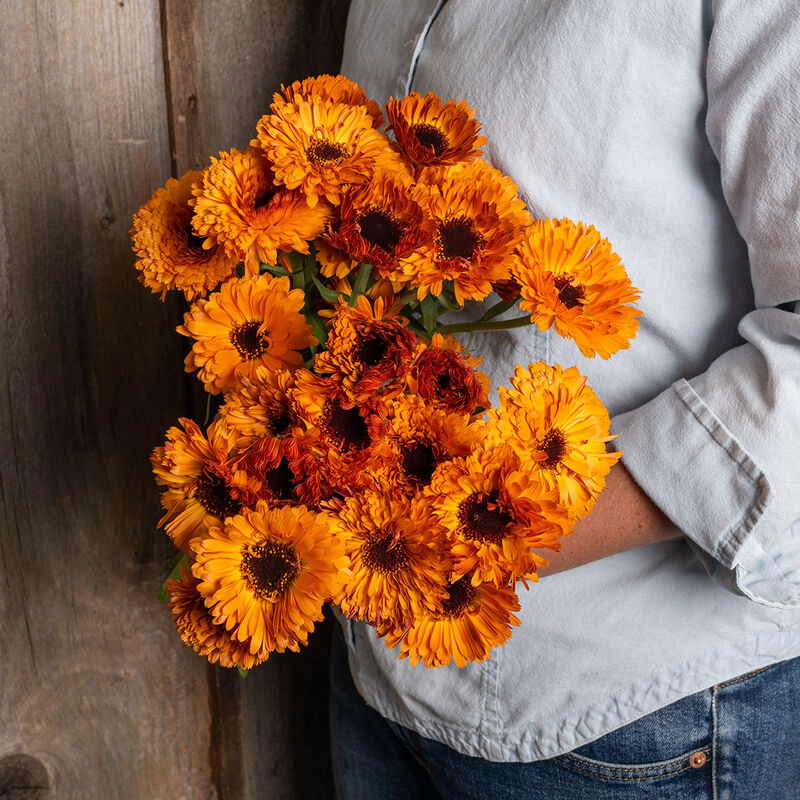 Orange Button
Calendula Seed
Rich color and good stem quality.
2–2 1/2" double blooms. A favorite in our trials for its vibrant color. Blooms have brilliant, dark orange petals and a contrasting dark, almost purple center. Also known as pot marigold, common marigold, and Scotch marigold.
Edible Flowers: Petals of the flowers can be used fresh or dried in "flower confetti," soups, soufflés, rice dishes, baked goods, and to garnish desserts. Calendula is a popular choice for brightening up salad mix. Flavor is tangy and slightly bitter. Remove the petals from the flower base before consuming as the base can be quite bitter.
Specs:
Plant Height: 18–30"
Packet: 100 seeds
Avg. 3,800 seeds/oz
DAYS TO GERMINATION:
7-14 days at 70°F (21°C)


SOWING:
Direct seed (recommended) - After danger of frost, sow at a depth of 1/4". Make 2-3 successive sowings 2-3 weeks apart for continuous blooms from summer to heavy frost. Transplant - Sow 4-5 weeks before planting out.


LIGHT PREFERENCE:
Sun/Part Shade.


PLANT HEIGHT:
Varies.


PLANT SPACING:
6-12".


HARDINESS ZONES:
Annual.


HARVEST:
Cut Flowers:
Harvest once the bloom is about 50% open.


Edible:
Harvest once the flowers are fully open and pull petals off before using in dishes. Do not eat the calyx or flower centers.


SOIL REQUIREMENTS:
Rich, well-drained soil.


USES:
Cut flower. Edible flower. Medicinal: flowers are used in antiseptic tinctures and healing skin ointments. Beds, borders, containers, mass plantings, and cottage gardens.


SCIENTIFIC NAME:
Calendula officinalis


ALTERNATE NAMES:
Pot marigold, common marigold, Scotch marigold
Johnny's is committed to your success, every step of the way.
We want you, our customer, to be 100% satisfied with all of our seeds, tools, and supplies.
If anything you purchase from us proves unsatisfactory, we will either replace the item or refund the purchase price.