Evolving Colors & Shape-Shifts in Today's Floral Trends
On This Page
---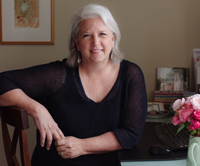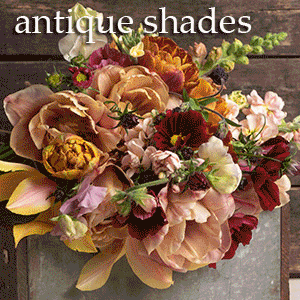 Who knows how color combinations, botanical preferences, or bouquet personalities rise to the top of our current floral "favorites" list? Just as humans are drawn to ever-changing styles in fashion, interiors, automobiles, and even cuisine, there is always something New and Next to lure us down the garden path of discovery. We may be attuned to the exceptional because it's in our DNA, but even if it is subconscious, those of us in the floral world are continually evaluating, comparing, considering as we seek a fresh spot on the floral color spectrum, or an unexpected way to combine the familiar with the unfamiliar.
I love to find and identify those shifts, subtle or dramatic, because they influence which flowers and foliages we begin to grow or use in our floral arrangements. Whether short-term infatuations or major style shifts, changing flower fashions are worth noting.
In Part 1 of our Slow Flowers Floral Forecast, we recapped notable trends in the flower farming and design industry. Now at the zenith of this year's floral season, let's hit the refresh button on floral trends with a dive into emerging colors and shapes, illustrated with designs by Slow Flowers members and Johnny's photography and flower-trialing team.
Wildflowers Have Their Way
Wildflowers are a carefree, ephemeral expression of America's connection to the land — from meadow and stream bank to forest and trail. There are many legitimate sources of sustainably harvested or cultivated wildflower seeds, allowing flower farmers to safely and legally grow enduring favorites like asters, bee balm, black-eyed Susan, and lupines.
The look is quintessentially American. The just-gathered style carries over to floral crowns, garlands, bouquets, and centerpieces as more brides are choosing naturalistic flowers that appear freshly picked from a meadow or forest, combined with cutting-garden favorites.
Many field-grown flowers fit this free-spirited, uncontrived aesthetic — and I know we'll continue to see talented designers express the look in their arrangements. While it's "wilder," design rules still apply. Choose dramatic flowers like sunflowers or cosmos for standout focal blooms. Add texture with ephemerals like Queen Anne's lace or nigella, and soften the design with annual foliages, vines, or cascading elements like trailing amaranthus.
Superstar Greenery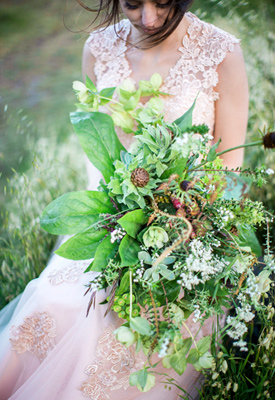 You might call this style "50 Shades of Green," and thanks to flower farmers who are planting interesting foliage varieties, tastemakers have declared generic greenery a yawner. Alternately, an uncommon gathering of distinctive foliage, herbs, and other green elements like succulents, air plants, and pods can elevate the character of any floral arrangement, bouquet, centerpiece, or container planting.
I first wrote about the greenery explosion in 2015 and was pleased when this insight emerged as Pantone's 2017 Color of the Year. Named GREENERY 15-0343 and described as a "fresh and zesty yellow-green shade that evokes the first days of spring," bupleurum fairly personifies this color.
All-foliage or mostly-foliage arrangements bring fresh excitement to floral design. Florists are upgrading their bouquets, moving beyond everyday salal, ferns, or bear's grass to more unusual options, many of which serve a dual purpose. These include fragrant options such as scented geranium and other herbs; woodier options that provide more framework such as smokebush, ninebark, pittosporum, box, myrtle, magnolia, and camellia; or highly textural leaves or fruiting shapes such as artichoke, pomegranate, snowberry, and raspberry.
Hand in hand with remarkable foliage is how we source it — material sustainably gathered from the landscape, orchard, or forest is so much more inspiring than the prosaic selection the industry typically offered florists. It takes ingenuity, perhaps, to develop sources of unconventional leaves, but increasingly, that ingenuity means success for the flower farmer or designer who embraces new foliages and an all-green, "green" design aesthetic.
Some of our favorite greenery comes from herbs. Easy to grow, often long-lasting when cut, and super aromatic, sages, basils, mints, flowering oregano, and other herbs are merging our kitchen gardens with our cut-flower beds.
Hot-to-Cold Design Tip: To design an all-green or mostly green arrangement, keep in mind that there are cooler-hued foliages with touches of silver, blue, and burgundy. On the other end of the spectrum, there are acid yellows, chartreuses, and golden-greens. When designing, take note of these undertones and emphasize just one. If you find yourself wanting to incorporate both cool and warm greens in a single bouquet, find a variegated foliage to function as a "blending" element.
Color Update — Beyond Blush
In my first Slow Flowers Industry Forecast a few years back, I cited bright pastels and saturated jewel tones as an emerging palette that promised to be richer and more vivid, reflecting a deeper petal color. This was notable as a possible shift beyond the crazy for blush-toned 'Cafe au Lait' dahlias, especially in the bridal sector. Pantone's very next Color of the Year was MARSALA, so I wasn't far off in predicting richer, vivid floral palettes, including watermelon pink, orchid purple, and cerise red.
According to many of you, blush is still going strong. Yet, the spectrum for wedding flowers is broadening, and two themes are emerging as favorites among Slow Flowers farmers and designers: Butter Yellows and Muddy Neutrals.
Have fun infusing buttercreams and tans/beiges/coffee tones into your designs this season and beyond. Check out the rich, sophisticated designs achieved with hues that move toward the soft, yellow side of blush OR the deeper, brownish-pink side of blush. Both options will transition beautifully as you diversify your palettes.
More on Floral Trends
Many thanks to our creative Slow Flowers members for contributing designs that illustrate trending shapes & color palettes so beautifully! By the way, if you'd like to participate in our next Floral Insights & Industry Forecast, join the Slow Flowers mailing list and you'll receive our questionnaire this fall.