Grace Shell Pink
Clarkia Seed
Zoom Image
New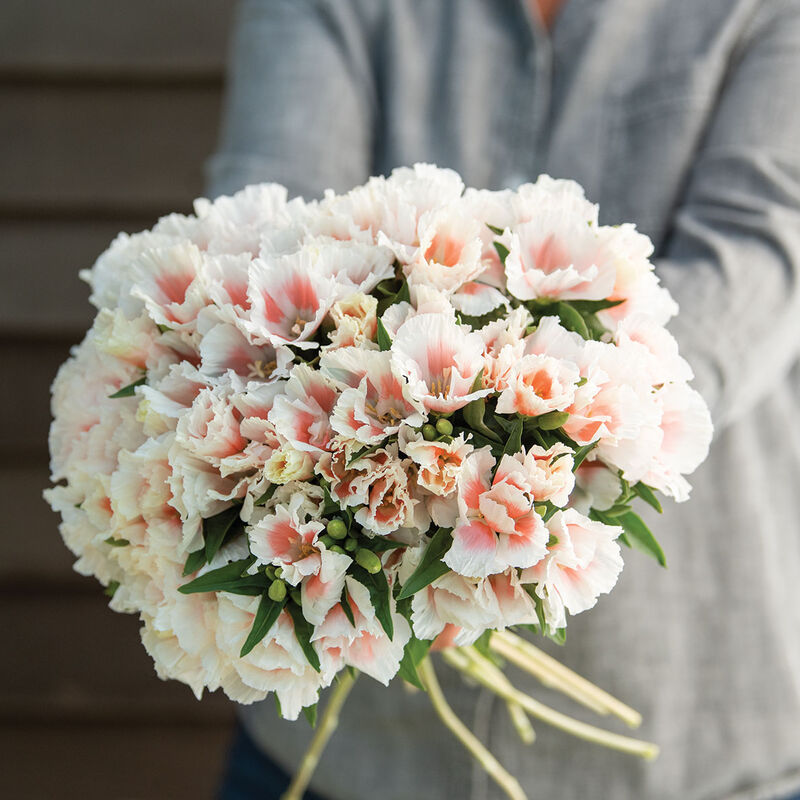 Grace Shell Pink
Clarkia Seed
New! Silky blooms on sturdy stems.
Each stem produces clusters of 1 1/2–3" wide, cup-shaped blooms. Sturdy stems and upward-facing bloom clusters work well as cut flowers. White with blushy, shell-pink petals. Blooms add a cheerful and almost tropical vibe to mixed bouquets and arrangements. Supporting plants for straight stems is recommended. Also known as farewell-to-spring and satin flower. Ht. 18–24". Avg. 49,300 seeds/oz. Packet: 50 seeds.
This product does not ship to the following countries: United Arab Emirates, Austria, Australia, Barbados, Belgium, Bulgaria, Bermuda, Bahamas, Switzerland, Cyprus, Czech Republic, Germany, Denmark, Estonia, Spain, Finland, France, United Kingdom, Greece, Hong Kong, Croatia, Hungary, Ireland, Iceland, Italy, Japan, Republic of Korea, Kuwait, Cayman Islands, Lithuania, Luxembourg, Latvia, Malta, Netherlands, Norway, New Zealand, Oman, Poland, Portugal, Qatar, Romania, Saudi Arabia, Sweden, Singapore, Slovenia, Slovakia, San Marino, Thailand, Trinidad and Tobago, Taiwan, Ukraine.
DAYS TO GERMINATION:
5-10 days at 65-70°F (18-21°C)


SOWING:
Transplant (recommended) - Sow 4 weeks before planting out. Lightly cover seeds with 1/16" soil. Harden off seedlings before planting out after last frost. Direct seed - As soon as the soil can be worked. Gently press seeds into soil, covering with 1/16" soil. Keep soil surface moist until emergence. Thin to 6-12" once seedlings have first true leaves. After germination, plants prefer cool growing conditions. Seedlings are best grown at 60–65°F (16–18°C) day temperatures/50°F (10°C) nights; should not exceed 75°F (21°C). High temperatures during plant development can cause weak, spindly stems.


LIGHT PREFERENCE:
Sun. Tolerates part shade.


PLANT HEIGHT:
Varies depending on variety.


PLANT SPACING:
6-12".


HARDINESS ZONES:
Annual.


STEM LENGTH:
12-34".


VASE LIFE:
7-10 days.


HARVEST:
Clarkia unguiculata:
Harvest stems when the lower set of blooms is just beginning to open. Older blooms will drop off the stem within about 5 days. Unopened buds on the stem will continue to open up in the vase.
Clarkia amoena:
When first flower on the stem opens.


SOIL REQUIREMENTS:
Average, well drained soil.


USES:
Cut flowers, pollinator gardens, and border plant.


TIPS:
Plants may benefit from a horizontal trellis / support.


SCIENTIFIC NAMES:
Clarkia unguiculata, Clarkia amoena


ALTERNATE NAMES:
Clarkia unguiculata:
Mountain garland, elegant clarkia.
Clarkia amoena:
Godetia, farewell to spring, satin flower.
Johnny's is committed to your success, every step of the way.
We want you, our customer, to be 100% satisfied with all of our seeds, tools, and supplies.
If anything you purchase from us proves unsatisfactory, we will either replace the item or refund the purchase price.