From Color to Climate, What's on the Hive Mind
"Today's customers want their dollars to go to companies that will use their money to make the world a better place."
That sentence jumped out to me in a TIME profile of Rose Marcario, CEO of Patagonia, which donates 1% of its sales to environmental groups (Patagonia's sales recently surpassed $1 billion annually). The story highlights a theme that resonates with that of our 2020 forecast:
Belief-driven buyers choose a brand on the basis of its position on social issues.
If you think this sounds like a fringe topic, according to market consultancy Edelman, nearly two in three consumers globally are belief-driven buyers. Edeleman's recent study showed a sharply upward trend, across all age groups and income levels, to where it has become a mainstream mindset.
From Color to Climate
5 Floricultural Trends Subtle & Seismic
Note
Images used with permission. All rights reserved.
We don't need to be full-time activists to use our brands to do good, but according to a Slow Flowers survey, most members and supporters view their company's values and mission as precious brand assets as well as marketing tools. This sentiment was well expressed by wedding and event florist Tobey Nelson at the 2019 Slow Flowers Summit, in defining sustainable floristry in part as "making 'better than' choices to improve our environmental and social impact."
This is the sixth year I've presented this annual forecast, the third in my partnership with Johnny's. In preparation I surveyed Slow Flowers members and social media followers with questions about their floral businesses, including emerging themes and topics important to them. I drew further insights from my first-person interviews for print and digital stories, interviews with over 100 Slow Flowers Podcast guests during 2019, and attitudes shared by thought-leaders in floral design, flower farming, and related creative professions.
1 • Agriculture-driven Design / Design-driven Flower Farming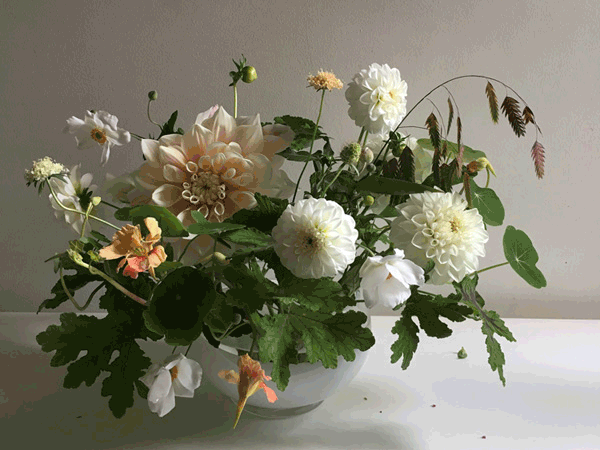 Diversity of choice is a top concern for designers who want to expand their product knowledge and access to the best seasonally available botanicals. Whether they have growing or gardening experience or simply a heightened desire to seek unique choices in the marketplace, savvy florists are lining up more farm-direct options and rewarding wholesalers who are motivated to source from domestic growers on their behalf.
Minnesota-based Ashley Fox, of Ashley Fox Designs in St. Paul, Minnesota, notes that a shift takes place when floral artists become closer observers of nature, inspired by what might once have been considered nontraditional botanical elements. "My new emphasis is 'Never say never,' " Fox says, "in that there could be a common or mundane element that sparks a more complex design when you place it next to another bloom." To that end, she finds herself open to floral varieties she had previously shied away from, especially choices grown by favorite local flower farms: callas, Asiatic and Oriental lilies, double-petaled gerbera, clarkia, tulips, or agrostemma, for example. "The value I offer my clients is in how I use those flowers, on how I keep my eyes open to a shade within a petal or its form."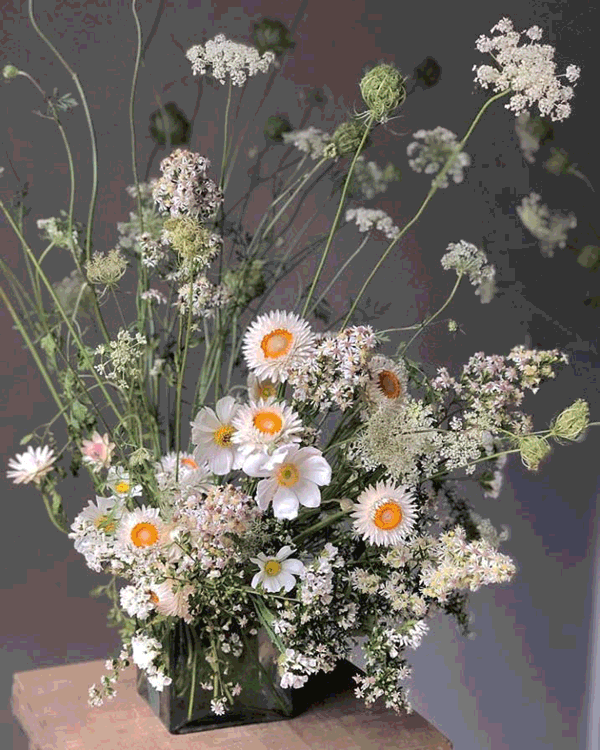 The next chapter in this shift is being authored by designers who weave the agricultural narrative through their aesthetic and branding. In turn, the natural corollary to the ag-driven design trend is how enlightened flower farmers, aka "agripreneurs," are bringing a designer's eye to floral crop selection and planning. From creative collaborations between flower farmers and floral designers to new apps and online resources that help florists learn who is growing what and when that's available, the bidirectional connections between the field and the studio are more important than ever.
The majority of those responding to the Slow Flowers 2020 Member Survey self-identify as "farmer–florists" (44%) followed by "flower farmer" (43%) and "floral designer" (36%). Clearly, more florists are open to growing for themselves and more flower farmers are embracing design. The interdependency is increasingly evident for professionals in both worlds, with many floral ventures placing equal weight on cutting garden and design studio.
"More flower farmers are breaking into floral design and offering more retail options to customers. Designers are recognizing the quality, charm, and uniqueness of local flowers, and customers are asking for more eco-friendly options," observes Teresa Tibbets, of Dandelion Floral in Lander, Wyoming. Jessica Broyles, a farmer-florist who owns Starry Fields Farm in Rockfield, Kentucky, has set a goal to make local flowers accessible to florists. "I want to educate them on how to incorporate local flowers into their designs and promote local flowers as 'something extra' that will help set their work apart." And as Jaimie Reeves, of Leaf & Bloom and The Local Flower Collective, both based in Toronto, notes, "A farmer-florist has the unique perspective of having both the eye for design and knowledge of the plant material. And for those of us who don't wear both hats, the relationships between the farmer and designers allows for a more open discussion on how we can continue to learn and grow new product."
2 • Organic Flower Seeds: Still Limited but on the Ascent

In the 2020 survey, 24% of respondents cited "sourcing organic flower seed" as an emerging theme for their business. While organic vegetable seeds are becoming more widely available, seed-sellers have not always been able to source a broad selection of organic flower options for their catalogs. That's changing in small ways, driven by demand from sustainable growers and conscious home gardeners.
"While we already make use of most organic seed sources, we will continue to diversify our crops by adding more perennials that will self-sow year after year," explains farmer–florist Kate Meyer, of Chatham Flower Farm in Painter, Virginia. Denisa Anderson, of Merrily Along – Floral Design in Everson, Washington, cites saving her own seeds from her organic cutting garden, as well as purchasing from sellers like Johnny's Selected Seeds and the Floret seed line.
I asked Hillary Alger, flower and herb product manager at Johnny's about the demand for organic flower seeds. " 'More organic flower seed'; is a common request we hear," she says. "We're continually working to trial and build out our library of organic flower seed options, but it can be challenging — mostly due to the limited availability of variety and selection."
According to Alger, about a third of the new-for-2020 flower seeds and varieties offered by Johnny's are certified organic. There is great potential in this category, and I expect that demand for organic flower seeds will stimulate more options in the marketplace in the future.
3 • Polychromatic Floral Palettes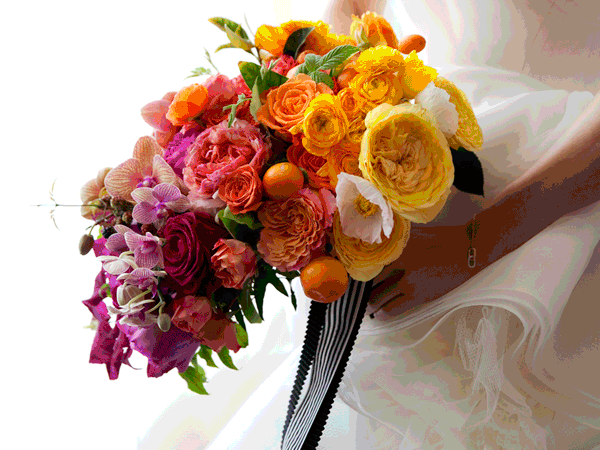 The Pantone Color Institute recently announced its 2020 Color of the Year, influencing everything from floral palettes to home furnishings to kitchen appliances. From the Slow Flowers community I'm hearing not only of the "calm, confidence, and connection" instilled by the institute's choice of Classic Blue, but predictions as well for a polychromatic rainbow of hues in the coming season.
"I see nature's colors across the spectrum," says one respondent. "I have had several wedding inquiries, and they have all been requests for multicolored hand-tied bouquets," says Stacy Schmidt, of Narrow Trail Farm in Baldwin City, Kansas. "Fingers crossed — brights are coming back."
Adds Kelly Shore, of Petals by the Shore in Damascus, Maryland, "Color blocking in design will become more visible."
Peacemaker blue, our love is true. Yet truth be told, there was no major standout in the survey, thanks to every color of the rainbow receiving between 10% and 15% of the forecast vote! What does that tell me? I've determined that rainbow palettes, more aptly named "polychromatic," will be likely to wow the marketplace in 2020.
It's not for everyone, of course. But even the maestro of neutrals, Steven Moore, of Seattle-based Sinclair & Moore, designed an unforgettably prismatic wedding, published by Martha Stewart Weddings in 2015. Inspired by a colorful world of botanicals, I love what I'm seeing from floral designers, farmer–florists, and growers whose penchant for petals with pigment is on the rise.
Let's love all hues!
4 • Shifting Forms: Geometric, De- & Re-constructed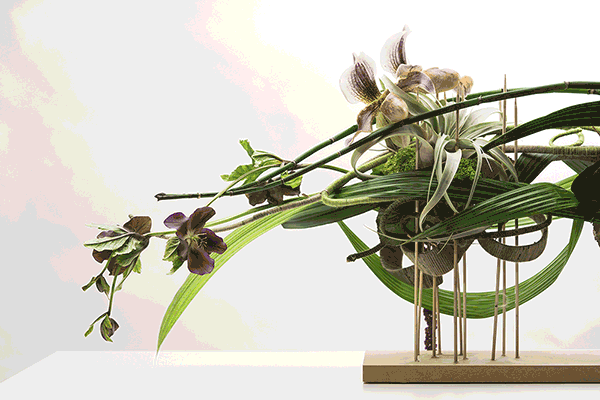 While 43% of our survey respondents predicting that 2020 will see a sustained "loose, soft, and fluid" floral aesthetic, there is also indication of the emergence of asymmetrical geometric forms and "deconstructed/reconstructed" silhouettes (20%). Florists' Review "Creative Edge" contributor Hitomi Gilliam, AIFD, of Vancouver, has been teaching the concept of deconstructed–reconstructed for some time, and I predict that this aesthetic will increasingly excite and energize floral consumers.
Exaggerated linear shapes may be influenced by ikebana, Japanese floral art, or they may be a continuance of transparent/open-form shapes, as we highlighted in the 2019 forecast. "The more airy, deconstructed design work is not what I mainly do, but it is what I see emerging more and more — and would like to explore further," says Daniele Strawn of JoLee Blooms & Design in Bloomfield, California.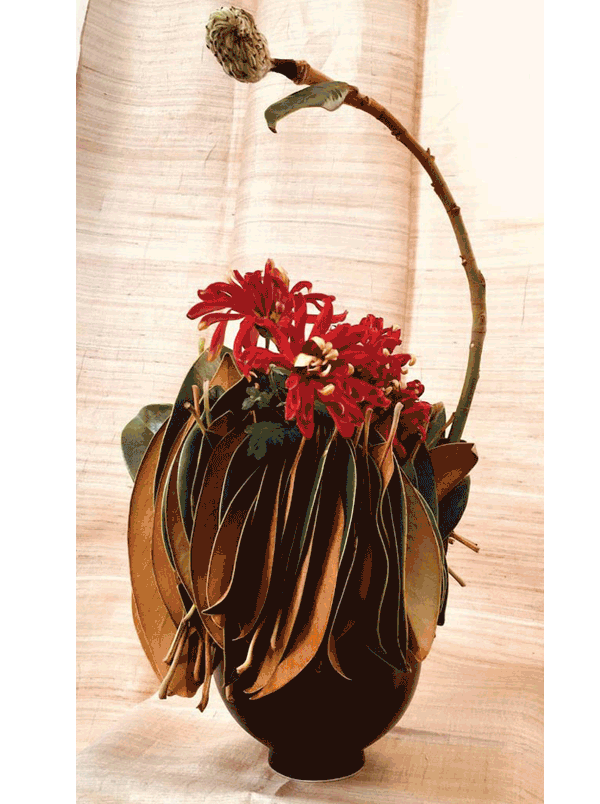 "Creating from locally farm-grown flowers entirely lends itself to the loose or natural aesthetic, enhancing or highlighting the natural curves of each stem is a motivator in my design process," observes Lynn Windmeyer of Homeplace Fields flower farm in St. Joseph, Missouri. Amy Balsters, of Amy Nicole Floral in Alexandria, Virginia, cited floral-focused and open-form designs, for example.
"I am a Sogetsu ikebana designer," says Rachel Johnson of San Francisco-based Simply Grounded. "Formative training" in this avant-gardist school of ikebana "has set my aesthetic towards exploring each flower, leaf, and branch material for its unique sculptural potential. The design concept of 'dismantle and rearrange' is one we explore, over and over again, to expose the unexpected beauty within."
5 • Responding to Climate Change
Of our survey respondents, 44% say they are adjusting growing practices to adapt to climate change. The variables of changing weather and natural disasters have disrupted growers across North America, with extremes ranging from drought and fires to hurricanes and flooding.
"We're working with the seasons and dry conditions by utilizing as many native varieties and plants adaptive to our region," notes Stacy Schmidt of Narrow Trail Farm, in Baldwin City Kansas. "There is still a lot of work to do to promote nonstandard varieties to consumers. All our future improvements are about water control due to climate change impacts." Use of natural resources, alternative energy sourcing, and the adoption of restorative agriculture practices are factoring into the decisions of many.
Flower growers are not the only ones challenged by unpredictable weather or climate patterns. Of all the sea changes we may be experiencing, this is likely most the profound and far-reaching. Indeed, everyone is adapting, as florists who crave date-specific botanical types know now, perhaps more than ever, there's potential for a freak summer hailstorm or unseasonably early frost wiping out perfect planning for a client's wedding.
So, what are people doing about this reality?
"I'm looking to extend the seasons with different varieties that can take our heat and humidity," says Florida-based Kate Read, of Grey Tabby Flower Farm.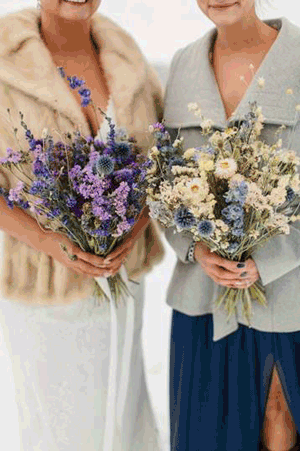 Adds Teresa Tibbets of Dandelion Floral in Lander, Wyoming, "I'm working with the seasons and dry conditions by utilizing as many native varieties and plants best adapted to the Rocky Mountains' extreme climate and short growing season. There is still a lot of work to do to promote nonstandard varieties to consumers, though."
In Seattle recently, event florist Lisa Dunton of Lisa Dunton Studio convened "The Floral Biz & Climate Change" roundtable discussion for her peers. Rather than feeling helpless about her worries, Dunton says she decided to create a "chance to air our thoughts about our role in the climate emergency and strategize about our next steps."
Because of her heightened awareness, Dunton has also taken steps in her business. "I made a decision at the beginning of last year to source only West Coast flowers, with a little bit from Hawai'i. I've let my clients know, and I also made a point to talk about it with them. I've told them, "Hey, things might start to look different, but here's why.' And all my clients have been really receptive."
With decades in the floral marketplace, Dunton says she can measure her personal shift from long-distance sourcing to finding design ingredients closer to home — and that includes foraging as well. "I've also foraged at least 15% to 20% of what I put in my arrangements now, so that's hyperlocal," she says.
I have tracked the rise of foraging for years and noted the comeback of "modern everlastings" and dried flowers in the Slow Flowers 2016 Forecast. As more growers and designers embrace a new aesthetic, perhaps one silver lining to changing climates is our willingness to work more closely with the seasons than trying to outsmart Mother Nature.
Learn More