Volcano Mix
Organic Dianthus Seed
Zoom Image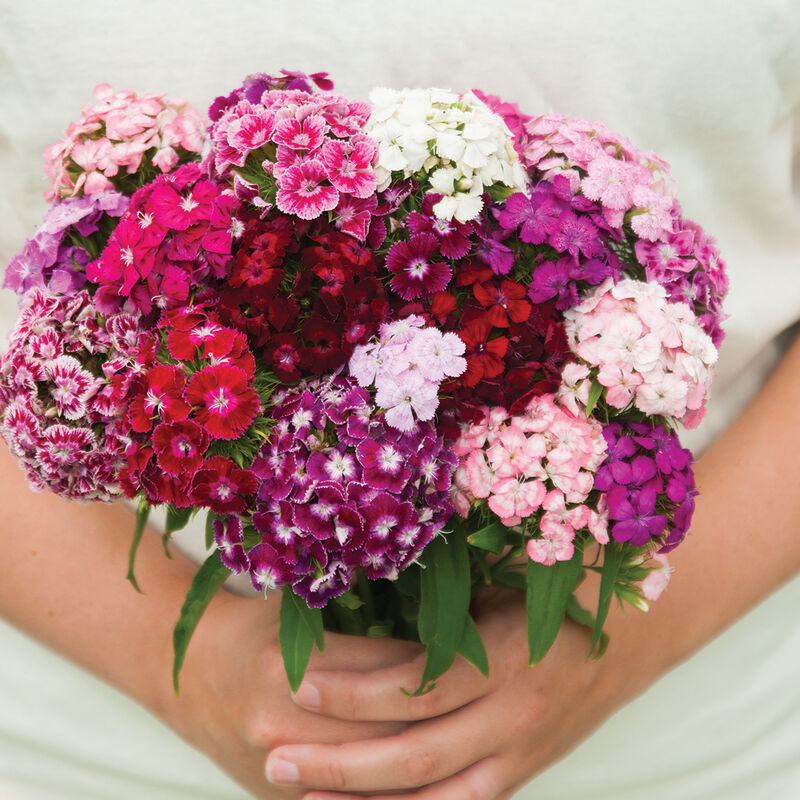 Volcano Mix
Organic Dianthus Seed
Range of colors for single bunches or mixed bouquets.
First-year flowering; best grown as an annual. 2–4½" blooms have a sweet fragrance. Mixture includes shades of red, purple, pink, and coral. Very similar to Hollandia Mix, which it replaced. Tender perennial in Zones 6–8. First-year flowering. Best grown as an annual.
Edible Flowers: Use the flower petals to garnish salads, desserts, soups, icing, and cold drinks. Flavor is of mild clove. Remove the petals from the flower base before consuming as the base can be quite bitter.
USDA Certified Organic.
Specs:
Plant Height: 16–24"
Packet: 25 seeds
Avg. 34,900 seeds/oz
DAYS TO GERMINATION:
7-14 days at 65-72°F (18-22°C)


SOWING:
Transplant (recommended) - Sow 6-8 weeks before last frost. Lightly press seed into growing medium. Transplant into cell packs or 3-4" containers 20-25 days after sowing. Harden off and transplant out 6-8 weeks after sowing. Cool temperatures of 50-55°F (10-13°C) are required to keep the plants low growing and basal branching. Avoid warm temperatures in excess of 65°F (18°C), especially at night, which will produce soft growth. Direct seed - Early spring when a light frost is still possible.


LIGHT PREFERENCE:
Sun.


PLANT HEIGHT:
Varies.


PLANT SPACING:
6".


HARDINESS ZONES:
Zones 6-8. Best results when planted as an annual.


HARVEST:
10-20% of flowers in cluster or spray are open.


SOIL REQUIREMENTS:
Rich, sandy, well-drained soil that is slightly alkaline.


USES:
Excellent commercial cut flower and is also suitable for gallon container production with one plant per gallon container. Also makes a lovely bedding plant.


PELLETED SEED:
If using pelleted seed, we recommend consistent soil moisture during the germination period. Pelleted seed must be kept cool and dry prior to planting, and should be used within one year of purchase.


SCIENTIFIC NAME:
Dianthus spp.
Johnny's is committed to your success, every step of the way.
We want you, our customer, to be 100% satisfied with all of our seeds, tools, and supplies.
If anything you purchase from us proves unsatisfactory, we will either replace the item or refund the purchase price.