Seashells Mix
Strawflower Seed
Zoom Image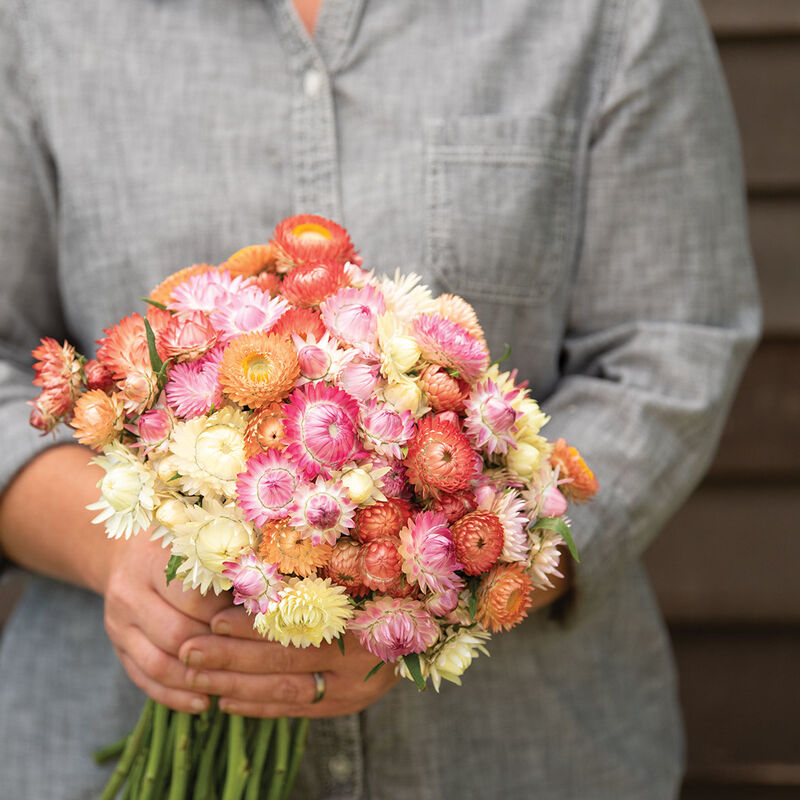 Seashells Mix
Strawflower Seed
Exclusive! Beachy color blend.
Seashells Mix includes pastel hues of light pink, apricot, pale yellow, and ivory. Tall, well-branched plants. Double blooms are 2–2 1/2" across. Profuse bloomers for fresh or dried arrangements. Also known as bracted strawflower.
Specs:
Plant Height: 36–40"
Packet: 50 seeds
Avg. 37,500 seeds/oz
DAYS TO GERMINATION:
7-10 days at 70-75°F (21-24°C)


SOWING:
Transplant (recommended) - Sow into 72-cell flats or preferred seedling container 4-6 weeks before planting out. Do not cover seed as light is required for germination. Harden off and transplant out after danger of frost. Bottom water or mist to avoid covering seeds. Direct seed - Where summers are long. Once established, prefers well-drained soils and temps of 70-75°F (21-24°C). Plants may need support. Pinching is recommended to encourage uniform and productive branching.


LIGHT PREFERENCE:
Sun.


PLANT HEIGHT:
36-40". May require some support.


PLANT SPACING:
10-12".


HARDINESS ZONES:
Annual.


STEM LENGTH:
12-20".


VASE LIFE:
7-10 days.


STORAGE TEMPERATURE:
70-75°F (21-24°C).


HARVEST:
Keep blooms harvested or deadheaded for optimal yields. Fresh or dried: Cut when 2-3 layers of petals have unfolded but before flowers fully open to reveal center. Note: Blooms that are very open, past optimal maturity, will close in the dark of night and on dark, overcast days. These blooms can appear as if they are at the at a good stage for cutting, though they are overmature. To avoid these misleading blooms, harvest on bright mornings or let your harvested blooms set in light for a few hours. Overmature blooms should open back up for identification and discard. Avoiding overmature blooms is especially important if being used for drying as blooms continue to open during the drying process. When dried, overmature blooms will shatter (fall apart) and appear discolored.


SOIL REQUIREMENTS:
Average soil with good drainage.


USES:
Excellent dried flower. Borders and back of beds.


SCIENTIFIC NAME:
Helichrysum bracteatum

Johnny's is committed to your success, every step of the way.
We want you, our customer, to be 100% satisfied with all of our seeds, tools, and supplies.
If anything you purchase from us proves unsatisfactory, we will either replace the item or refund the purchase price.