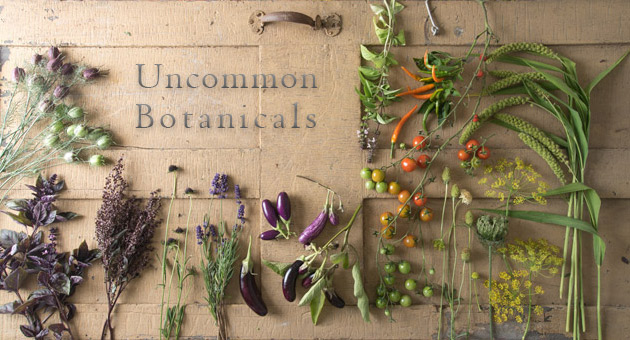 Fifth-Season Regional Floral Design Elements
Celebrating the beautiful, the abundant & the unexpected during the summer–fall transition
by Debra Prinzing, Author & Founder of Slow Flowers
Here it is, late summer already, the time of year the Chinese regard as the "fifth season." Others have called it "high season" or the "in-between season." As we transition into that wonderful moment between summer and fall when everything reaches completeness, I asked members of the Slow Flowers Community to share their favorite standouts of the fifth season — uncommon and tried-and-true botanicals that appear in our fields and design studios as summer turns to autumn; as hints of fall beckon.
Regional Fifth-Season Highlights
---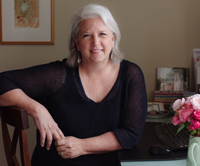 Debra Prinzing, Author & Founder of Slow Flowers
Photo © Mary Grace Long
Here we've collected the stars of late summer — flowers, foliages, herbs, seeds, pods, edibles and vines that seemingly wait until now to show their best attributes for our bouquets and vases. The submissions are nothing short of inspiring — coming from passionate home gardeners as well as talented flower farmers and gifted florists. Everyone, it seems, has heightened awareness of the bounty of the season. Here's to the Fifth Season! Grand or modest, formal or wild, every aesthetic has a place with seasonal botanicals.
Regional Fifth-Season Highlights • EAST
PITTSBURGH, PENNSYLVANIA

Thommy Conroy • 4121 Main

Big and bold are beautiful, in Pittsburgh floral artist Thommy Conroy's version of a fifth-season spectacle. "I love the notion of a fifth season," he says. "For years I've called it 'high summer' for my bridal clients — everything is abundant and overflowing. It's a great time to be working with farmers and local materials as the fields are bursting and materials are rich. The end of the season is one of my favorite moments."

For Superior Motors Restaurant in Braddock, Pennsylvania, Thommy filled a massive blue urn with "hyperlocally-foraged pin oak, seed pods from around the corner of the restaurant," and American-grown alstroemeria. (If we're not mistaken, the winged samaras of the storied Tree of Heaven have found a place on earth!)

DAYTON, MARYLAND

Lisa Derx • Apricity Flowers

Lisa Derx of Apricity Flowers in Dayton, Maryland, says, "For me, the fifth season is about summer rushing into fall, when a change in temperature elicits a change in the color palette."

This arrangement pays tribute to the greens of summer with lemon basil and limelight hydrangea, while introducing the brilliant autumn shades of dahlias — 'Ginger Willo', 'Keith H,' and 'Maarn.'

"The weather here in Zone 7 where I grow my flowers has been cool this August, so my hypericum is a sweet addition, along with ageratum to add a few blue notes. Ammi is both summer-fresh and starting to edge into deeper tones, signifying the blend of seasons."

MIDWEST

CINCINNATI, OHIO

Nan Matteson • Queen City Flower Farm

Nan Matteson of Queen City Flower Farm in Cincinnati, Ohio, calls herself an "urban mini-micro flower farmer" and her passion for local flowers is evident when she brings her blooms to area farmers' markets.

"I was just playing one day for myself and came up with this vignette," which combines dahlias with chunky 'Porcelain Doll' and mini pumpkins.

"It feels fall to me," she says,"but in such an unconventional way. Dahlias are at their finest this time of year."

MEDIAPOLIS, IOWA

Jen Hinson • Clara's Garden

Clara's Garden, Jen Hinson's flower farm and floral design studio, is based in Mediapolis, Iowa, in the southeast corner of her state. This evocative late-summer composition includes dahlias, amaranth, celosia, hydrangea, dill, a single garden rose, and foraged and cultivated greens — all in an intentionally faded palette.

© Anna Hedges Photography

NORTHEAST

STOW, MASSACHUSETTS

Barbara Rietscha • Field & Vase by Stow Greenhouses (Retired)

A stunning still-life from Field & Vase's Barbara Rietscha takes late-summer flowers to a new artistic plane.

"I used all my fall favorites: dahlias, marigolds, celosia, delphinium, thistle, sweet William, and mums," she says.

The weathered animal skull sets a pensive tone.

PLYMOUTH, MASSACHUSETTS

Debbie Bosworth • Dandelion House Flower Farm

Debbie Bosworth of Dandelion House Flower Farm in Plymouth, Massachusetts, who calls herself a "backyard cut-flower farmer," celebrates the late-summer bounty with this charming pair of arrangements containing dahlias, amaranth, hydrangea, cosmos, sunflower, sedum, and grasses.

"I call this September Flourish," she says.

WOODBURY, CONNECTICUT

Leslie Gamsjager • Leslie Gamsjager Flowers

Leslie Gamsjager of Leslie Gamsjager Flowers in Woodbury, Connecticut, gathers this late-season design together using sunflowers, dahlias, dill, and hydrangea as focal blooms; alliums, snapdragons, celosias, and ageratum as spikes and fillers; and curly kale as a deep-green, textural foliage element.

SOUTHEAST

WHITTON, ARKANSAS

Jill Forrester • Whitton Farms

Fourth-generation flower farmer Jill Forrester grows flowers and produce on 10 acres in Whitton, Arkansas. She arranges hundreds of bouquets at the peak of season, selling them through local markets in Arkansas and Tennessee and from orders taken via her website.

Jill raves about vitex — "one of our cut-flower mainstays; it thrives on neglect, and bees and butterflies love it" — which she uses as the spike elements in this fresh bouquet featuring dahlias, hydrangea, rudbeckia, zinnias, and celosia, gathered for birthday gift-giving.

LILBURN, GEORGIA

Cathy Balke

Home gardener and flower lover, Cathy Balke of Lilburn, Georgia, shared her favorite backyard ingredients of the season:

"Dahlias, Persian shield, hosta, creeping Jenny (Lysimachia nummularia). Purple and green — my favorite combo!" she says.

PACIFIC NORTHWEST

EUGENE, OREGON

Bethany Little • Charles Little & Co.

Charles and Bethany Little of Eugene, Oregon-based Charles Little & Co. are known for the highly diversified selection of woodies, perennials, annuals, vines, and edibles that they grow.

And, on occasion, they are inspired floral designers, as can be seen in this arrangement that Bethany created for a local restaurant. The vase exudes late summer, with limelight hydrangea, sage, artemisia, amaranth, celosia, dahlia, dusty miller, and novelty pineapple eucomis.

FALL CITY, WASHINGTON

Tammy Myers • First & Bloom

As a floral designer, Tammy Myers of First & Bloom based in Fall City, Washington, has developed her brand based on using exclusively American-grown flowers, especially those locally grown by farmers who are now her friends. This late summer bouquet, designed for a recent workshop, includes foraged vine maple foliage, wine-hued ninebark, rudbeckia, hypericum, tansy, phlox 'Creme Brulée', and foraged grasses.

SEATTLE, WASHINGTON

Leigh Grossman • Fiori Floral Design

Leigh Grossman, creative director of Seattle-based Fiori Floral Design brings uncommon seasonal ingredients to her formally-styled centerpieces.

First, a "texture bowl" featuring Phalaenopsis orchids, succulents, peony pods, foraged tree ivy, and fresh contorted willow from the studio's "grow garden," along with roses, blackberry, seeded eucalyptus, and ming fern asparagus.

Next, a combination of blue and purple hydrangeas, succulents, monarda, eryngium, foraged bittersweet, and Rex begonia foliage from the studio's grow garden, along with Phalaenopsis orchids and white heather, sourced domestically.

WEST

WOODSIDE, CALIFORNIA

Katherine Glazier • Filoli

Katherine Glazier, a floral design instructor at the public garden estate Filoli in Woodside, California, loves to use locally-grown botanicals in her workshops.

Here she has filled her urn design to overflowing with lush, late-summer ingredients, including hops, digiplexis (foxglove cousins Digitalis x Isoplexis), roses, scabiosa 'Black Knight', zinnias, eucalyptus, and Panicum 'Frosted Explosion.'

GRATON, CALIFORNIA

Hedda Brorstrom • Full Bloom Flower Farm

Farmer–florist Hedda Brorstrom of Full Bloom Flower Farm grows organically on her acreage in Sonoma County. Her designs are layered, detailed, and rich with character.

Here are two late-summer beauties. First, an uncommon bouquet with cardoon blooms, crocosmia, echinops, delphinium, lotus pod, garden roses, strawflower, and succulents.

Next, an urn brimming with 'Café au Lait' dahlia, 'Dara' daucus, foxglove, scabiosa, lisianthus, echinops, dusty miller, tuberose, and 'Cherry Caramel' phlox.

Fifth-Season • Time for Looking Back & Planning Ahead

Whether you are looking back to evaluate your past growing season or planting for your next one, may you find a few moments to enjoy the fullness of the Fifth Season.

According to Chinese philosophy, this is the time of year for centering and rooting oneself — a time to shore up well-being as we transition between spring/summer and fall/winter.

And wherever you grow, when it comes time to plan ahead for an abundant, late-summer cut-flower harvest, seeds for many of these fine design elements will be available from Johnny's.