Colorado Mix
Organic Yarrow Seed
Zoom Image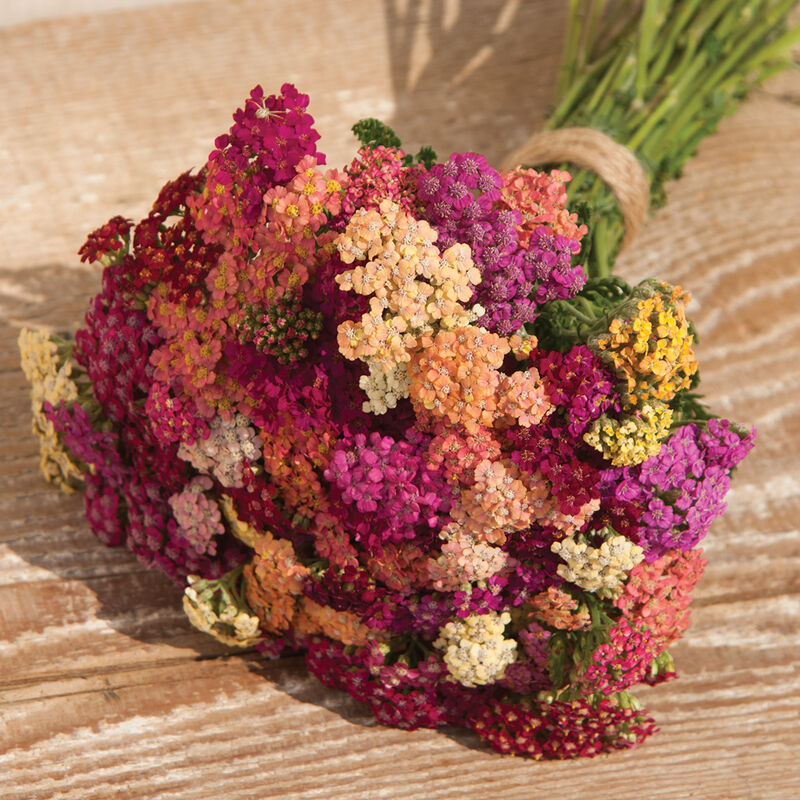 Colorado Mix
Organic Yarrow Seed
We're sorry, this product has been discontinued and is no longer available. For a similar product, see Summer™ Pastels #4446. 2-4", flat-topped flower heads in shades of red, rust, beige, rose, yellow, apricot, and white on 24" stems. Use Colorado fresh as a cut flower, adding drama to bouquets with the added benefit of a long vase life. Decorative, fern-like foliage. When dried, the color is retained. Low-maintenance. Perennial in Zones 2-9.

• Attracts and supports beneficial insects such as damsel bugs, lacewings, lady beetles, and parasitic wasps.

USDA Certified Organic. Ht. 28–30". Avg. 194,000 seeds/oz. Packet: 100 seeds.
Johnny's Recommended Substitute
DAYS TO GERMINATION:
10-14 days at 65-72°F (18-22°C).


SOWING:
Transplant (recommended): Sow 8-10 weeks before last frost. Do not cover seed as light is required for germination. Bottom water or mist lightly to avoid covering the seed with displaced soil. Transplant to cell packs or 2-4" containers when the first true leaves appear, approximately 3 weeks after sowing. Harden off and transplant outside after the last frost. Direct seed: Sow seed in late spring, after late frost, early summer, or fall. Thin to stand 12-24" apart. Support may be necessary.


GROWING ON:
Grow seedlings for 3-5 weeks at 70-72°F (21-22°C) in full light.


LIGHT PREFERENCE:
Sun.


SOIL REQUIREMENTS:
Any well-drained soil.


PLANT SPACING:
12-24".


HARDINESS ZONES:
Zones 2-9.


HARVEST:
Fresh: Harvest when pollen is visible on the flowers. Cut in the coolest part of the day.


USES:
Excellent cut or dried flower. Permanent beds and mass plantings.


Note:
Divide every 3-4 years to maintain vigor.


SCIENTIFIC NAME:
Achillea millefolium
Johnny's is committed to your success, every step of the way.
We want you, our customer, to be 100% satisfied with all of our seeds, tools, and supplies.
If anything you purchase from us proves unsatisfactory, we will either replace the item or refund the purchase price.