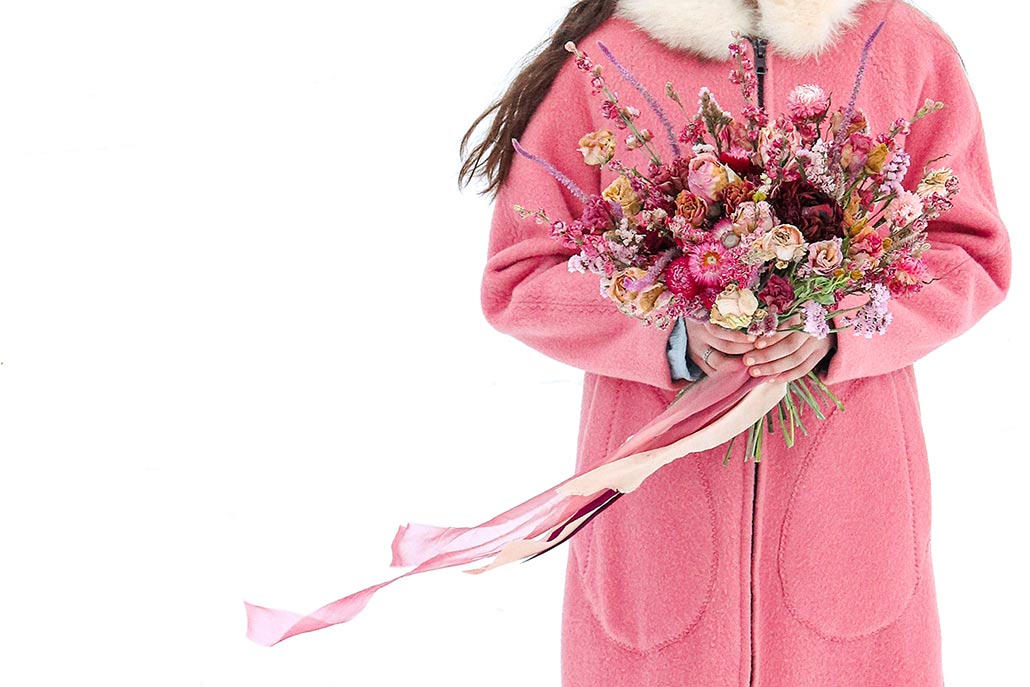 Modern Everlastings:
4 Farmer-Florists Discuss the Rising Demand for Dried Botanicals
Photo: Design by Heather Hensen,
Boreal Blooms
, Cold Lake, Alberta, Canada. © Brighter with Megan. All rights reserved.
These are not the faded & dusty dried flowers of yesteryear
Like the fashion industry's penchant for updating silhouettes from decades past, the floral marketplace is rediscovering the immense value and design potential of dried botanicals. Today's growers can choose from a much wider lineup of ingredients for their dried flower programs, and florists welcome the increased variety of colors, textures, and forms for their designs. When freshly-cut flowers are properly dried, their potential seems endless — indeed, "everlasting" — as the materials are now viewed as a year-round crop that boosts the businesses of flower farmers and florists alike.
Seven years ago (2016), we featured "Modern Everlastings" in our annual Slow Flowers Insights & Industry Forecast. In the report, I observed:
Dried flowers are having a renaissance, and if you're from my generation, you remember how important dried flowers were for home dècor in the 1970s and 80s… Perhaps the focus on extending the seasons has prompted flower farmers to return to those easy-to-preserve floral choices.
Demand for dried flowers has continued to grow, as flower farmers are preserving long-lasting field crops — from ammobium to yarrow — to supply wreath makers, crafters, and designers. As creatives integrate dried botanicals into their work, especially during colder, dormant months, this shift aligns with an overall desire for sustainability and rejection of throw-away consumerism.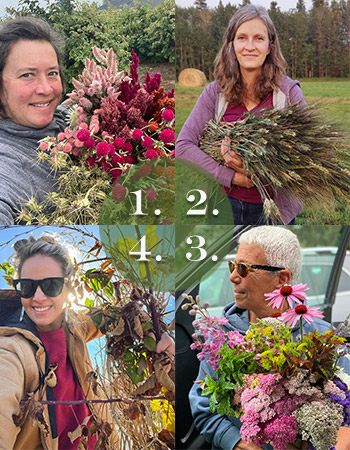 Recently, I spoke with 4 Slow Flowers Society farmer-florists who discuss their approaches to growing flowers for drying, as well as how they use dried flowers as an important revenue stream in their enterprises. This article covers 3 phases in the life-cycle of dried botanicals:
Our 4 experts include:
1 • Selection & Planning
Dried flowers have been a significant part of Boreal Blooms' product mix for the past 6 years, says Heather Henson.
Our growing season in northern Alberta is extremely short for fresh flowers — it's about 3 months long. It's not possible for me to make a good living with fresh flowers alone. I was looking for a way to make my farm viable, and it turns out that dried flowers do really well here in our cold, dry winter climate. I have been able to slowly create a market and a fan base of people who love dried flowers and our dried bouquets are a mainstay of the business.
Similarly, Reno, Nevada's short growing season has inspired Tiffany Anderson to expand her emphasis on dried flowers at Earth & Seeds:
As we shift into fall and winter here in the high desert, we no longer have fresh flowers. So, it's all about everlastings, as well as grasses and pods, and other things you leave in your fields that age when temperatures turn colder. Dried flowers are seasonal flowers. When we turn these ingredients into home décor, it gives us the ability to talk to our community about what seasonal flowers are. We discuss the high environmental cost of imported flowers and embrace what we have in our climate and environment right now.
Some of Tiffany's favorite annuals include Nigella, Orlaya, and poppies grown for their pods; perennial Veronica is also a top Earth & Seeds crop. "I also tried growing broom corn last year, which was really cool to play with, especially for wreaths. And I found blushing lantern (Silene vulgaris) to be so useful."
Tiffany often harvests dried design elements straight from growing beds. "Some plants age beautifully where they are — like gladioli leaves that twist and fade into an incredible camel color, or alliums, which are so fun."
Over the past 7 years, Meryl Gartside has changed the focus of what Blue Lobster Flower Farm grows. "Now, when I'm planning my crops, I'm selecting for what will dry well. And it's not just strawflower and gomphrena. I'm drying crops that most people don't know you can dry. With the right conditions, when harvested at the right time, you can dry so many types of flowers."
Ammobium, also known as winged everlasting, is one example. "It's hard for me not to add some of it to every wreath I make — I just love it!" Meryl also is finding a need for more grains, pods, and other textural ingredients in her studio. "Flowers are great, but that's not enough to make my designs interesting. I've got to have all sorts of different elements."
At Boreal Blooms, Heather learned which flowers to select and plant for drying through trial and error. She found a wealth of education in the pages of vintage dried-flower growing books that focus more on cultivation than crafting. Today, Boreal Blooms grows around 70 varieties of annuals and perennials for drying.
"My niche is high-value bouquets, so I dry dahlias, peonies, ranunculus, and lisianthus. These flowers are more expensive, but I charge more for them." To support these luxury blooms in her designs, Heather also produces masses of annuals — larkspur, statice, strawflower, celosia, and sunflowers. "These are basic, bulk ingredients that I use in everything, so I need a ton of them," she says. "For new flower farmers, or for those just getting started with drying, annuals provide an easy way to jump in — they are so economical! You can take so many cuts from a single stem of larkspur, for example. A single stem of statice produces one or two mains stem for the bouquet, and then all the side shoots, which I can use for flower crowns, boutonnieres, or wreaths. And I keep everything I prune for other projects."
Heather estimates that she'll harvest about 40% of her crops to dry — a quantity that has been increasing steadily. "I used to plan to sell through all of my dried flowers by May to make room for fresh flowers. But now I'm finding that I need dried flowers 365 days a year, so I'm making sure I budget to grow more. When I go through my field, I have a completely different mentality now. I actually have a hard time cutting fresh flowers. Sometimes, my daughter will say, 'Mom, it's okay to use some of the strawflowers when they're fresh,' but I want to save them for drying."
At Charles Little & Co., Bethany Little jokes that her mantra, "Everything Dries," should be printed on a T-shirt. "People call me all the time and ask whether a specific flower can be dried and I tell them, 'Yes, everything dries,'" she says. "'but you have to have the right environment to dry nicely.'"
The farm plans for a wide range of crops — annuals, but also perennials like oregano, pennyroyal, peony, yarrow, and lavender. Bethany and Charles track popular annuals from prior seasons to forecast future plantings. "We do sell out of certain crops, and I can say right now that people better get their Lepidium seeds (Persian cress) before it sells out!"
High-value woody shrubs and perennials give Charles Little & Co. a way to differentiate their dried floral lineup, Bethany continues. " I dry lots of Viburnum varieties — 'Snowball', 'Popcorn', and 'Mary Milton'. I didn't see them in the marketplace, and I experimented with drying them — their flowers are beautiful when dried. I didn't see dried calla lilies before I tried drying them. I suggest trying everything, and experiment at different stages."
Recordkeeping is one important way to document past seasons' successes and plan for future planting. "I'm a visual person. I take so many pictures so I can go back — even to a specific week of a month — and see when I started a certain flower, when it bloomed, and when I harvested it," Meryl says.
2 • Growing, Harvesting & Drying
At Charles Little & Co., during the "last wave" of dried flowers in the 1990s, Charles erected a three-story barn, devoting the third level and its vaulted loft to flower drying. "The temperature gets over 100°F (38°C) in there, and we have ventilation and lots of fans," Bethany explains. The right stage of harvest is closely related to color-fastness and flower stability. "Watch your crops carefully, because you'll learn that everything has a specific 'best harvest time' for drying. We do take good (fresh) leftovers and dry them, but that's because the product has been stored in our coolers at the Portland Flower Market and is in great shape. We don't dry flowers that were left in the fields to get crispy or that have been sitting out and wilting in the heat at the farmers' market."
Bethany and others interviewed for this story mention that it's best to cut strawflowers when the bloom is tight, to avoid shattering. That's because the flowers do tend to open after they are cut. "Many varieties, like the rose or pink ones, have fatter stems, which means there's more energy to feed that bloom. Your flowers, in general, will keep ripening when hung," Bethany says. Similarly, with ornamental grasses like Miscanthus (silver grass), the best stage for harvesting is when the blooms are silky, tight, and have not begun to drop pollen.
Meryl says her learning curve improves with each season, as she perfects how specific varieties should be cut and dried. "My Gomphrena blooms all summer long, and I harvest it constantly. I've found that as the plant matures, the stems grow longer and the flower heads grow larger, making for a better dried product. So now I sell fresh Gomphrena early in the season and devote my late-season Gomphrena to drying."
After mostly drying flowers on rafters in her Cape Cod basement, with a dehumidifier to reduce moisture, and after experimenting with hanging flowers to dry in her home's hot attic, Meryl now uses a 9x12-foot farm shed to dry her flowers. "It's the perfect environment," she explains. "There is no direct sun because the shed is nestled in the trees; it's warm in the summer with everything closed up. I no longer have to climb up on rickety chairs because we have rigged a drop ceiling of a cattle panel that can be raised and lowered to hang bunches."
Bloom size and petal color are important factors in how a flower looks when dried. Heather selects the largest flower heads of her ranunculus, peonies, and lisianthus, to ensure they dry well. "Things shrink by 30% to 50% when you dry them, so I know that the biggest flowers make the best dried flowers. A sunflower is going to shrink a lot, so I cut the enormous sunflowers for drying, the ones that I probably would never put in a fresh bouquet. And I pick the most perfect, beautiful peonies to dry.
"For lisianthus, I like to wait until they produce 10 open blooms on one stem. If I can dry my lisianthus like that, I get incredible value. I can use one central stem for a beautiful bouquet and break down the rest to save for a flower crown."
Meryl also considers petal hue as a factor in drying. She says peach and blush blooms often tend to appear faded, while a flower that's vivid when fresh will dry in subtle patinas. "I dry a lot of dark purples and burgundies, and any bright-colored dahlia or zinnia will usually give a good result when dried," Meryl explains. "But a 'Café au Lait' dahlia just looks sad when dried." Some white flowers do, however, hold their color well when dried, she notes, including strawflower, Gomphrena, feverfew, larkspur, and Ammobium.
3 • Designing, Pricing & Selling
As a former graphic designer Meryl regards dried botanicals as art supplies for one-of-a-kind wreaths and other Blue Lobster Flower Farm products. "I love playing with color and texture," she says. "So many dried flowers can be fantastically colorful. They might be a little muted, but I've also grown to love that look. Sometimes there's a total color shift when something is dried. You can't plan for or hybridize these subtle and beautiful shades of color."
Meryl feels that her one-of-a-kind dried flower wreaths have added value over those simply made from a recipe. While the Instagram photo of her all-echinops wreath generated nearly 7000 likes a few years back, and while she is always asked to make similar ones, that's not what truly excites her as a designer. "I'm not in it for that. I want to be creative," she says.
Meryl's husband forages grapevine and Virginia creeper from their woodland area to make wreath bases; she has started growing willow for the same purpose. Most of her finished wreaths are artful crescent-style, with hand-wired flower clusters covering about two-thirds and the remaining portion of the natural wreath base exposed as part of the design.
The 16-inch wreaths retail for $100 to $130, and demand continues to surprise her. "I went into the last holiday season thinking that money was tight and many people were not going to be able to drop $100 for a wreath. But instead, people came to my shed and left with 5 wreaths. It blew my mind." She's decided to continue making and offering wreaths through Valentine's Day.
Boreal Blooms' reputation for dried wedding bouquets has become almost a year-round niche for Heather Henson. Her distinctive designs do not resemble dried bouquets of past decades. She removes all of the foliage and side stems from each floral element in order to make a compact, spiral, hand-tied bouquet. "Dried wedding bouquets are an underserved niche, especially here in what I think is the most beautiful province in Canada, where people love outdoor weddings with the Rocky Mountains as their backdrop. Dried bouquets are well suited for snowy, winter weddings, but my customers want them year-round, so I now sell dried flower bouquets for summer weddings, too. A bouquet made of dried flowers is an automatic keepsake."
Retail shoppers at the Charles Little & Co. farm stand in Eugene, Oregon find dried flower wreaths for purchase, but most of the farm's revenue derives from the sale of single-variety bunches to wholesale markets. The farm's online shop retails single-variety bunches at $10 per bunch, with excellent photography to show the bunch size, with a recommended 5-bunch minimum order to take advantage of shipping rates.
Boreal Blooms' hand-tied pink-and-white dried bouquet (made with larkspur, Lunaria, strawflowers, and Ranunculus) sells for CA$80 and can be shipped across Canada. Heather offers an optional silk ribbon wrap for CA$10.
Earth & Seeds' florist customers buy from Tiffany on a year-round basis, including Nigella, poppy pods, Ammobium, strawflower, and Gomphrena. "I can also sell these dried varieties in summer, because they add such textural elements to their designs." In general, Tiffany says she adds an 18–20% markup on her dried crops. "That reflects the extra time it takes to dry and store flowers after I've harvested them."
All of these farmer-florists take care to educate customers about the shelf life of the dried flowers they purchase. "My wreaths certainly could last longer, but I tell people to come back in one year to buy a new wreath, because they deserve it," Meryl jokes. "A hair dryer on the low, cool setting can blow away any dust, but over time, the flowers will fade."
Heather provides a care card with each custom dried bouquet. "I recommend keeping flowers out of the sun and away from cats. And I suggest customers keep their dried bouquets in a low-humidity environment, free of dust."
Everything Dries
There's good reason for the current dried flowers craze, Heather continues: "Dried flowers give everyone a way to have local flowers. They are the equivalent of a gardener making strawberry jam or tomato sauce from their fresh harvest. For me, dried flowers allow you to take what is beautiful and fresh, in season, and then preserve it for the winter."
Tiffany Anderson believes dried flowers underscore the message of seasonality. "You have to grow it to show it, and what we grow helps to get people excited about flowers and nature, especially in the fall and winter."
Finding an after-life use for a fresh flower that you may have in excess or that you plant specifically to harvest and dry, exemplifies sustainability. At the very least, the experience of these growers provides strong encouragement for you to experiment with growing, cutting, and drying a wide variety of stems from your own fields and flower beds, hedges and coppices. Let beauty live on with a new purpose.
Learn More
Scroll the options listed at left to learn more about dried botanicals.
Note
Images used with permission. All rights reserved.