Cover crops are an essential component of every sustainable farm. They are an investment in your gardens and fields that will pay future dividends of healthier, more productive cash crops.
The benefits of cover cropping are numerous and impressive:
About the Author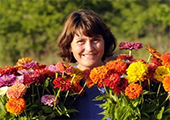 Lynn Byczinski, Author & Founder of Growing for Market
Lynn Byczynski was growing organic vegetables and cut flowers for market when she decided to create a magazine that would help market gardeners nationwide share experiences and information. Her first issue of
Growing for Market
appeared in January 1992, and
GFM
has been published continuously ever since, becoming renowned in the market-gardening world for realistic articles that provide practical, how-to information about growing and selling produce and flowers.
Lynn and her family have been growing vegetables and cut flowers since 1988, selling through CSAs, at farmers' markets, to chefs, grocery stores, and florists. They currently grow cut flowers and hoophouse tomatoes on about 2 acres of their 20-acre farm near Lawrence, Kansas. She is also the author/editor of
The Flower Farmer
.