Johnny's Educational

WEBINAR RESOURCES

Cover Cropping for Field & Garden
• with Collin Thompson, Johnny's Farm Ops Manager
About Our Presenter

Collin Thompson
joined Johnny's as Farm Operations Manager in early 2021, having previously managed farms in Virginia, Michigan, and Iowa. He holds a BS in Environmental Biology and a Master's in Sustainable Food Systems. With his team, Collin uses an integrated approach to manage over 200 mixed active/fallow acres combining organic, sustainable, and low-input practices to support the breeding, trialing, and seed production activities at Johnny's.
Q&A Moderator

Wesley Palmer
has a degree in biology from Valdosta State University, where he began his professional career as the Natural Resources Specialist for Moody Airforce Base. Following his passion for agriculture, Wesley moved to St. Croix, U.S. Virgin Islands, where he served as assistant farm manager on an organic farm. Originally from Georgia, Wesley moved to Maine in 2018 and now divides his time between Maine and Georgia as Johnny's Territory Sales Representative for Florida, Georgia, the Carolinas, and U.S. Island Territories.
OVERVIEW: Johnny's Selected Seeds' Research Farm is based in Albion, Maine, with 9 satellite fields nearby. Farm Operations Manager Collin Thompson's program for the farm focuses on building and maintaining a foundation of soil health on the basis of resilient soil systems that include cover cropping, crop rotations, and organic management. Collin touches on the following key aspects of cover cropping in the webinar.
Determining cover cropping goals; e.g., biomass production, weed suppression, nitrogen fixation, and soil conditioning.
Crop species selection and resources for decision making, including families and categories of cover crops (grasses, legumes, broadleaf) and online and print resources.
Cover crop establishment and management, including field and garden bed prep; tools and supplies; weed management; and water management.
Cover crop termination, including winterkill vs. winter-hardiness; tools, methods, and timing for termination; and residue management.
A Q&A session follows the presentation, for which Collin is joined by Wesley Palmer as moderator.
Webinar Resources for Cover Cropping for Field & Garden
Additional Resources on Cover Cropping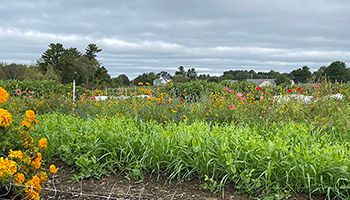 FARM SEED & COVER CROP LIBRARY
Johnny's offers a number of resources on cover cropping basics, farmscaping, and regenerative farming.
Visit our
Farm Seed Library
 to browse our cover cropping content, including articles on farm seed and cover crop applications, decision-making, key growing information, comparison charts, and more.
Learn More…