Buckwheat planting in full flower in Johnny's trial field, Albion, Maine
Farmscaping — a recently coined term that applies to an integrated, whole-farm approach to biological control of pests — involves laying out the farm to include hedgerows, insectary plantings, cover crops, water, and other features to attract and sustain beneficial organisms.
Beneficials, including myriad insects, bats, birds, arthropods, and microorganisms, can be powerful allies in a sustainable farm system. They can reduce pests to tolerable levels without the use of pesticides, which in turn improves farm worker health and the safety of farm products, along with the sustainability of an operation.
Knowledge & Strategies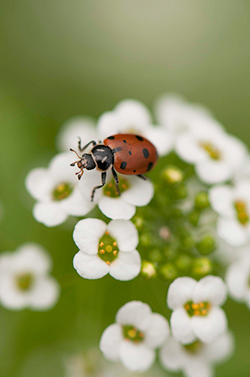 Biological control requires more knowledge and management than conventional pest control. To be most effective, the grower must learn the life cycles of pests, the types of beneficials that control those pests, and the kinds of plantings that harbor the desired beneficials. There is also the risk of harboring pest insects if farmscaping efforts are inconsistent or poorly planned.
Biocontrol includes these strategies:
Removing overwintering habitat or other sources of pests.
Establishing insectary plantings, which can be individual clump or container plantings, perennial hedgerows, and/or annual strips in the field.
Releasing purchased beneficial insects when needed.
Planting trap crops to lure pests away from cash crops.
Scheduling crops to avoid high pest populations.
Building nest boxes for birds and bats.
Planning & Funding for Farmscaping
To learn more about the diverse functions of farmscaping and planting strategy, see the eXtension article titled Farmscaping: Making Use of Nature's Pest Management Services, by Geoff Zehnder, eOrganic author from Clemson University.
Several federal conservation programs may be able to provide cost sharing for farmscaping programs. To learn more about planning and funding farmscaping, see the ATTRA publication, Farmscaping to Enhance Biological Control.
References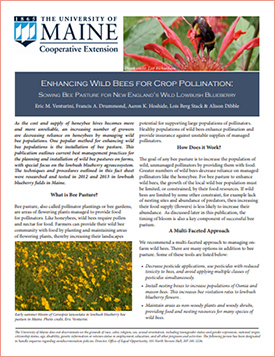 About the Author
Lynn Byczynski was growing organic vegetables and cut flowers for market when she decided to create a magazine that would help market gardeners nationwide share experiences and information. Her first issue of
Growing for Market
appeared in January 1992, and
GFM
has been published continuously ever since, becoming renowned in the market-gardening world for realistic articles that provide practical, how-to information about growing and selling produce and flowers.
Byczynski and her family have been growing vegetables and cut flowers since 1988, selling through CSAs, at farmers' markets, to chefs, grocery stores, and florists. They currently grow cut flowers and hoophouse tomatoes on about 2 acres of their 20-acre farm near Lawrence, Kansas.
She is also the author/editor of two of our favorite books about market farming,
The Flower Farmer
and
The Hoophouse Handbook
.