Cynoglossum amabile (Chinese Forget-Me-Not) - Key Growing Information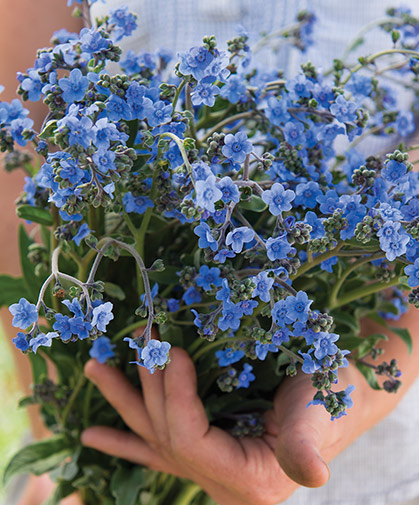 DAYS TO GERMINATION:
5-8 days at 65-70°F (18-21°C)


SOWING:
Transplant - Sow 3-4 weeks before last frost. Transplant out after last frost. Direct seed - Sow as soon as soil can be worked. Cover seeds lightly with soil as darkness is required for germination.


LIGHT PREFERENCE:
Sun/Part Shade.


PLANT HEIGHT:
18-24".


PLANT SPACING:
9-12".


HARDINESS ZONES:
Annual.


HARVEST:
1/2 the florets are open.


SOIL REQUIREMENTS:
Moderate to well-drained soil.


USES:
Cut flower, garden beds, and beneficial insect plantings.


SCIENTIFIC NAME:
Cynoglossum amabile


ALTERNATE NAME:
Chinese hound's tongue