Hyacinth Bean - Key Growing Information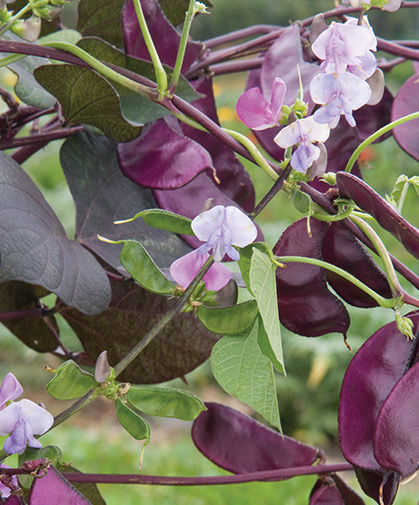 DAYS TO GERMINATION:
5-12 days at 65-70°F (18-21°C)


SOWING:
Transplant - Sow 4-6 weeks before planting out. Direct seed - After danger of frost.


LIGHT PREFERENCE:
Sun.


PLANT HEIGHT:
10-20'. Trellis or other support required.


PLANT SPACING:
12".


HARDINESS ZONES:
Zones 9-10.


HARVEST:
Flowers - 80% of flowers on stem are open. Pods - When half on stem are shiny and firm. Edible flowers - Fully open.


SOIL REQUIREMENTS:
Moderately fertile soil.


USES:
Cut flower. Seeds, young leaves, and flowers are completely edible. Quick cover for arbors, walls, fences, and trellises.


SCIENTIFIC NAME:
Dolichos lablab


ALTERNATE NAMES:
Bonavist-bean, lablab-bean