Stock - Key Growing Information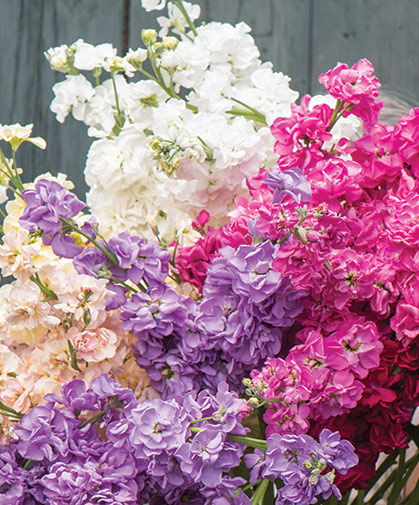 DAYS TO GERMINATION:
7-14 days at 65-75°F (18-24°C).


SOWING:
Transplant — Sow 2 seeds/cell, 1/4" deep in 128-cell plug trays 5-6 weeks before last frost. Cover seeds lightly with vermiculite to help retain moisture. Transplant to cell packs or larger containers 14-21 days after sowing. Direct seed — Sow seed after last frost.


SELECTION:
Chilling seedlings causes visual differences that allow you to select for double-flowered plants by observing color, size, and shape of the cotyledon. After germination, while the seedlings are still in the cotyledon stage, expose the seedlings to temperatures of 40-45°F/4-7°C for 3-4 days. Select lighter green seedlings with an oval shape; these will produce double flowers. Discard very small seedlings, ones that are darker green in color, and those with rounder shaped cotyledons; these will produce single flowers. See our Stock Production Guide #8227 for more information on selection.


LIGHT PREFERENCE:
Sun.


SOIL REQUIREMENTS:
Well-drained, moderately rich soil.


PLANT HEIGHT:
Varies. Trellis, such as Hortonova, used as horizontal support, is necessary when the temperatures are consistently above 60°F (16°C) or where it rains frequently.


PLANT SPACING:
6".


HARDINESS ZONES:
Annual.


HARVEST:
Fresh: Harvest when 1/3 to 1/2 the florets on stem are open.


STEM LENGTH:
10-24".


VASE LIFE:
5-10 days. 36-41°F (2-5°C) ideal storage temperature.


USES:
Excellent cut flower. Edible flower. Beds, borders, and containers.


SCIENTIFIC NAME:
Matthiola incana