Tithonia (Mexican Sunflower) - Key Growing Information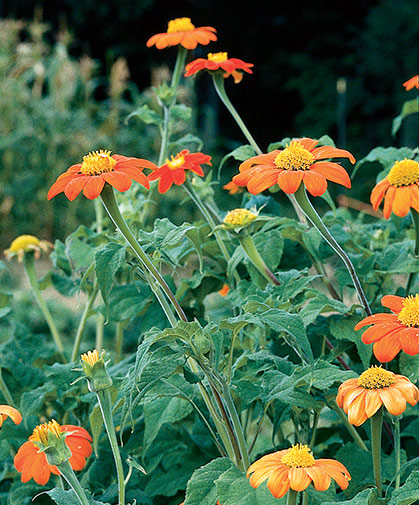 DAYS TO GERMINATION:
7-14 days at 70-85°F (21-29°C)


SOWING:
Direct seed (recommended) - Cover seeds lightly. Sow once soil temperature is 70-85°F (21-29°C). Barely cover seeds as light is required for germination. Transplant - Sow 6 weeks before planting out. Tolerates poor soil. Light aids germination.


LIGHT PREFERENCE:
Sun.


PLANT HEIGHT:
60-72".


PLANT SPACING:
12-24".


HARDINESS ZONES:
Annual.


HARVEST:
Flowers 90-100% open. Stand in deep, warm water for several hours. Deadhead for longer bloom.


SOIL REQUIREMENTS:
Fertile loam or sandy soil with good drainage. Tolerates poor soil. Excess nitrogen results in tall plants with few flowers.


USES:
Fresh cut flower. Tall varieties are good for cutting or back of beds or border. Plants are fast growing and attractive, making Tithonia an ideal annual summer hedge, though flowering occurs late in summer.


SCIENTIFIC NAME:
Tithonia rotundifolia