Chervil - Key Growing Information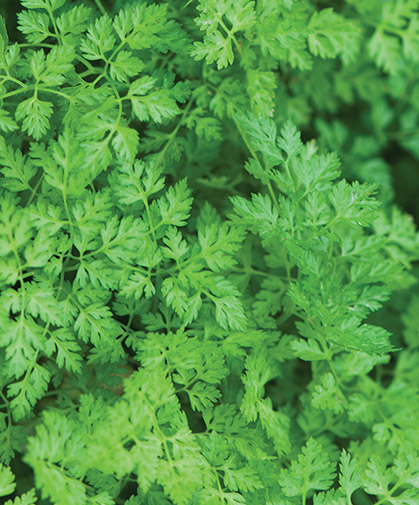 DAYS TO GERMINATION:
10-14 days.


SOWING:
Direct seed (recommended): Sow shallowly in early spring 1-2 seeds per inch. Barely cover seeds with soil as seeds require light to germinate. Thin to 6" apart in rows at least 12" apart. Chervil may also be sown in the fall, about 60 days before the expected first frost.
Transplant: Start seeds in spring, about 8 weeks before the last frost. Press seeds into the soil mix or just barely cover with vermiculite, as seeds require light to germinate. Transplant into cell flats when seedlings are large enough to handle. Transplant to the field after the last frost 6" apart in rows 12" apart.


LIGHT PREFERENCE:
Sun/Part Shade. Hot weather will cause the plants to bolt.


SOIL REQUIREMENTS:
Grows best in rich, moist soil.


PLANT HEIGHT:
10-16".


PLANT SPACING:
6".


HARDINESS ZONES:
Annual.


HARVEST:
Leaves should be harvested just before the plants start to flower when the flavor is at its peak. Leaves can be used either fresh or dried.


SCIENTIFIC NAME:
Anthriscus cerefolium