Mexican Mint Marigold - Key Growing Information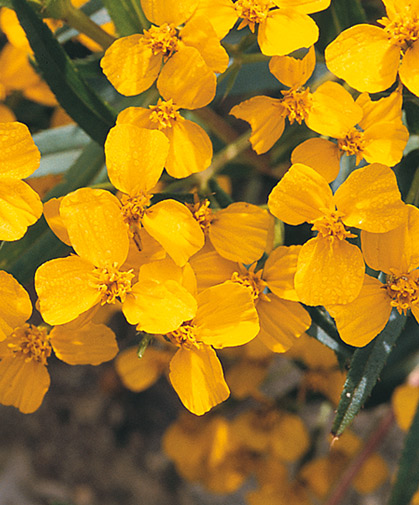 DAYS TO GERMINATION:
5-15 days


SOWING:
Transplant (recommended): Sow seeds 1/8" deep in soil mix 6-8 weeks before the last frost. When the seedlings are several inches tall, pinch back tips to promote branching and to prevent plant lodging, or falling over in the wind. Repeat pinching after two weeks. Harden off before planting outside, after the last frost.
Direct seed: After the last frost, sow 1/4" deep. Thin and pinch back when the true leaves appear. Space 8-12" apart in rows 18" apart.


LIGHT PREFERENCE:
Sun.


SOIL REQUIREMENTS:
Requires average to good, well-drained soil. Over-fertilization will result in lush, weakly flavored vegetative growth with few flowers.


PLANT HEIGHT:
16-20".


PLANT SPACING:
8-12".


HARDINESS ZONES:
Zones 8-11.


HARVEST:
Leaves may be harvested throughout the growing season and used fresh or dried. Plants may be dug in the fall in areas colder than Zone 8, brought inside as houseplants, and replanted outside the following spring.


SCIENTIFIC NAME:
Tagetes lucida