Mountain Mint - Key Growing Information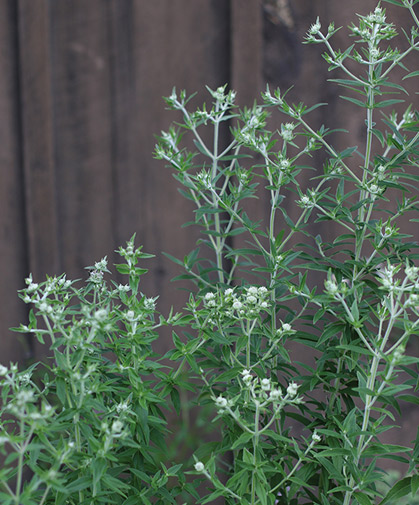 DAYS TO GERMINATION:
7-14 days.


SOWING:
Transplant (recommended): Start seeds indoors 6-8 weeks before transplanting out in mid- to late spring. Sprinkle the seeds on the surface of the soil and lightly tamp into the soil so that the seeds are barely covered. Harden off before transplanting outside. Space 12" apart in rows 18" apart.


LIGHT PREFERENCE:
Sun.


SOIL REQUIREMENTS:
Grows well in average to moist soil.


PLANT HEIGHT:
24-36".


PLANT SPACING:
12".


HARDINESS ZONES:
Zones 5-8.


HARVEST:
Leaves may be harvested throughout the growing season. Gather flowering tops and leaves in late summer to dry for winter use. Leaves may be used for making teas and scenting potpourris. Flowers can be used in dried arrangements.


SCIENTIFIC NAME:
Pycnanthemum pilosum