Rue - Key Growing Information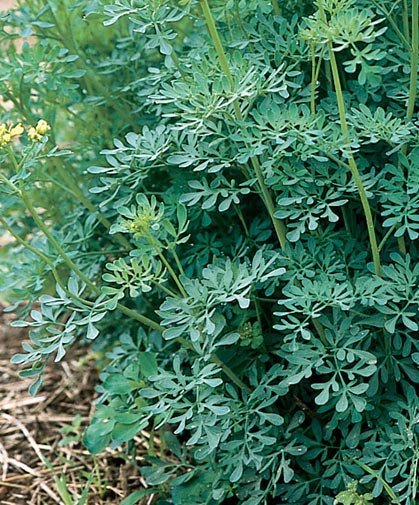 DAYS TO GERMINATION:
10-14 days.


SOWING:
Transplant (recommended): Sow seeds 1/4- 3/8" deep in cells or flats about 7 weeks before the last frost. Keep moist and warm, 60-70°F (16-21°C). When large enough to handle, thin or transplant to larger cells. Grow inside until several inches tall, and then transplant outside to rows that are 18" apart, placing seedlings 12" apart in the North and 24" apart in the South.
Direct seed: In the spring, sow 6-12 seeds per foot, 1/4- 3/8" deep, in rows that are 18" apart, and later to a final spacing of 12-24" apart. Keep well weeded until the plants are large enough to compete well with the weeds.


LIGHT PREFERENCE:
Sun.


SOIL REQUIREMENTS:
Any well-drained or sandy soil with a pH of 5.8-8.0.


PLANT HEIGHT:
24-36".


PLANT SPACING:
12-24".


HARDINESS ZONES:
Zones 4-9.


HARVEST:
Harvest before it comes into flower. Rue should not be taken internally without consulting a qualified medical practitioner, as it can be highly toxic. Consumption may be especially dangerous to pregnant women.


Note:
Prune annually in the early spring, after the new shoots start breaking. Self-sows readily. Rue can also be started by stem cuttings or root division in the spring.


SCIENTIFIC NAME:
Ruta graveolens