Common Sage (Salvia officinalis) from Seed - Key Growing Information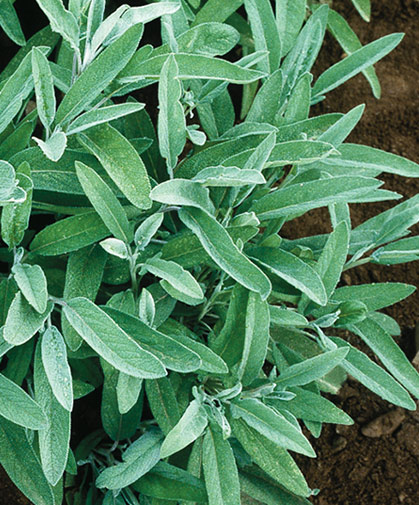 DAYS TO GERMINATION:
7-21 days at 65–70°F (18–21°C).


SOWING:
Transplant (recommended): Start seeds 6-8 weeks before the last frost. Sow 2-3 seeds 1/4" deep in individual containers, thinning to one plant per container after germination. Transplant outside after the last frost, spacing 12" apart, in rows 18" apart.
Direct seed: Sow in spring as soon as the soil can be worked. Plant seeds 1/4" deep, 1 seed every 1-2". Thin to 6-12" apart.


LIGHT PREFERENCE:
Sun/Part Shade.


SOIL REQUIREMENTS:
Will grow in most soils with good drainage and a fair amount of nitrogen. Good drainage is essential for overwintering.


PLANT HEIGHT:
16-30".


PLANT SPACING:
12".


HARDINESS ZONES:
Zones 4-8.


HARVEST:
Individual leaves may be harvested the first year once plants have become established. In the second and following years, cut stems to within 6" of the base of the plant just as flowers are starting to open. Hang small bunches of sage upside down to dry in a well-ventilated location out of direct sunlight.


Note:
Plants become woody and should be replaced every 3-4 years. In very cold areas, sage should be mulched in winter months.


SCIENTIFIC NAME:
Salvia officinalis