Winter Savory (Satureja montana) - Key Growing Information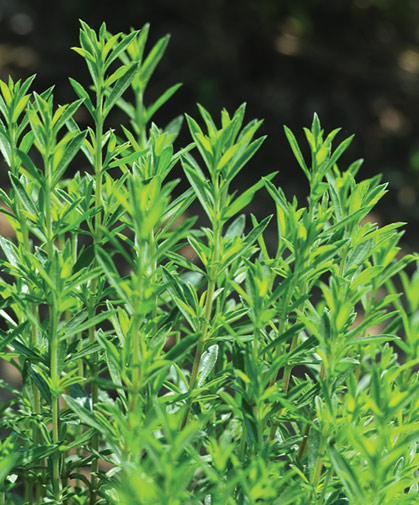 DAYS TO GERMINATION:
7-14 days and 65–70°F (18–21°C).


SOWING:
Transplant (recommended): Sow seeds 6-8 weeks before the last spring frost. Tamp seeds lightly into the soil mix or sow shallowly, as light is required for germination. Transplant to individual containers when seedlings have 4 true leaves. Transplant outside in spring after the last frost, spacing plants 8" apart, in rows 12-18" apart.


LIGHT PREFERENCE:
Sun.


SOIL REQUIREMENTS:
Prefers a light, well-drained soil that is somewhat alkaline.


PLANT HEIGHT:
6-12".


PLANT SPACING:
8".


HARDINESS ZONES:
Zones 4-8.


HARVEST:
Leaves may be harvested for use when plants reach 6". Harvest the flowers as they begin blooming, usually about 90 days after planting. In the fall, entire plants may be harvested by cutting the plants near the ground. Dry them out of direct sunlight, then strip the leaves from the woody stems.


Note:
Cut back the plant in the autumn, and pinch out new shoots in the spring to encourage a full habit.

Winter Savory can also be propagated by root division in autumn or spring.


SCIENTIFIC NAME:
Satureja montana