Valerian - Key Growing Information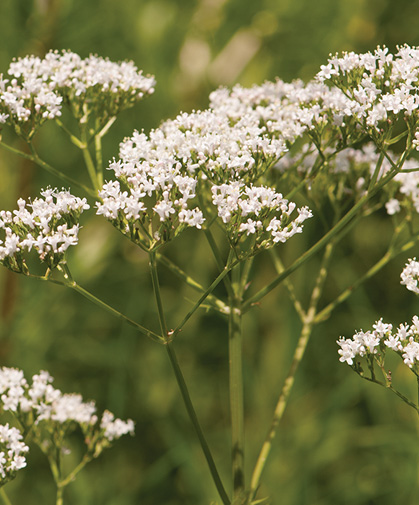 DAYS TO GERMINATION:
7-21 days.


SOWING:
Transplant (recommended): Sow seeds 3/8" deep into soil mix, moisten, and keep temperatures at 65-68°F (18-20°C) until germination. Once germinated, valerian can be grown at normal greenhouse temperatures until large enough to transplant at 5-6" tall. Transplant outside in the early spring when the ground can be worked.
Direct seed: Direct seed in the spring or fall, sowing about 1 seed per inch at a depth of 3/8- 1/2". Thin to 12-18" apart, in rows 3' apart.


LIGHT PREFERENCE:
Sun/Part Shade.


SOIL REQUIREMENTS:
Valerian grows in a wide range of soils, but prefers a moist, but well-drained loam.


PLANT HEIGHT:
48-78".


PLANT SPACING:
12-18".


HARDINESS ZONES:
Zones 3-9.


HARVEST:
Roots are dug in the fall of the second year, after the vegetative growth begins to yellow and die back to the ground. Roots can also be dug in the spring before the plant bolts and flowers. Wash roots and dry in a warm area, 100°F/38°C.


Note:
The main plant dies back the second year and smaller daughter plants will grow around its base. These can then be transplanted out at the recommended spacing.

Self-sows readily.


SCIENTIFIC NAME:
Valeriana officinalis