Zoom Image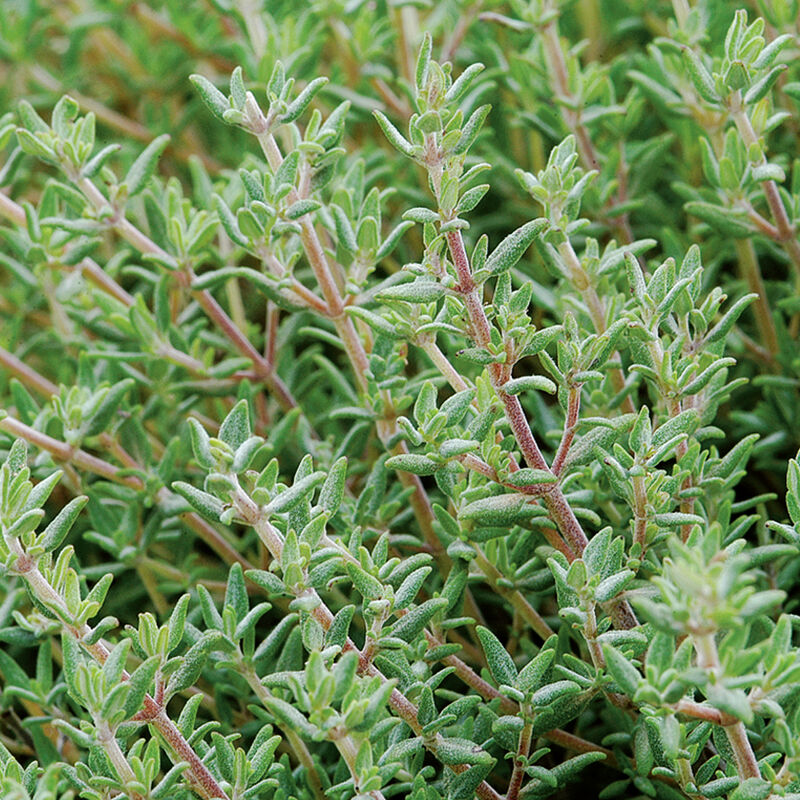 Classic thyme appearance with a minty-citrus flavor.
Upright, branching plants produce gray-green leaves. The aroma is sharp and citrus-like. Orange Thyme is distinctly sweeter and less pungent than German Winter and Summer thyme. Growth habit and winter hardiness are similar to Summer thyme. Tender perennial in Zones 6–8. Also known as Orangelo thyme.
Specs:
Packet: 50 seeds
Avg. 102,700 seeds/oz
DAYS TO GERMINATION:
14-21 days at 65–70°F (18–21°C).


SOWING:
Transplant (recommended): Start seeds in flats 8-10 weeks before the last frost. Sow seeds on top of the growing medium and cover with a thin layer of soil mix. Keep moist until germination. Transplant to individual containers when plants have 4 true leaves. After the last frost in spring, transplant outside and space 6-8" apart, in rows 12-18" apart. Pinch off growing tips of upright growing varieties to make bushier plants.


LIGHT PREFERENCE:
Sun/Part Shade. In very hot climates, thyme will need part shade to do well.


SOIL REQUIREMENTS:
Thyme grows best in light, dry, well-drained soil.


PLANT HEIGHT:
Varies.


PLANT SPACING:
6-8".


HARDINESS ZONES:
Varies.


HARVEST:
Cut only a few stems the first year in order for the plants to winter over. In subsequent years, harvest just as the flowers being to open. Cut back to within 4-5" above the ground.


Note:
Thyme will become woody and needs to be divided or replaced after 3-4 years.


SCIENTIFIC NAME:
Thymus spp.
Johnny's is committed to your success, every step of the way.
We want you, our customer, to be 100% satisfied with all of our seeds, tools, and supplies.
If anything you purchase from us proves unsatisfactory, we will either replace the item or refund the purchase price.